Abstract
While a number of amphibian skin microbiomes have been characterized, it is unclear how these communities might vary in response to seasonal changes in the environment and the corresponding behaviors that many amphibians exhibit. Given recent studies demonstrating the importance of the skin microbiome in frog innate immune defense against pathogens, investigating how changes in the environment impact the microbial species present will provide a better understanding of conditions that may alter host susceptibility to pathogens in their environment. We sampled the bacterial skin microbiome of North American wood frogs (Rana sylvatica) from two breeding ponds in the spring, along with the bacterial community present in their vernal breeding pools, and frogs from the nearby forest floor in the summer and fall to determine whether community composition differs by sex, vernal pond site, or temporally across season (spring, summer, fall). Taxon relative abundance data reveals a profile of bacterial phyla similar to those previously described on anuran skin, with Proteobacteria, Bacteroidetes, and Actinobacteria dominating the wood frog skin microbiome. Our results indicate that sex had no significant effect on skin microbiota diversity; however, this may be due to our limited female frog sample size. Vernal pool site had a small but significant effect on skin microbiota, but skin-associated communities were more similar to each other than to the communities observed in the frogs' respective pond water. Across seasons, diversity analyses suggest that there are significant differences between the bacterial skin microbiome of frogs from spring and summer/fall groups while the average α-diversity per frog remained consistent. These results illustrate seasonal variation in wood frog skin microbiome structure and highlight the importance of considering temporal trends in an amphibian microbiome, particularly for species whose life history requires recurrent shifts in habitat and behavior.
This is a preview of subscription content, log in to check access.
Access options
Buy single article
Instant access to the full article PDF.
US$ 39.95
Price includes VAT for USA
Subscribe to journal
Immediate online access to all issues from 2019. Subscription will auto renew annually.
US$ 199
This is the net price. Taxes to be calculated in checkout.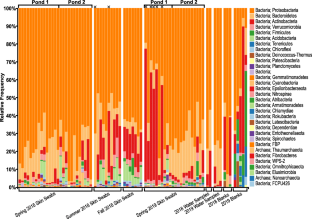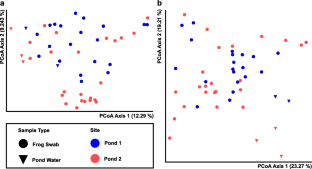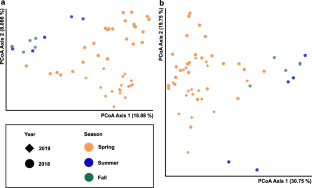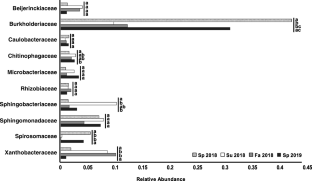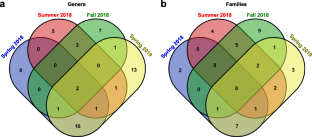 Data Availability
16S rRNA gene amplicon sequence data for skin microbiome samples are deposited in the NCBI Sequence Read Archive (Bioproject PRJNA603391).
Acknowledgments
The authors thank Nicole Wang for the generous contribution of a trained taxonomic classifier for 16S rRNA gene sequences and Maxwell P. Bui-Marinos, Joseph F.A. Varga, and Nathanael B. J. Harper for their technical assistance in collecting frog skin swabs.
Funding
This study was funded by a Natural Sciences and Engineering Research Council of Canada Discovery Grant (NSERC DG) to BAK (Grant # RGPIN-2017-04218), a Tier II Canada Research Chair to LAH, and salary support to AJD through a Natural Sciences and Engineering Research Council of Canada Undergraduate Summer Research Assistantship (NSERC USRA), the University of Waterloo Undergraduate Research Internship (URI) funding initiative, as well as a Graduate Research Studentship, Science Graduate Award, and UW Graduate Scholarship awarded by the University of Waterloo, Department of Biology.
Ethics declarations
Conflict of Interest
The authors declare that they have no conflict of interest.
Ethical Approval
All applicable international, national, and/or institutional guidelines for the care and use of animals were followed. All procedures performed in studies involving animals were in accordance with the ethical standards of the institution at which the studies were conducted (University of Waterloo Animal Care Committee and the Canadian Council on Animal Care, Animal Utilization Projects #30008 and #40721), and animals were captured under the Ontario Ministry of Natural Resources and Forestry Wildlife Scientific Collectors Authorization Permits (#1088586 and #1092603 issued to Dr. B.A. Katzenback). This article does not contain any studies with human participants performed by any of the authors.
About this article
Cite this article
Douglas, A.J., Hug, L.A. & Katzenback, B.A. Composition of the North American Wood Frog (Rana sylvatica) Bacterial Skin Microbiome and Seasonal Variation in Community Structure. Microb Ecol (2020). https://doi.org/10.1007/s00248-020-01550-5
Received:

Accepted:

Published:
Keywords
Microbiome

Amphibian

Rana sylvatica

Skin

Innate immunity

Season