Abstract
Eighty-two strains of rhizobia were isolated from soils taken from several sites in Mauritania and Senegal. These soil samples were collected from natural stands of Acacia nilotica and Acacia senegal. The soils from Mauritania were less rich in native rhizobia than the soils from Senegal. The strains were characterized using polymerase chain reaction–restriction fragment length polymorphism and by sequencing the rDNA 16S–23S intergenic spacer region (IGS). They were sorted into seven IGS groups. These groups were not associated with the geographical origin of the strains or with the host-plant species at the site where the soils were collected. Most of the strains were in three of the IGS groups (I, IV, and V). One representative strain from each IGS group was sequenced and showed that the strains were from the genus Mesorhizobium. IGS groups I, IV, and VI were close to the species M. plurifarium (AF34563), IGS groups IIand III were close to the species Mesorhizobium sp. (AF510360), IGS group V was close to the species Mesorhizobium sp. (AF510366), and IGS group VII was close to Mesorhizobium sp. (AF510346).
Access options
Buy single article
Instant access to the full article PDF.
US$ 39.95
Tax calculation will be finalised during checkout.
Subscribe to journal
Immediate online access to all issues from 2019. Subscription will auto renew annually.
US$ 119
Tax calculation will be finalised during checkout.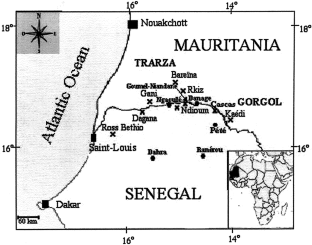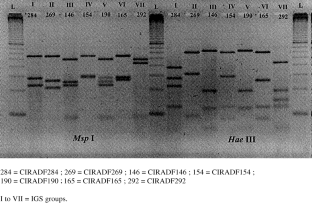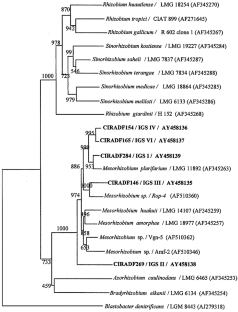 References
1.

ON Allen EK Allen (1981) The Leguminosae: A Source Book of Characteristics, Uses and Nodulation The University of Wisconsin Press USA

2.

SF Altschul TL Madden AA Schäffer J Zhang Z Zhang W Miller DJ Lipman (1997) ArticleTitleGapped BLAST and PSI-BLAST: a new generation of protein database search programs Nucleic Acids Res 25 3389–3402 Occurrence Handle10.1093/nar/25.17.3389 Occurrence Handle9254694 Occurrence Handle1:CAS:528:DyaK2sXlvFyhu7w%3D

3.

N Amarger V Marcheret G Laguerre (1997) ArticleTitleRhizobium gallicum sp. nov. and Rhizobium giardinii sp. nov. from Phaseolus vulgaris nodules Int J Syst Bacteriol 47 996–1006 Occurrence Handle9336898 Occurrence Handle1:STN:280:DyaK2svnsl2rtw%3D%3D

4.

KO Awoinaike SKA Danso F Zapata (1992) ArticleTitleBiological nitrogen fixation by Gliricidia sepium and Acacia senegal in association with Rhizobium and Bradyrhizobium strains Nitrogen Fixing Tree Res 10 36–39

5.

S Ba A Willems P Lajudie Particlede P Roche H Jeder P Quatrini M Neyra JC Ferro Prome M Gillis C Boivin-Masson J Lorquin (2002) ArticleTitleSymbiotic and taxonomic diversity of rhizobia isolated from Acacia tortilis subsp. raddiana in Africa Syst Appl Microbiol 25 130–145 Occurrence Handle10.1078/0723-2020-00091 Occurrence Handle12086180 Occurrence Handle1:CAS:528:DC%2BD38XmslOksLk%3D

6.

P Lajudie Particlede A Willems B Pot D Dewettinck G Maestrojoan M Neyra MD Collins B Dreyfus K Kersters M Gillis (1994) ArticleTitlePolyphasic taxonomy of rhizobia: emendation of the genus Sinorhizobium and description of Sinorhizobium meliloti comb. nov., Sinorhizobium saheli sp. nov., and Sinorhizobium teranga sp. nov. Int J Syst Bacteriol 44 715–733

7.

P Lajudie Particlede A Willems G Nick F Moreau F Molouba B Hoste U Torck M Neyra MD Collins K Lindstorm B Dreyfus M Gillins (1998) ArticleTitleCharacterization of tropical tree rhizobia and description of Mesorhizobium plurifarium sp. nov. Int J Syst Bacteriol 48 369–382 Occurrence Handle9731275

8.

D Diouf S Forestier M Neyra D Lesueur (2003) ArticleTitleOptimization of inoculation of Leucaena leucocephala and Acacia mangium with rhizobium under greenhouse conditions An For Sci 60 1–6

9.

D Diouf M Neyra M Grouzis (2003) Phenologie de la nodulation d'Acacia raddiana en millieu naturel M Grouzis E Floc'h ParticleLe (Eds) Un Arbre au Desert, Acacia raddiana IRD Editions Paris 171–182

10.

BL Dreyfus JL Garcia M Gillis (1988) ArticleTitleCharacterization of Azorhizobium caulinodans gen. nov. sp., a stem nodulating nitrogen-fixing bacterium isolated from Sesbania rostrata Int J Syst Bacteriol 38 1

11.

BL Dreyfus YR Dommergues (1981) ArticleTitleNodulation of Acacia species by fast and slow growing tropical strains of Rhizobium Appl Environ Microbiol 41 97–99 Occurrence Handle16345705

12.

N Dupuy B Dreyfus (1992) ArticleTitleBradyrhizobium populations occur in deep soil under the leguminous tree Acacia albida Appl Environ Microbiol 58 2415–2419 Occurrence Handle16348745

13.

J Felsenstein (1985) ArticleTitleConfidence limits on phylogenies: an approach using the bootstrap Evolution 39 783–791

14.

AH Gibson (1980) Methods for legumes in glasshouses and controlled environment cabinets FJ Bergersen (Eds) Methods for Evaluating Biological Nitrogen Fixation Wiley-Interscience Chichester 139–184

15.

B Khbaya M Neyra P Normand K Zerhari A Filali-Maltouf (1998) ArticleTitleGenetic diversity and phylogeny of rhizobia that nodulate Acacia spp. in Morocco assessed by analysis of rRNa genes Appl Environ Microbiol 64 4912–4917 Occurrence Handle9835582 Occurrence Handle1:CAS:528:DyaK1cXnvF2ht78%3D

16.

M Kimura (1980) ArticleTitleA simple method for estimating evolutionary rates of base substitutions through comparative studies of nucleotide sequences J Mol Evol 16 111–120 Occurrence Handle10.1007/BF01731581 Occurrence Handle7463489 Occurrence Handle1:CAS:528:DyaL3MXmtFSktg%3D%3D

17.

SH Mohammed A Smouni M Neyra D Kharchaf A Filali-Maltouf (2000) ArticleTitlePhenotypic characteristics of root-nodulating bacteria isolated from Acacia spp. grown in Libya Plant Soil 224 171–183

18.

EW Myers DW Mount (1986) ArticleTitleComputer program for the IBM personal computer which searches for approximate matches to short oligonucleotide sequences in long target DNA sequences Nucleic Acids Res 14 501–508 Occurrence Handle3753785 Occurrence Handle1:CAS:528:DyaL28Xht1Kjtrw%3D

19.

E Navarro P Simonet P Normand R Bardin (1992) ArticleTitleCharacterization of natural populations of nitrobacter spp. using PCR/RFLP analysis of the ribosomal intergenic spacer Arch Microbiol 157 107–115 Occurrence Handle1347989 Occurrence Handle1:CAS:528:DyaK38Xht1Clu7g%3D

20.

G Nick P Lajudie Particlede BD Eardly S Suomalainen L Paulin X Zhang M Gillis K Lindström (1999) ArticleTitleSinorhizobium arboris sp. nov. and Sinorhizobium kostiense sp. nov., isolated from leguminous trees in Sudan and Kenya Int J Syst Bacteriol 49 1359–1368 Occurrence Handle10555313 Occurrence Handle1:CAS:528:DyaK1MXnsFGitrw%3D

21.

CF Njiti A Galiana (1996) ArticleTitleSymbiotic properties and Rhizobium requirements for effective nodulation of five tropical dry zone acacias Agrofor Syst 34 265–275 Occurrence Handle10.1007/BF00046927

22.

DW Odee JM Sutherland JM Kimiti JI Sprent (1995) ArticleTitleNatural rhizobial populations and nodulation status of woody legumes growing in diverse Kenyan conditions Plant Soil 173 211–224 Occurrence Handle10.1007/BF00011458 Occurrence Handle1:CAS:528:DyaK2MXnvVelu7w%3D

23.

DW Odee JM Sutherland ET Makatiani SG McInroy JI Sprent (1997) ArticleTitlePhenotypic characteristics and composition of rhizobia associated with woody legumes growing in diverse Kenya conditions Plant Soil 188 65–75 Occurrence Handle10.1023/A:1004204413140 Occurrence Handle1:CAS:528:DyaK2sXjvFyjtL4%3D

24.

DW Odee SA Indieka D Lesueur (2002) ArticleTitleEvaluation of inoculation procedures for Calliandra calothyrsus Meisn. grown in tree nurseries Biol Fertil Soils 36 124–128

25.

C Ould M'Baré (2001) Situation des Ressources Génétiques Forestières de la Mauritanie FAO Rome, Italy

26.

G Perriere M Gouy (1996) ArticleTitlewww-query: an on-line retrieval system for biological sequence banks Biochimie 78 364–369 Occurrence Handle8905155 Occurrence Handle1:CAS:528:DyaK28XmvVCmuro%3D

27.

C Posonnet X Nesme (1994) ArticleTitleIdentification of Agrobacterium strains by PCR-RFLP analysis of pTi and chromosomal region Arch Microbiol 16 300–309

28.

N Saitou M Nei (1987) ArticleTitleThe neighbour-joining method: a new method for constructing phylogenetic trees Mol Biol Evol 4 406–425 Occurrence Handle3447015 Occurrence Handle1:STN:280:DyaL1c7ovFSjsA%3D%3D

29.

A Sarr B Diop R Peltier M Neyra D Lesueur (2005) ArticleTitleEffect of rhizobial inoculation methods and host plant provenances on nodulation and growth of Acacia senegal and Acacia nilotica New Forests 29 75–87 Occurrence Handle10.1007/s11056-004-5232-z

30.

ZY Tan FL Kan GX Peng ET Wang BR Hurek WX Chen (2001) ArticleTitleRhizobium yanglingense sp. nov., isolated from arid and semi-arid region in China Int J Syst Evol Microbiol 51 909–914 Occurrence Handle11411714 Occurrence Handle1:CAS:528:DC%2BD3MXks1Kiu78%3D

31.

JD Thompson TJ Gibson F Plewniak F Jeanmougin DG Higgins (1997) ArticleTitleThe CLUST multiple sequence alignment aided by quality analysis tools Nucleic Acids Res 25 4876–4882 Occurrence Handle10.1093/nar/25.24.4876 Occurrence Handle9396791 Occurrence Handle1:CAS:528:DyaK1cXntFyntQ%3D%3D

32.

JM Vincent (1970) A Manual for the Practical Study of Root-Nodule Bacteria. International Biological Programme. Handbook n° 15 Blackwell Scientific Publications Oxford, UK

33.

ET Wang J Martinez-Romero E Martinez-Romero (1999) ArticleTitleGenetic diversity of rhizobia from Leucaena leucocephala nodules in Mexican soils Mol Ecol 8 711–724

34.

Wickens, GE, Seif El Din, AG, Sita, G, Nahal, I (1995) Role of Acacia Species in the Rural Economy of Dry Africa and the Near East. FAO, Conservation Guide n° 27, Rome, Italy, 56 p

35.

A Willems R Coopman M Gillis (2001) ArticleTitleComparison of sequence analysis of 16S–23S rDNA spacer regions, AFLP analysis and DNA-DNA hybridations in Bradyrhizobium Int J Syst Bacteriol 51 623–632 Occurrence Handle1:CAS:528:DC%2BD3MXivVOru78%3D

36.

JPW Young (1994) All those new names: an overview of the molecular phylogeny of plant-associated bacteria MJ Daniels JA Downiel AE Osbourner (Eds) Advances in Molecular Genetics of Plant-Microbe Interactions, vol. 3 Kluwer Amsterdam 73–80

37.

X Zhang R Harper M Karsisto K Lindström (1991) ArticleTitleDiversity of Rhizobium bacteria isolated from the root nodules of leguminous trees Int J Syst Bacteriol 41 104–113 Occurrence Handle10.1099/00207713-41-1-104
Acknowledgments
This work was funded by African Forestry Research Network (Grant n° 2002/5), the Forestry Department of CIRAD, and United Nations Educational, Scientific and Cultural Organization (Grant n° 3250008497). The authors are grateful to Jacques Biagui, Leon Biagui, and Lamine Ba for their technical assistance in the nursery.
About this article
Cite this article
Sarr, A., Neyra, M., Houeibib, M.A.O. et al. Rhizobial Populations in Soils from Natural Acacia senegal and Acacia nilotica Forests in Mauritania and the Senegal River Valley. Microb Ecol 50, 152–162 (2005). https://doi.org/10.1007/s00248-004-0077-8
Received:

Accepted:

Published:

Issue Date:
Keywords
Rhizobium

Rhizobial Strain

Natural Stand

Sinorhizobium

Acacia Species