Abstract
Background
Ultrasonography may reliably visualize both appropriately positioned and malpositioned femoral-approach catheter tips. Radiography may be used to confirm catheter tip position after placement, but its utility following intraprocedural ultrasound (US) catheter tip verification is unclear.
Objectives
To report the utility of confirmatory radiographs after US-guided tunneled femoral central venous catheter (CVC) placements by interventional radiology in pediatric patients.
Materials and methods
A total of 484 pediatric patients underwent bedside US-guided tunneled femoral CVC placements in an intensive care setting at a single tertiary children's hospital between Jan. 1, 2016, and April 20, 2020. Technical success, adverse events, post-procedure radiographic practices and inter-modality catheter tip concordance were recorded. All radiographs were performed within 12 h of catheter placement.
Results
The mean patient age was 175±508 days (range: 1 day to 19 years), including 257 (53.1%) males and 227 (46.9%) females. Of the 484 attempted placements, 472 (97.5%) were primary placements. Four hundred eighty-one (99.4%) placements were technically successful. There were three (0.6%) technical failures due to previously undiagnosed iliofemoral venous occlusive disease. Five (1.0%) adverse events occurred. Radiographs were obtained within 12 h of CVC placement in 171 (35.3%) patients, in 120 (70.2%) of whom the indication was recent catheter placement. All 171 (100%) post-placement radiographs showed catheter tip location concordance with the intra-procedural US. In one (0.2%) patient, in whom there was nonvisualization of a guidewire and clinical concern for malposition during US-guided placement, post-procedure radiographs, coupled with multiplanar venography, demonstrated inadvertent paravertebral venous plexus catheter placement.
Conclusion
The concordance between intra-procedural US and confirmatory post-procedure radiographs of CVC placements by interventional radiology obviates the need for routine radiographs. Radiographs may be obtained in instances of proceduralist uncertainty or clinical concern.
We're sorry, something doesn't seem to be working properly.
Please try refreshing the page. If that doesn't work, please contact support so we can address the problem.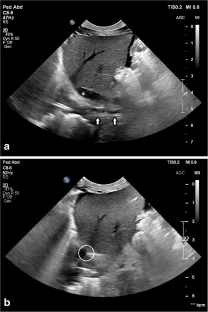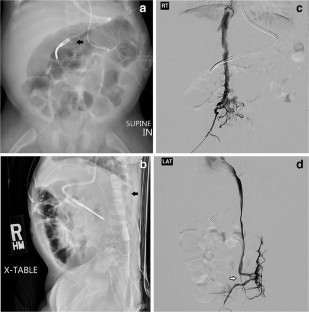 References
1.

Sharma D, Farahbakhsh N, Tabatabaii SA (2019) Role of ultrasound for central catheter tip localization in neonates: a review of the current evidence. J Matern Fetal Neonatal Med 32:2429–2437

2.

Katheria AC, Fleming SE, Kim JH (2013) A randomized controlled trial of ultrasound-guided peripherally inserted central catheters compared with standard radiograph in neonates. J Perinatol 33:791–794

3.

Chau A, Hernandez JA, Pimpalwar S et al (2018) Equivalent success and complication rates of tunneled common femoral venous catheter placed in the interventional suite vs. at patient bedside. Pediatr Radiol 48:889–894

4.

Nguyen J (2016) Ultrasonography for central catheter placement in the neonatal intensive care unit—a review of utility and practicality. Am J Perinatol 33:525–530

5.

Chick JFB, Reddy SN, Yam BL et al (2017) Institution of a hospital-based central venous access policy for peripheral vein preservation in patients with chronic kidney disease: a 12-year experience. J Vasc Interv Radiol 28:392–397

6.

Gaballah M, Krishnamurthy G, Keller MS et al (2014) US-guided placement and tip position confirmation for lower-extremity central venous access in neonates and infants with comparison versus conventional insertion. J Vasc Interv Radiol 25:548–555

7.

Jain A, McNamara PJ, Ng E, El-Khuffash A (2012) The use of targeted neonatal echocardiography to confirm placement of peripherally inserted central catheters in neonates. Am J Perinatol 29:101–106

8.

Subramanian S, Moe DC, Vo JN (2013) Ultrasound-guided tunneled lower extremity peripherally inserted central catheter placement in infants. J Vasc Interv Radiol 24:1910–1913

9.

von Elm E, Altman DG, Egge M et al (2007) The strengthening the reporting of observational studies in epidemiology (STROBE) statement: guidelines for reporting observational studies. Ann Intern Med 147:573–578

10.

Woerner A, Wenger JL, Monroe EJ (2020) Single-access ultrasound-guided tunneled femoral lines in critically ill pediatric patients. J Vasc Access 21:1034–1041

11.

Khalilzadeh O, Baerlocher MO, Shyn PB et al (2017) Proposal of a new adverse event classification by the Society of Interventional Radiology Standards of Practice Committee. J Vasc Interv Radiol 28:1432–1437 e3

12.

Sacks D, McClenny TE, Cardella JF, Lewis CA (2003) Society of Interventional Radiology clinical practice guidelines. J Vasc Interv Radiol 14:S199–S202

13.

Ramamurthi A, Chick JFB, Srinivasa RN et al (2018) Chest radiograph measurement technique facilitates accurate bedside peripherally inserted central catheter placement in children. Cardiovasc Intervent Radiol 41:443–448

14.

Woodland DC, Cooper CR, Rashid MF et al (2018) Routine chest X-ray is unnecessary after ultrasound-guided central venous line placement in the operating room. J Crit Care 46:13–16

15.

Lau CSM, Chamberlain RS (2016) Ultrasound-guided central venous catheter placement increases success rates in pediatric patients: a meta-analysis. Pediatr Res 80:178–184

16.

Snyder EJ, Zhang W, Jasmin KC et al (2018) Gauging potential risk for patients in pediatric radiology by review of over 2,000 incident reports. Pediatr Radiol 48:1867–1874

17.

Keller EJ, Aragona E, Molina H et al (2019) Cost-effectiveness of a guided peripherally inserted central catheter placement system: a single-center cohort study. J Vasc Interv Radiol 30:709–714

18.

Tan J, Liu L, Xie J et al (2016) Cost-effectiveness analysis of ultrasound-guided Seldinger peripherally inserted central catheters (PICC). Springerplus 5:2051

19.

Hayatghaibi SE, Chau A, Wadler EG et al (2020) Cost comparison of in-suite versus portable tunneled femoral central line placements in children using time-driven activity-based costing. J Am Coll Radiol 17:462–468

20.

Nguyen B-V, Prat G, Vincent J-L et al (2014) Determination of the learning curve for ultrasound-guided jugular central venous catheter placement. Intensive Care Med 40:66–73

21.

Omid M, Rafiei MH, Hosseinpour M et al (2015) Ultrasound-guided percutaneous central venous catheterization in infants: learning curve and related complications. Adv Biomed Res 4:199

22.

McGrath E, Ranstrom L, Lajoie D et al (2017) Is a chest radiograph required after removal of chest tubes in children? J Pediatr Health Care 31:588–593
Ethics declarations
Conflicts of interest
Jeffrey Forris Beecham Chick is a consultant and speaker for Guerbet and C. R. Bard. Eric J. Monroe is a scientific adviser and speaker for Biogen.
Additional information
Publisher's note
Springer Nature remains neutral with regard to jurisdictional claims in published maps and institutional affiliations.
About this article
Cite this article
Lewis, S.B., Chick, J.F.B., Koo, K.S.H. et al. Confirmatory radiographs have limited utility following ultrasound-guided tunneled femoral central venous catheter placements by interventional radiology. Pediatr Radiol (2021). https://doi.org/10.1007/s00247-020-04957-x
Received:

Revised:

Accepted:

Published:
Keywords
Central venous catheter

Children

Femoral

Neonates

Radiography

Ultrasound-guided