Abstract
Background
Mucopolysaccharidosis type IVA (MPS IVA) is characterized by progressive skeletal dysplasia and respiratory issues with difficult airway management during anesthesia.
Objective
To characterize tracheal abnormalities in children and adults with MPS IVA including interplay of the trachea, vasculature, bones and thyroid at the thoracic inlet.
Materials and methods
Computed tomography (CT) angiograms of the chest were analyzed for trachea shape, narrowing and deviation at the thoracic inlet, course of vasculature, bone alignment and thyroid location. The tracheal cross-sectional area was measured at the cervical, thoracic inlet and intrathoracic levels.
Results
Thirty-seven patients (mean age: 18.1 years) were included. The mean tracheal cross-sectional area narrowing at the thoracic inlet was 63.9% (range: −2.1–96%), with a trend for increased tracheal narrowing in older children. The trachea was commonly deviated rightward posterior (22/37, 59%). T- or W-shaped tracheas had two times greater tracheal narrowing than D- or U-shaped tracheas (P<0.05). The brachiocephalic artery was tortuous in 35/37 (95%) with direct impingement on the trachea in 24/37 (65%). No correlation was observed between bony thoracic inlet diameter and tracheal narrowing. The thyroid was located in the thoracic inlet in 28/37 (76%) cases, significantly associated with tracheal narrowing (P=0.016).
Conclusion
Narrowing, deviation and abnormal shape of the trachea at the thoracic inlet are common in children and adults with MPS IVA, with a trend toward increased narrowing with advancing age in children. A W- or T-shaped trachea is associated with focal tracheal narrowing. Crowding of the thoracic inlet, due to vascular tortuosity and thyroid position, appears to play a major role.
Access options
Buy single article
Instant access to the full article PDF.
US$ 39.95
Tax calculation will be finalised during checkout.
Subscribe to journal
Immediate online access to all issues from 2019. Subscription will auto renew annually.
US$ 119
Tax calculation will be finalised during checkout.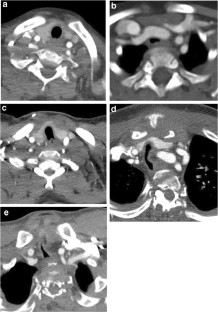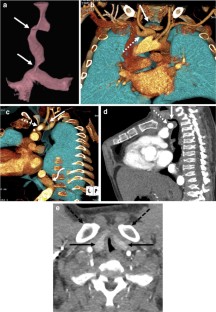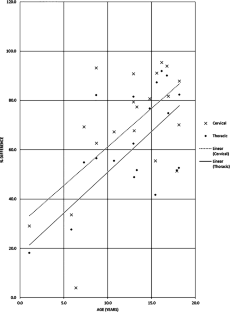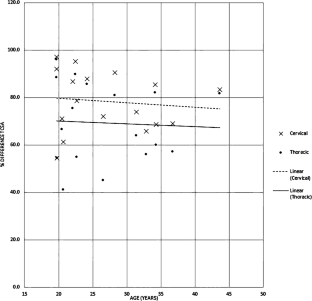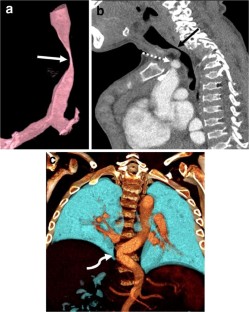 References
1.

Hendriksz CJ, Berger KI, Giugliani R et al (2015) International guidelines for the management and treatment of Morquio A syndrome. Am J Med Genet A 167A:11–25

2.

Khan S, Alméciga-Díaz CJ, Sawamoto K et al (2017) Mucopolysaccharidosis IVA and glycosaminoglycans. Mol Genet Metab 120:78–95

3.

Peracha H, Sawamoto K, Averill L et al (2018) Diagnosis and prognosis of mucopolysaccharidosis IVA. Mol Genet Metab 125:18–37

4.

Yasuda E, Fushimi K, Suzuki Y et al (2013) Pathogenesis of Morquio A syndrome: an autopsied case reveals systemic storage disorder. Mol Genet Metab 109:301–311

5.

Tomatsu S, Montano AM, Oikawa H et al (2011) Mucopolysaccharidosis type IVA (Morquio A disease): clinical review and current treatment. Curr Pharm Biotechnol 12:931–945

6.

Doherty C, Averill LW, Theroux M et al (2017) Natural history of Morquio A patient with tracheal obstruction from birth to death. Mol Genet Metab Rep 14:59–67

7.

Shimada T, Tomatsu S, Mason RW et al (2015) Di-sulfated keratan sulfate as a novel biomarker for mucopolysaccharidosis II, IVA, and IVB. JIMD Rep 21:1–13

8.

Shimada T, Tomatsu S, Yasuda E et al (2014) Chondroitin 6-sulfate as a novel biomarker for mucopolysaccharidosis IVA and VII. JIMD Rep 16:15–24

9.

Montano AM, Tomatsu S, Gottesman GS et al (2007) International Morquio A registry: clinical manifestation and natural course of Morquio A disease. J Inherit Metab Dis 30:165–174

10.

Melbouci M, Mason RW, Suzuki Y et al (2018) Growth impairment in mucopolysaccharidoses. Mol Genet Metab 124:1–10

11.

Theroux MC, Nerker T, Ditro C, Mackenzie WG (2012) Anesthetic care and perioperative complications of children with Morquio syndrome. Pediatr Anesth 22:901–907

12.

Ransford AO, Crockard HA, Stevens JM, Modaghegh S (1996) Occipito-atlanto-axial fusion in Morquio-Brailsford syndrome. A ten-year experience. J Bone Joint Surg Br 78:307–313

13.

Pelley CJ, Kwo J, Hess DR (2007) Tracheomalacia in an adult with respiratory failure and Morquio syndrome. Respir Care 52:278–282

14.

Walker PP, Rose E, Williams JG (2003) Upper airways abnormalities and tracheal problems in Morquio's disease. Thorax 58:458–459

15.

Shih SL, Lee YJ, Lin SP et al (2002) Airway changes in children with mucopolysaccharidoses. Acta Radiol 43:40–43

16.

Morimoto N, Kitamura M, Kosuga M, Okuyama T (2014) CT and endoscopic evaluation of larynx and trachea in mucopolysaccharidoses. Mol Genet Metab 112:154–159

17.

Pizarro C, Davies RR, Theroux M et al (2016) Surgical reconstruction for severe tracheal obstruction in Morquio A syndrome. Ann Thorac Surg 102:e329–e331

18.

Tomatsu S, Averill LW, Sawamoto K et al (2016) Obstructive airway in Morquio A syndrome, the past, the present and the future. Mol Genet Metab 117:150–156

19.

MacKenzie CF, McAslan TC, Shin B et al (1978) The shape of the human adult trachea. Anesthesiology 49:48–50

20.

Ulusoy M, Uysal II, Kivrak AS et al (2016) Age and gender-related changes in bronchial tree: a morphometric study with multidetector CT. Eur Rev Med Pharmacol Sci 20:3351–3357

21.

Kuo W, Ciet P, Andrinopoulou E-R et al (2018) Reference values for central airway dimensions on CT images of children and adolescents. AJR Am J Roentgenol 210:423–430

22.

Szelloe P, Weiss M, Schraner T, Dave MH (2017) Lower airway dimensions in pediatric patients: a computed tomography study. Paediatr Anaesth 27:1043–1049

23.

Fawcett SL, Gomez AC, Hughes JA, Set P (2010) Anatomical variation in the position of the brachiocephalic trunk (innominate artery) with respect to the trachea: a computed tomography-based study and literature review of innominate artery compression syndrome. Clin Anat 23:61–69

24.

Powell AW, Taylor MD, Burrow TA et al (2017) Widespread vasculopathy in a patient with Morquio A syndrome. Tex Heart Inst J 44:420–423

25.

Kampmann C, Wiethoff CM, Huth RG et al (2017) Management of life-threatening tracheal stenosis and tracheomalacia in patients with mucopolysaccharidoses. JIMD Rep 33:33–39

26.

Nagano R, Takizawa S, Hayama N et al (2007) Three-dimensional CT and histopathological findings of airway malacia in Hunter syndrome. Tokai J Exp Clin Med 32:59–61

27.

Rutten M, Ciet P, van den Biggelaar R et al (2016) Severe tracheal and bronchial collapse in adults with type II mucopolysaccharidosis. Orphanet J Rare Dis 11:50
Ethics declarations
Conflicts of interest
Dr. Mackenzie has received a grant from Biomarin and is on the Little People of America Medical Advisory Board. Dr. Bober is a consultant and site primary investigator for Biomarin.
Additional information
Publisher's note
Springer Nature remains neutral with regard to jurisdictional claims in published maps and institutional affiliations.
About this article
Cite this article
Averill, L.W., Kecskemethy, H.H., Theroux, M.C. et al. Tracheal narrowing in children and adults with mucopolysaccharidosis type IVA: evaluation with computed tomography angiography. Pediatr Radiol (2021). https://doi.org/10.1007/s00247-020-04946-0
Received:

Revised:

Accepted:

Published:
Keywords
Adults

Children

Computed tomography

Morquio syndrome

Mucopolysaccharidosis

Trachea