Abstract
Background
While magnetic resonance imaging (MRI) of the pelvis and hips is common in pediatric patients, to date there are no data on the quantification of normal hip joint fluid volume in this patient population.
Objective
We sought to assess the feasibility and reliability of quantitative hip joint fluid measurement in the pediatric population to estimate the normal volume of fluid in a pediatric hip joint.
Materials and methods
Seventy healthy children ages 8–17 years underwent a pelvic MRI including a large field of view coronal T2 fat-saturated sequence where hips were entirely imaged. Following 3 training sessions, 2 readers with experience in musculoskeletal imaging performed volumetric quantitative measurements of hip fluid (140 hips) using semiautomated pixel-based thresholding on custom MATLAB software.
Results
The mean processing time per hip was 2 min, 41 s. The mean volume of fluid in a hip joint was 2.1 mL (range: 0.38–5.41 mL), increasing slightly with age. Volumes were also greater in boys than in girls (P=0.004). Intra-observer and interobserver agreement were high (intra-class correlation coefficients 0.93 and 0.98, respectively), with mean volume differences of 0.04 mL for intra-observer and 0.09 mL for interobserver.
Conclusion
A semiautomated pixel-based thresholding approach was feasible and reliable for measuring joint fluid in pediatric hip MRI. The average fluid volume of 2.1 mL can represent a visually substantial quantity of fluid per MRI slice, particularly in small children, and should not be misinterpreted as a joint effusion.
This is a preview of subscription content, log in to check access.
Access options
Buy single article
Instant access to the full article PDF.
US$ 39.95
Price includes VAT for USA
Subscribe to journal
Immediate online access to all issues from 2019. Subscription will auto renew annually.
US$ 199
This is the net price. Taxes to be calculated in checkout.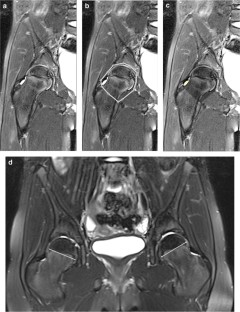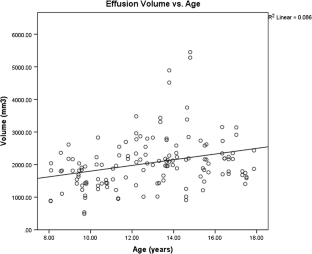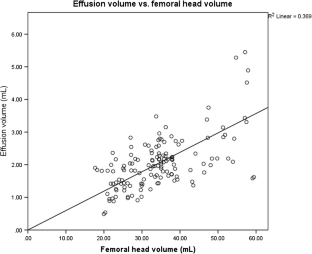 References
1.

McQueen FM (2000) Magnetic resonance imaging in early inflammatory arthritis: what is its role? Rheumatology (Oxford) 39:700–706

2.

Bennike T, Ayturk U, Haslauer CM et al (2014) A normative study of the synovial fluid proteome from healthy porcine knee joints. J Proteome Res 13:4377–4387

3.

Moss SG, Schweitzer ME, Jacobson JA et al (1998) Hip joint fluid: detection and distribution at MR imaging and US with cadaveric correlation. Radiology 208:43–48

4.

Jaremko JL, Lambert RG, Zubler V et al (2014) Methodologies for semiquantitative evaluation of hip osteoarthritis by magnetic resonance imaging: approaches based on the whole organ and focused on active lesions. J Rheumatol 41:359–369

5.

Roemer FW, Hunter DJ, Winterstein A et al (2011) Hip osteoarthritis MRI scoring system (HOAMS): reliability and associations with radiographic and clinical findings. Osteoarthr Cartil 19:946–962

6.

Lee S, Nardo L, Kumar D et al (2015) Scoring hip osteoarthritis with MRI (SHOMRI): a whole joint osteoarthritis evaluation system. J Magn Reson Imaging 41:1549–1557

7.

Roemer FW, Guermazi A, Collins JE et al (2016) Semi-quantitative MRI biomarkers of knee osteoarthritis progression in the FNIH biomarkers consortium cohort − methodologic aspects and definition of change. BMC Musculoskelet Disord 17:466

8.

Chauvin NA, Xiao R, Brandon TG et al (2019) MRI of the sacroiliac joint in healthy children. AJR Am J Roentgenol 11:1–7

9.

Zhang A, Sayre JW, Vachon L et al (2009) Racial differences in growth patterns of children assessed on the basis of bone age. Radiology 250:228–235

10.

Graham E (2005) Economic, racial, and cultural influences on the growth and maturation of children. Pediatr Rev 26:290–294
Acknowledgments
The authors would like to acknowledge the contribution and support of Abhilash Hareendranathan and the Rheumatology Research Foundation Innovative Research Award.
Ethics declarations
Conflicts of interest
None
Additional information
Publisher's note
Springer Nature remains neutral with regard to jurisdictional claims in published maps and institutional affiliations.
About this article
Cite this article
Quinn-Laurin, V., Thejeel, B., Chauvin, N.A. et al. Normal hip joint fluid volumes in healthy children of different ages, based on MRI volumetric quantitative measurement. Pediatr Radiol (2020). https://doi.org/10.1007/s00247-020-04744-8
Received:

Revised:

Accepted:

Published:
Keywords
Children

Hip

Joint fluid

Magnetic resonance imaging

Normal

Physiological