Abstract
A 23.4-week premature and extremely low birth weight neonate was transferred to the Neonatal Intensive Care Unit for management of respiratory failure and retrocardiac pneumomediastinum, suspected to be the result of a low tracheal injury during intubation. Initial conservative management failed and chest radiographs demonstrated worsening retrocardiac pneumomediastinum. Due to the patient's extreme low birth weight and location of the pneumomediastinum, surgery was deemed to be very high risk and potentially fatal. We report the successful definitive percutaneous management of retrocardiac tension pneumomediastinum with a minimally invasive bedside method using an intercostal paraspinal approach under the guidance of ultrasound and plain radiography.
This is a preview of subscription content, log in to check access.
Access options
Buy single article
Instant access to the full article PDF.
US$ 39.95
Price includes VAT for USA
Subscribe to journal
Immediate online access to all issues from 2019. Subscription will auto renew annually.
US$ 199
This is the net price. Taxes to be calculated in checkout.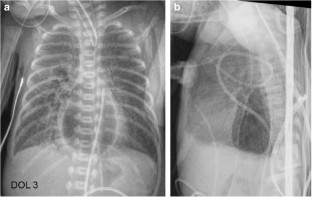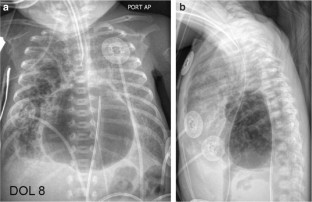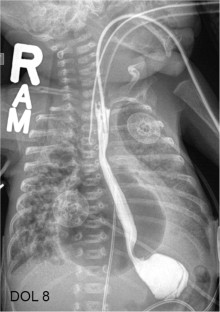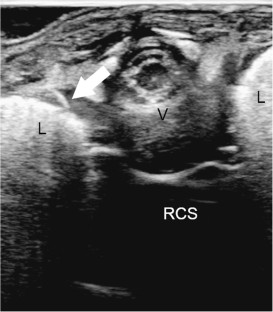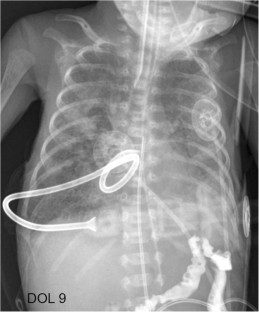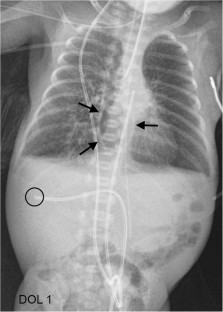 References
1.

Rosenfeld DL, Cordell CE, Jadeja N (1990) Retrocardiac pneumomediastinum: radiographic finding and clinical implications. Pediatrics 85:92–97

2.

Amodio JB, Berdon WE, Abramson SJ et al (1986) Retrocardiac pneumomediastinum in association with tracheal and esophageal perforations. Pediatr Radiol 16:380–383

3.

Kyle A, Veldtman G, Stanton M et al (2012) Barotrauma-associated posterior tension pneumomediastinum, a rare cause of cardiac tamponade in a ventilated neonate: a case report and review of the literature. Acta Paediatr Int J Paediatr 101:e142–e144

4.

Cunningham LC, Jatana KR, Grischkan JM (2013) Conservative management of iatrogenic membranous tracheal wall injury: a discussion of 2 successful pediatric cases. JAMA Otolaryngol Head Neck Surg 139:405–410

5.

Baird CW, Watts LT, Lessaris KJ (2009) Nonoperative management of an extensive tracheal injury in an 860-g preterm neonate. J Thorac Cardiovasc Surg 137:787–788

6.

Bowen A 3rd, Quattromani FL (1980) Infraazygous pneumomediastinum in the newborn. AJR Am J Roentgenol 135:1017–1021

7.

Morrison SC, Fletcher BD (1985) Infra-azygous pneumomediastinum versus pulmonary ligament air collection: CT evaluation. Pediatr Radiol 15:129–130

8.

Beckstrom AC, Ricca RL, Gow KW, McAdams RM (2012) Persistent posterior pneumomediastinum in a neonate. Pediatr Int 54:441–442
Acknowledgments
The authors acknowledge the Interventional Radiology Team at Children's National Hospital.
Ethics declarations
Conflicts of interest
None
Additional information
Publisher's note
Springer Nature remains neutral with regard to jurisdictional claims in published maps and institutional affiliations.
About this article
Cite this article
Ponkowski, M.J., Yadav, B., Meagher, E. et al. Minimally invasive treatment of retrocardiac tension pneumomediastinum in an extremely low birth weight infant. Pediatr Radiol (2020). https://doi.org/10.1007/s00247-020-04712-2
Received:

Revised:

Accepted:

Published:
Keywords
Extremely low birth weight

Interventional radiology

Low tracheal injury

Neonate

Pneumomediastinum

Ultrasound