Abstract
There is a broad spectrum of congenital anomalies of the central pulmonary arteries including abnormalities of development, origin, course and caliber. These anomalies incorporate simple lesions such as isolated pulmonary valve stenosis to very complex anomalies with many associated abnormalities. Part 1 and Part 2 of this review describe the range of anatomical variations that are encountered as well as important aspects of anatomy, physiology and surgical correction. The authors summarize and illustrate both well-recognized and more complex anomalies to provide a broad and comprehensive understanding of these lesions and their appearances on CT and MR imaging. In Part 2 the authors review abnormalities in development, origin and course of the central branch pulmonary arteries as well as abnormal pulmonary artery caliber.
This is a preview of subscription content, log in to check access.
Access options
Buy single article
Instant access to the full article PDF.
US$ 39.95
Price includes VAT for USA
Subscribe to journal
Immediate online access to all issues from 2019. Subscription will auto renew annually.
US$ 199
This is the net price. Taxes to be calculated in checkout.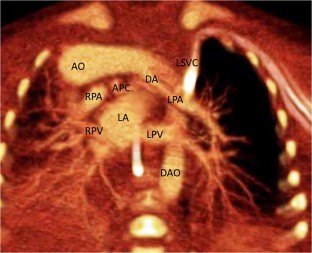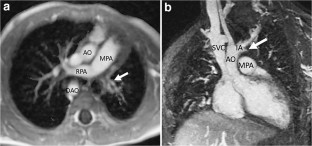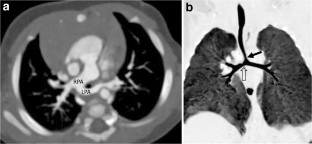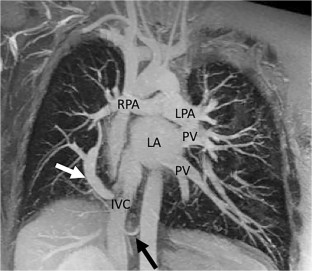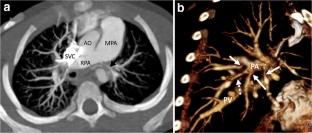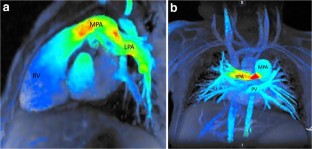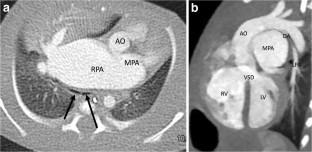 References
1.

Weichert J, Hartge DR, Axt-Fliedner R (2010) The fetal ductus arteriosus and its abnormalities — a review. Congenit Heart Dis 5:398–408

2.

Alvarez SGV, McBrien A (2018) Ductus arteriosus and fetal echocardiography: implications for practice. Semin Fetal Neonatal Med 23:285–291

3.

Yildirim A, Karabulut N, Dogan S, Herek D (2011) Congenital thoracic arterial anomalies in adults: a CT overview. Diagn Interv Radiol 17:352–362

4.

Collins LK, Levin TL, Berdon WE et al (2010) Rudhe syndrome: reversible right middle lobe emphysema in infants with left-to-right shunts — an historical review. Pediatr Radiol 40:762–765

5.

Calder L, Van Praagh R, Van Praagh S et al (1976) Truncus arteriosus communis. Clinical, angiocardiographic, and pathologic findings in 100 patients. Am Heart J 92:23–38

6.

Gatzoulis M, Webb G, Daubeney P (2006) Diagnosis and management of adult congenital heart disease. Churchill Livingston, Edinburgh

7.

Coley B (2018) Caffey's pediatric diagnostic imaging, 13th edn. Elsevier, Philadelphia

8.

Castaner E, Gallardo X, Rimola J et al (2006) Congenital and acquired pulmonary artery anomalies in the adult: radiologic overview. Radiographics 26:349–371

9.

Davis SD (2000) Case 28: proximal interruption of the right pulmonary artery. Radiology 217:437–440

10.

Carter BW, Lichtenberger JP 3rd, Wu CC (2014) Congenital abnormalities of the pulmonary arteries in adults. AJR Am J Roentgenol 202:W308–W313

11.

Liu H, Juan YH, Chen J et al (2015) Anomalous origin of one pulmonary artery branch from the aorta: role of MDCT angiography. AJR Am J Roentgenol 204:979–987

12.

Newman B, Cho Y (2010) Left pulmonary artery sling — anatomy and imaging. Semin Ultrasound CT MR 31:158–170

13.

Berdon WE (2000) Rings, slings, and other things: vascular compression of the infant trachea updated from the midcentury to the millennium — the legacy of Robert E. Gross, MD, and Edward B.D. Neuhauser, MD. Radiology 216:624–632

14.

Wells TR, Gwinn JL, Landing BH, Stanley P (1988) Reconsideration of the anatomy of sling left pulmonary artery: the association of one form with bridging bronchus and imperforate anus. Anatomic and diagnostic aspects. J Pediatr Surg 23:892–898

15.

Chassagnon G, Morel B, Carpentier E et al (2016) Tracheobronchial branching abnormalities: lobe-based classification scheme. Radiographics 36:358–373

16.

Hernandez LE, Anderson RH, Hoggard E et al (2015) Crossed pulmonary arteries with hypoplasia of the transverse aortic arch. Cardiol Young 25:718–724

17.

Allanson JE, Roberts AE (2016) Noonan syndrome. In: Adam MP, Ardinger HH, Pagon RA et al (eds), GeneReviews. University of Washington, Seattle

18.

Morisaki T, Morisaki H (2016) Genetics of hereditary large vessel diseases. J Hum Genet 61:21–26

19.

Taybi H, Lachman R (2007) Radiology of syndromes, metabolic disorders, and skeletal dysplasias, 5th edn. Mosby, St. Louis

20.

Newman B (2006) Congenital bronchopulmonary foregut malformations: concepts and controversies. Pediatr Radiol 36:773–791

21.

Morris CA, Mervis CB (2000) Williams syndrome and related disorders. Annu Rev Genomics Hum Genet 1:461–484

22.

Twite MD, Stenquist S, Ing RJ (2019) Williams syndrome. Paediatr Anaesth 29:483–490

23.

Collins RT 2nd, Mainwaring RD, MacMillen KL, Hanley FL (2019) Outcomes of pulmonary artery reconstruction in Williams syndrome. Ann Thorac Surg 108:146–153

24.

Shah S, Ashwath R, Rajiaj P (2016) Imaging cardiovascular manifestations of genetic syndromes. Curr Probl Diagn Radiol 45:51–60

25.

Das KM, Momenah TS, Larsson SG et al (2014) Williams-Beuren syndrome: computed tomography imaging review. Pediatr Cardiol 35:1309–1320

26.

Turnpenny PD, Ellard S (2012) Alagille syndrome: pathogenesis, diagnosis and management. Eur J Hum Genet 20:251–257

27.

Rodriguez RM, Feinstein JA, Chan FP (2016) CT-defined phenotype of pulmonary artery stenoses in Alagille syndrome. Pediatr Radiol 46:1120–1127

28.

Bezniakow N, Gos M, Obersztyn E (2014) The RASopathies as an example of RAS/MAPK pathway disturbances — clinical presentation and molecular pathogenesis of selected syndromes. Dev Period Med 18:285–296

29.

Ley S, Zaporozhan J, Arnold R et al (2007) Preoperative assessment and follow-up of congenital abnormalities of the pulmonary arteries using CT and MRI. Eur Radiol 17:151–162

30.

Grotenhuis HB, Nijveld A, Backx A (2003) Absent pulmonary valve syndrome with intact ventricular septum and patent ductus arteriosus: report of two cases and a short review of the literature. Ann Thorac Surg 75:280–282

31.

Qureshi MY, Burkhart HM, Julsrud P, Cetta F (2014) Importance of absent ductus arteriosus in tetralogy of Fallot with absent pulmonary valve syndrome. Tex Heart Inst J 41:664–667

32.

Yong MS, Yim D, Brizard CP et al (2014) Long-term outcomes of patients with absent pulmonary valve syndrome: 38 years of experience. Ann Thorac Surg 97:1671–1677

33.

Frank L, Dillman JR, Parish V et al (2010) Cardiovascular MR imaging of conotruncal anomalies. Radiographics 30:1069–1094

34.

Sridhar P, Kalyanpur A, Suresh P, Sharma R (2006) Helical CT evaluation of aortopulmonary window. Ind J Radiol Imaging 16:847–849

35.

Hirsig LE, Sharma PG, Verma N, Rajderkar DA (2018) Congenital pulmonary artery anomalies: a review and approach to classification. J Clin Imaging Sci 8:29

36.

Knobel Z, Kellenberger CJ, Kaiser T et al (2011) Geometry and dimensions of the pulmonary artery bifurcation in children and adolescents: assessment in vivo by contrast-enhanced MR-angiography. Int J Card Imaging 27:385–396

37.

Compton GL, Florence J, MacDonald C et al (2015) Main pulmonary artery-to-ascending aorta diameter ratio in healthy children on MDCT. AJR Am J Roentgenol 205:1322–1325
Ethics declarations
Conflicts of interest
None
Additional information
Publisher's note
Springer Nature remains neutral with regard to jurisdictional claims in published maps and institutional affiliations.
CME activity
This article has been selected as the CME activity for the current month. Please visit the SPR website at www.pedrad.org on the Education page and follow the instructions to complete this CME activity.
About this article
Cite this article
Newman, B., Alkhori, N. Congenital central pulmonary artery anomalies: Part 2. Pediatr Radiol 50, 1030–1040 (2020). https://doi.org/10.1007/s00247-020-04703-3
Received:

Revised:

Accepted:

Published:

Issue Date:
Keywords
Anomalies

Children

Computed tomography

Congenital

Magnetic resonance imaging

Pulmonary artery