Abstract
Background
Hypertrophic pyloric stenosis (HPS) is a common cause of gastric outlet obstruction in young infants. Infants with HPS present with projectile vomiting, sometimes have electrolyte abnormalities and typically undergo pyloromyotomy to alleviate the obstruction. Abdominal US is the gold standard imaging study for diagnosis. Case reports of incidental hepatic portal venous gas have been reported in infants with HPS; however, no large studies have been conducted to determine the incidence or possible clinical implications of this finding.
Objective
To assess the incidence of portal venous gas in infants with HPS and to determine whether the presence of this gas in infants with HPS indicates a more unstable patient, increased length of stay or worse outcome.
Materials and methods
We conducted a retrospective review of sonographic reports containing "pyloric stenosis," excluding negative descriptor, at a tertiary-care children's hospital from November 2010 to September 2017. Data collected included pyloric thickness/length, liver evaluation, portal venous gas, any additional imaging, demographics, symptomatology days, electrolyte abnormality, and length of hospital stay.
Results
In a 7-year period, 545 US exams were positive for HPS. Of these, 334 exams included enough hepatic parenchyma to evaluate for portal venous gas. Infants in 6 of the 334 exams demonstrated portal venous gas (1.8%). Clinical presentation (length of symptoms and electrolyte abnormalities), demographics (male predominance and age at presentation) and imaging characteristics (pyloric thickness and length) were similar for the HPS groups with and without portal venous gas. There was no significant difference in outcome or length of hospital stay.
Conclusion
Visualization of portal venous gas in infants with HPS is not rare and appears benign, without need for further imaging. Portal venous gas in infants with HPS does not portend a more severe patient presentation or outcome.
This is a preview of subscription content, log in to check access.
Access options
Buy single article
Instant access to the full article PDF.
US$ 39.95
Price includes VAT for USA
Subscribe to journal
Immediate online access to all issues from 2019. Subscription will auto renew annually.
US$ 199
This is the net price. Taxes to be calculated in checkout.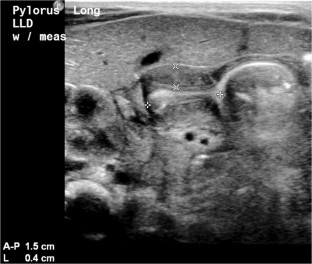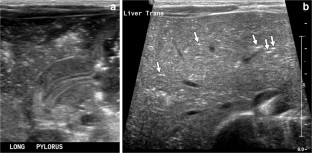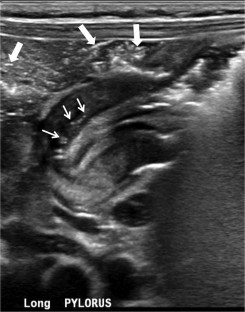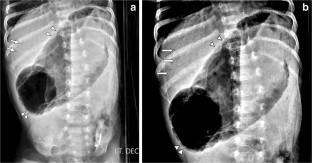 References
1.

Kapoor R, Kancherla V, Cao Y et al (2019) Prevalence and descriptive epidemiology of infantile hypertrophic pyloric stenosis in the United States: a multistate, population-based retrospective study, 1999–2010. Birth Defects Res 111:159–169

2.

Daniel S, Francis D, Tobin M, Chawla A (2018) Case of hepatic portal venous gas in an infant with hypertrophic pyloric stenosis. BMJ Case Rep. https://doi.org/10.1136/bcr-2018-224794

3.

Lester PD, Budge AF, Barnes JC, Kirks DR (1978) Gastric emphysema in infants with hypertrophic pyloric stenosis. AJR Am J Roentgenol 131:421–423

4.

Sarti J, Kennedy A (2006) Portal venous gas in hypertrophic pyloric stenosis. J Pediatr Surg 41:1935–1936

5.

Bhargava P, Parisi M (2009) Gastric pneumatosis and portal venous gas: benign findings in hypertrophic pyloric stenosis. Pediatr Radiol 39:413

6.

Cohen HL, Chism PB, Radtke I (2017) Excessive bright echoes sign for hypertrophic pyloric stenosis suggest the diagnosis: gastric pneumatosis and portal venous gas in infants suggest HPS. J Ultrasound Med 36:1059–1063

7.

Wolfe JN, Evans WA (1955) Gas in the portal veins of the liver in infants; a roentgenographic demonstration with postmortem anatomical correlation. Am J Roentgenol Radium Therapy, Nucl Med 74:486–488

8.

Liebman PR, Patten MT, Manny J et al (1978) Hepatic–portal venous gas in adults: etiology, pathophysiology and clinical significance. Ann Surg 187:281–287

9.

Liu Y-J, Siracuse JJ, Gage T, Hauser CJ (2013) Phlegmonous gastritis presenting as portal venous pneumatosis. Surg Infect 14:221–224

10.

Huang C-Y, Sun J-T, Tsai K-C et al (2014) Hepatic portal venous gas: review of the literature and sonographic implications. J Med Ultrasound 22:66–70

11.

Aboagye J, Goldstein SD, Salazar JH et al (2014) Age at presentation of common pediatric surgical conditions: reexamining dogma. J Pediatr Surg 49:995–999

12.

Forster N, Haddad RL, Choroomi S et al (2007) Use of ultrasound in 187 infants with suspected infantile hypertrophic pyloric stenosis. Australas Radiol 51:560–563

13.

Hajiran CJ, Hobbs GR, Vona-Davis LC, Nakayama DK (2016) Cost of hospitalization for infantile pyloric stenosis. Am Surg 82:E3–E5
Ethics declarations
Conflicts of interest
None
Additional information
Publisher's note
Springer Nature remains neutral with regard to jurisdictional claims in published maps and institutional affiliations.
About this article
Cite this article
Kelly, M.M., Cantu, C., Richer, E.J. et al. Incidence and importance of portal venous gas in children with hypertrophic pyloric stenosis. Pediatr Radiol 50, 1102–1106 (2020). https://doi.org/10.1007/s00247-020-04694-1
Received:

Revised:

Accepted:

Published:

Issue Date:
Keywords
Hypertrophic pyloric stenosis

Infants

Outcome

Portal venous gas

Pylorus

Ultrasonography