Abstract
Background
Demand for pediatric cardiac computed tomography (CT) angiography is increasing due to recent advances that reduce the need for sedation and radiation exposure while enhancing diagnostic accuracy. This has resulted in the increasing use of cardiac CT angiography emergently during weekends and after hours. The unexpected demand for these services can be challenging, as most hospitals are not staffed to provide 24/7 pediatric cardiovascular imaging.
Objective
To describe a large single-center experience of providing emergent cardiac CT angiography services in children.
Materials and methods
We identified all patients who underwent after-­hours weekday and weekend emergent cardiac CT angiography between January 2017 and August 2018. Cardiac CT angiography in the settings of congenital heart disease and coronary imaging were included. Data collected included day and time of cardiac CT angiography, patient age, referral unit, indication, surgical history, need for sedation, need for surgery, intervention and/or change in medical management based on the cardiac CT angiography.
Results
Forty-seven studies were identified, 26 (55%) of which were performed on a weekend or holiday and 21 (45%) after 5 p.m. on a weekday. Based on cardiac CT angiography findings, 20 (43%) patients underwent either surgery or an interventional procedure, and 9 (19%) had a change in medical management. The time between cardiac CT angiography and the related surgery/intervention ranged from 0 to 29 days with a median of 3.5 days.
Conclusion
Emergent pediatric cardiac CT angiography is a valuable service. Larger multi-institutional studies with standardized referral and utilization patterns are needed to determine if outcomes are affected by this service, which in turn will influence hospital staffing patterns for emergent imaging.
This is a preview of subscription content, log in to check access.
Access options
Buy single article
Instant access to the full article PDF.
US$ 39.95
Price includes VAT for USA
Subscribe to journal
Immediate online access to all issues from 2019. Subscription will auto renew annually.
US$ 199
This is the net price. Taxes to be calculated in checkout.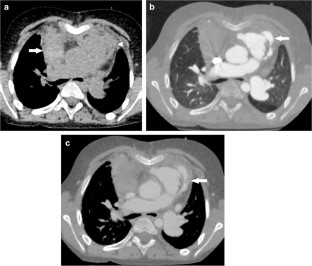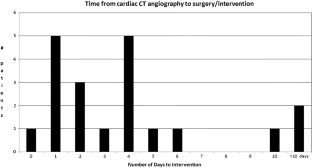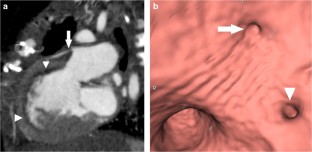 References
1.

Hlavacek AM (2010) Imaging of congenital cardiovascular disease: the case for computed tomography. J Thorac Imaging 25:247–255

2.

Jadhav SP, Golriz F, Atweh LA (2015) CT angiograph of neonates and infants: comparison of radiation dose and image quality of target mode prospectively ECG-gated 320-MDCT and ungated helical 64-MDCT. AJR Am J Roentgenol 204:W184–W191

3.

Hellinger JC, Pena A, Poon M et al (2010) Pediatric computed tomographic angiography: imaging the cardiovascular system gently. Radiol Clin N Am 48:439–467

4.

Yamasaki Y, Kawanami S, Kamitani T et al (2018) Free-breathing 320-row computed tomographic angiography with low-tube voltage and hybrid iterative reconstruction in infants with complex congenital heart disease. Clin Imaging 50:147–156

5.

Rose-Felker K, Robinson JD, Backer CL et al (2017) Preoperative use of CT angiography in infants with coarctation of the aorta. World J Pediatr Congenit Heart Surg 8:196–202

6.

Ghoshhajra BB, Takx RAP, Staziaki PV et al (2017) Clinical implementation of an emergency department coronary computed tomographic angiography protocol for triage of patients with suspected acute coronary syndrome. Eur Radiol 27:2784–2793

7.

Hoffmann U, Truong QA, Schoenfeld DA et al (2012) Coronary CT angiography versus standard evaluation in acute chest pain. N Engl J Med 367:299–308

8.

Ali F, Qureshi S, Amanullah M, Atiq M (2018) Accuracy of echocardiography in diagnosing total anomalous pulmonary venous return. Pak J Med Sci 34:1094–1098

9.

Andreini D, Pontone G, Mushtaq S et al (2019) Diagnostic accuracy of coronary CT angiography performed in 100 consecutive patients with coronary stents using a whole-organ high-definition CT scanner. Int J Cardiol 274:382–387

10.

Warner DO, Zaccariello MJ, Matusic SK et al (2018) Neuropsychological and behavioral outcomes after exposure of young children to procedures requiring general anesthesia: the Mayo anesthesia safety in kids (MASK) study. Anesthesiology 129:89–105
Acknowledgments
The opinions expressed in this manuscript are solely those of the authors and do not represent an endorsement by or the view of the United States Army, United States Air Force, the Department of Defense, or the U.S. government.
Ethics declarations
Conflicts of interest
None
Additional information
Publisher's note
Springer Nature remains neutral with regard to jurisdictional claims in published maps and institutional affiliations.
About this article
Cite this article
May, L.A., More, S.R., Masand, P.M. et al. Value of emergent pediatric cardiac computed tomographic angiography service: initial experience at a large children's hospital. Pediatr Radiol 50, 1095–1101 (2020). https://doi.org/10.1007/s00247-020-04659-4
Received:

Revised:

Accepted:

Published:

Issue Date:
Keywords
Children

Computed tomographic angiography

Computed tomography

Congenital heart disease

Heart