Abstract
Background
Autosomal dominant polycystic kidney disease (ADPKD) is the most common inherited renal disease. This pathology has been increasingly diagnosed in utero and several sonographic patterns are well described in the literature.
Objective
To present a series of fetuses with an unusual imaging pattern of ADPKD, mimicking autosomal recessive polycystic kidney disease (ARPKD).
Materials and methods
We retrospectively reviewed second-line ultrasound (US) scans performed for suspicion of fetal kidney pathology between 2006 and 2018. Inclusion criteria were (1) proven ADPKD on the basis of a known family history and/or of genetic testing and (2) US features suggestive of ARPKD. We recorded the clinical, imaging, genetic and pathological findings in cases with pregnancy termination.
Results
Three out of 12 patients with proven ADPKD diagnosed in utero presented with US features suggestive of ARPKD. Furthermore, an additional patient observed at another institution was added to the series. History of familial ADPKD was present in three cases. US showed enlarged kidneys with increased cortical echogenicity, decreased corticomedullary differentiation, multiple medullary cysts and decreased amniotic fluid in all four cases. Pregnancy was terminated in two cases (histology confirmed features in keeping with ADPKD), one premature neonate died (histology in progress) and one child is alive. Genetic testing showed a homozygous mutation of the PKD1 gene in two patients, a heterozygous mutation of the PKD1 gene in one patient and was not performed in the remaining patient.
Conclusion
This series describes an unusual sonographic prenatal presentation of ADPKD, not yet well described in the radiologic literature, mimicking ARPKD.
Access options
Buy single article
Instant access to the full article PDF.
US$ 39.95
Tax calculation will be finalised during checkout.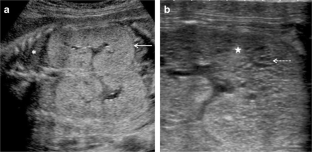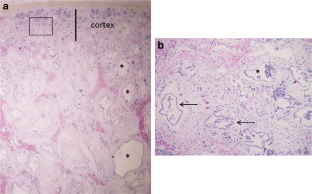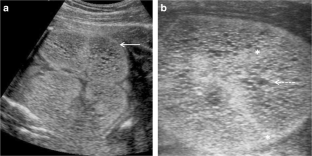 References
1.

Reeders ST, Breuning MH, Davies KE et al (1985) A highly polymorphic DNA marker linked to adult polycystic kidney disease on chromosome 16. Nature 317:542–544

2.

Avni FE, Garel C, Cassart M et al (2012) Imaging and classification of congenital cystic renal diseases. AJR Am J Roentgenol 198:1004–1013

3.

Brun M, Maugey-Laulom B, Eurin D et al (2004) Prenatal sonographic patterns in autosomal dominant polycystic kidney disease: a multicenter study. Ultrasound Obstet Gynecol 24:5–61

4.

Boyer O, Gagnadoux MF, Guest G et al (2007) Prognosis of autosomal dominant polycystic kidney disease diagnosed in utero or at birth. Pediatr Nephrol 22:380–388

5.

Audrezet MP, Corbiere C, Lebbah S et al (2016) Comprehensive PKD1 and PKD2 mutation analysis in prenatal autosomal dominant polycystic kidney disease. J Am Soc Nephrol 27:722–729

6.

Gilbert RD, Sukhtankar P, Lachlan K, Fowler DJ (2013) Bilineal inheritance of PKD1 abnormalities mimicking autosomal recessive polycystic disease. Pediatr Nephrol 28:2217–2220

7.

Vujic M, Heyer CM, Ars E et al (2010) Incompletely penetrant PKD1 alleles mimic the renal manifestations of ARPKD. J Am Soc Nephrol 21:1097–1102

8.

Avni F (2016) Néphropathies foetales et pathologies des surrénales (hors tumeurs) (Fetal nephropathies and adrenal pathologies (tumors excepted)). In: Cassart M, Garel C (eds) Imaging from the fetus to the neonate. Lavoisier, Paris, pp 466–492

9.

Avni FE, Hall M (2006) Fetal nephropathies. Arch Pediatr 13:721–723

10.

Chung EM, Conran RM, Schroeder JW et al (2014) From the radiologic pathology archives: pediatric polycystic kidney disease and other ciliopathies: radiologic-pathologic correlation. Radiographics 34:155–178

11.

Zerres K, Mucher G, Becker J et al (1998) Prenatal diagnosis of autosomal recessive polycystic kidney disease (ARPKD): molecular genetics, clinical experience, and fetal morphology. Am J Med Genet 76:137–144

12.

Gunay-Aygun M (2009) Liver and kidney disease in ciliopathies. Am J Med Genet C Semin Med Genet 151C:296–306

13.

Bergmann C, von Bothmer J, Ortiz Bruchle N et al (2011) Mutations in multiple PKD genes may explain early and severe polycystic kidney disease. J Am Soc Nephrol 22:2047–2056
Acknowledgments
We would like to thank Dr. Gounongbe for the referral of patient 4 and Dr. Audrezet and Dr. Désir for genetic analysis of patients 3 and 4 respectively.
Ethics declarations
Conflicts of interest
None
Additional information
Publisher's note
Springer Nature remains neutral with regard to jurisdictional claims in published maps and institutional affiliations.
About this article
Cite this article
Garel, J., Lefebvre, M., Cassart, M. et al. Prenatal ultrasonography of autosomal dominant polycystic kidney disease mimicking recessive type: case series. Pediatr Radiol 49, 906–912 (2019). https://doi.org/10.1007/s00247-018-4325-3
Received:

Revised:

Accepted:

Published:

Issue Date:
Keywords
Autosomal dominant polycystic kidney disease

Autosomal recessive polycystic kidney disease

Fetus

Kidneys

PKD1 gene

Prenatal diagnosis

Ultrasound