Abstract
Background
Knowing that ureteropelvic junction obstruction is due to a crossing renal vessel is essential in choosing the appropriate surgical treatment.
Objective
To evaluate the diagnostic accuracy of non-contrast magnetic resonance (MR) angiography in identifying crossing renal vessels in children younger than 4 years old with unilateral hydronephrosis.
Materials and methods
A retrospective review of preoperative MR urography of children with unilateral hydronephrosis was conducted by two independent readers. The presence or absence of crossing renal vessels was identified and compared with surgical findings.
Results
Twenty-nine patients were included. The disagreement between MR angiography with and without contrast enhancement in detecting a crossing renal vessel was 8%. The disagreement between non-contrast-enhanced MR and surgical findings was 17%. The disagreement between contrast-enhanced MR angiography and surgical findings was 25%. The balanced triggered angiography without contrast enhancement had a sensitivity of 70% (95% confidence interval [CI]: 35-93%) and a specificity of 93% (95% CI: 66-100%). Contrast-enhanced MR angiography had a sensitivity of 56% (95% CI: 21-86%) and a specificity of 91%. (95% CI: 59-100%).
Conclusion
MR without contrast enhancement may be a reliable, valid and safe alternative to contrast-enhanced MR angiography for identifying crossing renal vessels.
Access options
Buy single article
Instant access to the full article PDF.
USD 39.95
Price includes VAT (USA)
Tax calculation will be finalised during checkout.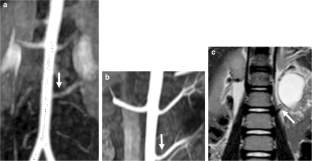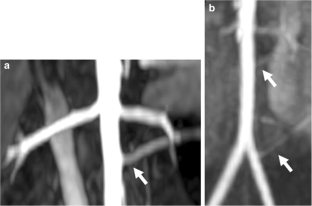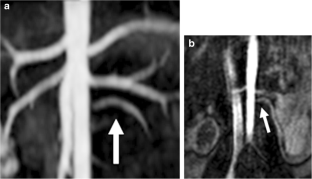 References
1.

Rigas A, Karamanolakis D, Bogdanos I et al (2003) Pelvi-ureteric junction obstruction by crossing renal vessels: clinical and imaging features. BJU Int 92:101–103

2.

Guven A (2016) Crossing renal vessel causing ureteropelvic junction obstruction in children. J Integr Nephrol Androl 3:31–32

3.

Richstone L, Seldeman CA, Reggio E et al (2009) Pathologic findings in patients with ureteropelvic junction obstruction and crossing vessels. Urology 73:716–719

4.

Calder AD, Hiorns MP, Abhyankar A et al (2007) Contrast-enhanced magnetic resonance angiography for the detection of crossing renal vessels in children with symptomatic ureteropelvic junction obstruction: comparison with operative findings. Pediatr Radiol 37:356–361

5.

Pavicevic PK, Saranovic DZ, Mandic MJ et al (2015) Efficacy of magnetic resonance urography in detecting crossing vessels in children with ureteropelvic junction obstruction. Ann Ital Chir 86:443–449

6.

Weiss DA, Kadakia S, Kurzweil R et al (2015) Detection of crossing vessels in pediatric ureteropelvic junction obstruction: Clinical patterns and imaging findings. J Pediatr Urol 11:173.e1–173.e5

7.

Rooks VJ, Lebowitz RL (2001) Extrinsic ureteropelvic junction obstruction from a crossing renal vessel: demography and imaging. Pediatr Radiol 31:120–124

8.

Veyrac C, Baud C, Lopez C et al (2003) The value of colour Doppler ultrasonography for identification of crossing vessels in children with pelvi-ureteric junction obstruction. Pediatr Radiol 33:745–751

9.

Mitterberger M, Pinggera GM, Neururer R et al (2008) Comparison of contrast-enhanced color Doppler imaging (CDI), computed tomography (CT) and magnetic resonance imaging (MRI) for the detection of crossing vessels in patients with ureteropelvic junction obstruction. Eur Urol 53:1254–1260

10.

Mitsumori A, Yasui K, Akaki S et al (2000) Evaluation of crossing vessels in patients with ureteropelvic junction obstruction by means of helical CT. Radiographics 20:1383–1393

11.

Park SY, Kim CK, Kim E, Park BK (2015) Noncontrast-enhanced magnetic resonance renal angiography using a repetitive artery and venous labelling technique at 3 T: comparison with contrast-enhanced magnetic resonance angiography in subjects with normal renal function. Eur Radiol 25:533–540

12.

Glockner JF, Takahashi N, Kawashima A et al (2010) Non-contrast renal artery MRA using an inflow inversion recovery steady state free precession technique (Inhance): comparison with 3D contrast-enhanced MRA. J Magn Reson Imaging 31:1411–1418

13.

Brucher N, Vial J, Baunin C et al (2016) Non-contrast-enhanced MR angiography using time-spin labelling inversion pulse technique for detecting crossing renal vessels in children with symptomatic ureteropelvic junction obstruction: comparison with surgical findings. Eur Radiol 26:2697–2704

14.

Vivier PH, Dolores M, Taylor M, Dacher JN (2010) MR urography in children. Part 2: how to use ImageJ MR urography processing software. Pediatr Radiol 40:739–746

15.

Antonov NK, Ruzal-Shapiro CB, Morel KD et al (2016) Feed and wrap MRI technique in infants. Clin Pediatr 56:1095–1103

16.

Radmayr C, Bogaert G, Dogan HS et al. (2018) EAU Guidelines. Edn. presented at the EAU Annual Congress Copenhagen. ISBN 978-94-92671-01-1

17.

Fernbach SK, Maizels M, Conway JJ (1993) Ultrasound grading of hydronephrosis: introduction to the system used by the Society for Fetal Urology. Pediatr Radiol 23:478–480

18.

Gupta M, Smith AD (1998) Crossing vessels. Endourologic implications. Urol Clin North Am 25:289–293

19.

Hoffer FA, Lebowitz RL (1985) Intermittent hydronephrosis: a unique feature of ureteropelvic junction obstruction caused by a crossing renal vessel. Radiology 156:655–658

20.

Sampaio FJ (1991) Relationship between segmental arteries and pelviureteric junction. Br J Urol 68:214–217

21.

Sampaio FJ, Favorito LA (1993) Ureteropelvic junction stenosis: vascular anatomical background for endopyelotomy. J Urol 150:1787–1791

22.

Van Cangh PJ, Nesa S, Galeon M et al (1996) Vessels around the ureteropelvic junction: significance and imaging by conventional radiology. J Endourol 10:111–119

23.

Pesce C, Campobasso P, Costa L et al (1999) Ureterovascular hydronephrosis in children: Is pyeloplasty always necessary? Eur Urol 36:71–74

24.

Sakoda A, Cherian A, Mushtaq I (2011) Laparoscopic transposition of lower pole crossing vessels ('vascular hitch') in pure extrinsic pelvi-ureteric junction (PUJ) obstruction in children. BJU Int 108:1364–1368

25.

Jones RA, Grattan-Smith JD, Little S (2011) Pediatric magnetic resonance urography. J Magn Reson Imaging 33:510–526

26.

Napolitano M, Damasio MB, Grumieri G (2012) Ruolo dell'uro-risonanza magnetica in urologia pediatrica: stato dell'arte. (Role of magnetic resonance urography in pediatric urology: state of the art). Prospettive in pediatria (rivista della Società Italiana di Pediatria) 42:163-169

27.

McDaniel BB, Jones RA, Scherz H et al (2005) Dynamic contrast-enhanced MR urography in the evaluation of pediatric hydronephrosis: anatomic and functional assessment of ureteropelvic junction obstruction. AJR Am J Roentgenol 185:1608–1614

28.

Jones RA, Easley K, Little SB et al (2005) Dynamic contrast-enhanced MR urography in the evaluation of pediatric hydronephrosis: functional assessment. AJR Am J Roentgenol 185:1598–1607

29.

Ramalho J, Semelka RC, Ramalho M et al (2016) Gadolinium-based contrast agent accumulation and toxicity: an update. AJNR Am J Neuroradiol 37:1192–1198

30.

Beomonte Zobel B, Quattrocchi CC, Errante Y, Grasso RF (2016) Gadolinium-based contrast agents: did we miss something in the last 25 years? Radiol Med 121:478–481

31.

Grobner T (2006) Gadolinium: a specific trigger for the development of nephrogenic fibrosing dermopathy and nephrogenic systemic fibrosis? Nephrol Dial Transplant 21:1104–1108

32.

Marckmann P, Skov L, Rossen K et al (2006) Nephrogenic systemic fibrosis: suspected causative role of gadodiamide used for contrast-enhanced magnetic resonance imaging. J Am Soc Nephrol 17:2359–2362

33.

Flood TF, Stence NV, Maloney JA, Mirsky DM (2017) Pediatric brain: repeated exposure to linear gadolinium-based contrast material is associated with increased signal intensity at unenhanced T1- weighted MR imaging. Radiology 282:222–228

34.

Hu HH, Pokorney A, Towbin RB, Miller JH (2016) Increased signal intensities in the dentate nucleus and globus pallidus on unenhanced T1-weighted images: evidence in children undergoing multiple gadolinium MRI exams. Pediatr Radiol 46:1590–1598

35.

Roberts DR, Chatterjee AR, Yazdani M et al (2016) Pediatric patients demonstrate progressive T1-weighted hyperintensity in the dentate nucleus following multiple doses of gadolinium-based contrast agent. AJNR Am J Neuroradiol 37:2340–2347

36.

Rossi Espagnet MC, Bernardi B, Pasquini L et al (2017) Signal intensity at unenhanced T1-weighted magnetic resonance in the globus pallidus and dentate nucleus after serial administrations of a macrocyclic gadolinium-based contrast agent in children. Pediatr Radiol 47:1345–1352
Ethics declarations
Conflicts of interest
None
About this article
Cite this article
Sertorio, F., Wong, M.C.Y., Incarbone, V. et al. Non-contrast-enhanced magnetic resonance angiography for detecting crossing renal vessels in infants and young children: comparison with contrast-enhanced angiography and surgical findings. Pediatr Radiol 49, 105–113 (2019). https://doi.org/10.1007/s00247-018-4252-3
Received:

Revised:

Accepted:

Published:

Issue Date:
Keywords
Children

Crossing renal vessel

Hydronephrosis

Magnetic resonance angiography

Non-enhanced magnetic resonance imaging