Abstract
Our aim was to reduce the frequency of unnecessary testing used by pediatric cardiologists in the evaluation of pediatric patients with syncope or pre-syncopal symptoms without negatively affecting patient outcomes. Guidelines for cardiac testing in pediatric patients with syncope were developed and disseminated to members of our pediatric cardiology division. Educational brochures and water bottles labeled with tips on preventing syncope were made available to families and providers in our clinics. Compliance to the guidelines was tracked and shared with providers. Segmented regression analysis was used to model cardiac testing utilization and guideline compliance by provider over time before and after the implementation of the guidelines. A pre-intervention cohort of 237 patients (June 2014–May 2015) was compared to 880 post-intervention patients (August 2015–June 2019). There was a significant decrease in the utilization of unnecessary tests [odds ratio (OR) 0.3; 95% confidence interval (CI) 0.14, 0.65; p = 0.002] after the intervention. Charges associated with patient evaluation were significantly lower in the post-intervention cohort (interquartile range $0, $1378 vs $0, $213; p = 0.005). Post-intervention visits to emergency departments within our system were significantly decreased, with no change in the incidence of cardiac arrest, hospitalization for syncope, or referral to pediatric electrophysiologists. We demonstrated a significant reduction in the use of unnecessary testing and associated charges by developing guidelines related to the evaluation of pediatric patients with syncope or pre-syncopal symptoms. There was no demonstrable negative impact on patient outcomes.
Access options
Buy single article
Instant access to the full article PDF.
US$ 39.95
Tax calculation will be finalised during checkout.
Subscribe to journal
Immediate online access to all issues from 2019. Subscription will auto renew annually.
US$ 79
Tax calculation will be finalised during checkout.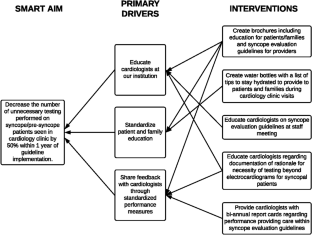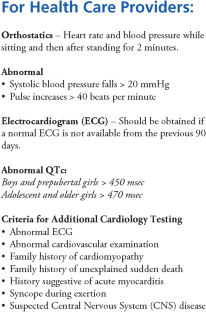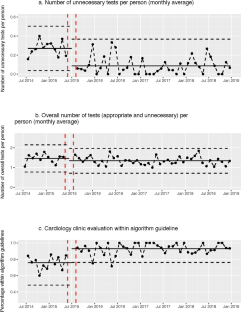 Data Availability
De-identified patient data have been retained to verify all reports within this manuscript.
Abbreviations
ECG:

Electrocardiogram

CXR:

Chest x-ray

ED:

Emergency department

VVS:

Vasovagal syncope

SD:

Standard deviation

IQR:

Interquartile range

OR:

Odds ratio

CI:

Confidence interval
References
1.

Lewis DA, Dhala A (1999) Syncope in the pediatric patient. The cardiologist's perspective. Pediatr Clin N Am 46:205–219

2.

Sapin SO (2004) Autonomic syncope in pediatrics: a practice-oriented approach to classification, pathophysiology, diagnosis, and management. Clin Pediatr 43:17–23

3.

Zhang Q, Du J, Wang C et al (2009) The diagnostic protocol in children and adolescents with syncope: a multi-centre prospective study. Acta Paediatr 98:879–884

4.

Phelps H, Sachdeva R, Mahle W et al (2016) Syncope best practices: a syncope clinical practice guideline to improve quality. Congenit Heart Dis 11:230–238

5.

Johnson ER, Etheridge SP, Minich LL et al (2014) Practice variation and resource use in the evaluation of pediatric vasovagal syncope: are pediatric cardiologists over-testing? Pediatr Cardiol 35:753–758

6.

Bagnall RD, Weintraub RG, Ingles J et al (2016) A prospective study of sudden cardiac death among children and young adults. N Engl J Med 374:2441–2452

7.

Zhang Q, Zhu L, Wang C et al (2013) Value of history taking in children and adolescents with cardiac syncope. Cardiol Young 23:54–60

8.

Anderson JB, Willis M, Lancaster H et al (2016) The evaluation and management of pediatric syncope. Pediatr Neurol 55:6–13

9.

Redd C, Thomas C, Willis M et al (2017) Cost of unnecessary testing in the evaluation of pediatric syncope. Pediatr Cardiol 38:1115–1122

10.

Ritter S, Tani LY, Etheridge SP et al (2000) What is the yield of screening echocardiography in pediatric syncope? Pediatrics 105:E58

11.

Steinberg LA, Knilans TK (2005) Syncope in children: diagnostic tests have a high cost and low yield. J Pediatr 146:355–358

12.

Kuriachan V, Sheldon RS, Platonov M (2008) Evidence-based treatment for vasovagal syncope. Heart Rhythm 5:1609–1614

13.

Paris Y, Toro-Salazar OH, Gauthier NS et al (2016) Regional implementation of a pediatric cardiology syncope algorithm using standardized clinical assessment and management plans (SCAMPS) methodology. J Am Heart Assoc 5:e002931

14.

Tretter JT, Kavey RE (2013) Distinguishing cardiac syncope from vasovagal syncope in a referral population. J Pediatr 163:1618–1623

15.

Verghese GR, Friedman KG, Rathod RH et al (2012) Resource utilization reduction for evaluation of chest pain in pediatrics using a novel Standardized Clinical Assessment and Management Plan (SCAMP). J Am Heart Assoc. https://doi.org/10.1161/JAHA.111.000349

16.

Magione-Smith R, McGlynn EA, Elliott MN et al (2001) Parent expectations for antibiotics, physician-parent communication, and satisfaction. Arch Pediatr Adolesc Med 155:800–806

17.

Bauchner H, Pelton SI, Klein JO (1999) Parents, physicians, and antibiotic use. Pediatrics 103:395–401

18.

Mangione-Smith R, Zhou C, Robinson JD et al (2015) Communication practices and antibiotic use for acute respiratory tract infections in children. Ann Fam Med 13:221–227

19.

Coffman JM, Cabana MD, Halpin HA, Yelin EH (2008) Effects of asthma education on children's use of acute care services: a meta-analysis. Pediatrics 121:575–586

20.

Anup D, Patel E (2017) Reduced emergency department utilization by patients with epilepsy using QI methodology. Pediatrics 139:e20152358

21.

Yoffe SJ, Moore RW, Gibson JO et al (2011) A reduction in emergency department use by children from a parent educational intervention. Fam Med 43:106–111
Funding
Statistical support through the University of Utah Study Design and Biostatistics Center for this investigation was supported by the University of Utah Population Health Research (PHR) Foundation, with funding in part from the National Center for Research Resources and the National Center for Advancing Translational Sciences, National Institutes of Health, through Grant UL1TR002538 (formerly 5UL1TR001067-05, 8UL1TR000105 and UL1RR025764).
Ethics declarations
Conflict of interest
All the authors declared that they have no conflict of interest.
Ethical Approval
This quality improvement study was approved and provided exempt status by the University of Utah Institutional Review Board (IRB_00126778) and Primary Children's Hospital Privacy Board.
Additional information
Publisher's Note
Springer Nature remains neutral with regard to jurisdictional claims in published maps and institutional affiliations.
About this article
Cite this article
Winder, M.M., Marietta, J., Kerr, L.M. et al. Reducing Unnecessary Diagnostic Testing in Pediatric Syncope: A Quality Improvement Initiative. Pediatr Cardiol (2021). https://doi.org/10.1007/s00246-021-02567-4
Received:

Accepted:

Published:
Keywords
Pediatric

Syncope

Cardiac disease

Quality improvement

Diagnostic test