Abstract
The hybrid subxiphoid perventricular approach provides direct access through the heart and may alleviate the technical limitations of complex percutaneous interventions particularly in infants with low body weight. We present the outcomes from a tertiary cardiology center using this approach. We performed a retrospective review of all patients less than 15 kg who underwent a hybrid perventricular approach via a small subxiphoid incision. Medical records were reviewed to obtain clinical, demographic and outcome data. Seventeen patients underwent 18 hybrid perventricular procedures using a subxiphoid approach. Median age at time of procedure was 4.6 months (IQR = 1.6 to 18 months) and median weight was 6.2 kgs (IQR = 3.4 to 8.6 kgs). Six patients underwent hybrid pulmonary valve replacement (PVR), 5 patients underwent pulmonary outflow stenting, and 5 infants underwent hybrid ventricular septal defect (VSD) device closure. One patient with a single ventricle who did not tolerate a percutaneous approach underwent left pulmonary artery (LPA) stenting for severe LPA coarctation with subsequent right ventricular outflow tract (RVOT) stenting. One further patient underwent implantation of a larger diameter stent for pulmonary artery bifurcation stenosis. Procedure success rate was 89% with two of the VSD cases reverted to open surgical repair. There were no intra-procedural complications; however, one patient died within 72 h. Minor adverse events occurred in 2 patients including a wound infection in one patient with an immunodeficiency syndrome. Hybrid subxiphoid perventricular approach provides an excellent alternative access to the heart especially in low birth weight infants to prevent hemodynamic instability or in small children requiring large delivery sheaths.
Access options
Buy single article
Instant access to the full article PDF.
US$ 39.95
Tax calculation will be finalised during checkout.
Subscribe to journal
Immediate online access to all issues from 2019. Subscription will auto renew annually.
US$ 79
Tax calculation will be finalised during checkout.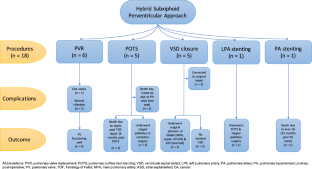 References
1.

Backes CH, Cua C, Kreutzer J, Armsby L, El-Said H, Moore JW et al (2013) Low weight as an independent risk factor for adverse events during cardiac catheterization of infants. Catheter Cardiovasc Interv 82(5):786–794

2.

Amin Z, Cao QL, Hijazi ZM (2008) Closure of muscular ventricular septal defects: transcatheter and hybrid techniques. Catheter Cardiovasc Interv 72(1):102–111

3.

Holoshitz N, Ilbawi MN, Amin Z (2013) Perventricular Melody valve implantation in a 12 kg child. Catheter Cardiovasc Interv 82(5):824–827

4.

Cools B, Boshoff D, Heying R, Rega F, Meyns B, Gewillig M (2013) Transventricular balloon dilation and stenting of the RVOT in small infants with tetralogy of fallot with pulmonary atresia. Catheter Cardiovasc Interv 82(2):260–265

5.

Zampi JD, Armstrong AK, Hirsch-Romano JC (2014) Hybrid perventricular pulmonary valve perforation and right ventricular outflow stent placement: a case report of a premature, 1.3-kg neonate with tetralogy of Fallot and pulmonary atresia. World J Pediatr Congenit Heart Surg 5(2):338–341

6.

Zampi JD, Hirsch-Romano JC, Goldstein BH, Shaya JA, Armstrong AK (2014) Hybrid approach for pulmonary atresia with intact ventricular septum: early single center results and comparison to the standard surgical approach. Catheter Cardiovasc Interv 83(5):753–761

7.

Zhang H, Li SJ, Li YQ, Wang H, Hu SS (2007) Hybrid procedure for the neonatal management of pulmonary atresia with intact ventricular septum. J Thorac Cardiovasc Surg 133(6):1654–1656

8.

Gupta A, Kenny D, Caputo M, Amin Z (2017) Initial experience with elective perventricular melody valve placement in small patients. Pediatr Cardiol 38(3):575–581

9.

Parody-Cuerda G, Coserria-Sanchez F, Adsuar Gomez A, Garcia-Hernandez JA, Manso-Garcia B, Hosseinpour AR (2018) Pulmonary valve perforation and stent implantation in the right ventricle outflow tract using a hybrid procedure as an alternative to a central shunt. Rev Esp Cardiol 71(12):1081–1082

10.

Linnane N, Walsh K, McGuinness J, Kenny D (2018) Evolution of approach to right ventricular outflow tract stenting in infants < 2 kgs. J Struct Heart Dis 4(2):50–55

11.

Berman DP, Burke R, Zahn EM (2012) Use of a novel hybrid approach to salvage an attempted transcatheter pulmonary valve implant. Pediatr Cardiol 33(5):839–842

12.

Phillips AB, Nevin P, Shah A, Olshove V, Garg R, Zahn EM (2016) Development of a novel hybrid strategy for transcatheter pulmonary valve placement in patients following transannular patch repair of tetralogy of fallot. Catheter Cardiovasc Interv 87(3):403–410

13.

Simpson KE, Huddleston CB, Foerster S, Nicholas R, Balzer D (2011) Successful subxyphoid hybrid approach for placement of a Melody percutaneous pulmonary valve. Catheter Cardiovasc Interv 78(1):108–111

14.

Liu H, Lu FX, Zhou J, Yan F, Qian SC, Li XY et al (2018) Minimally invasive perventricular versus open surgical ventricular septal defect closure in infants and children: a randomised clinical trial. Heart 104(24):2035–2043

15.

Martin MH, Shahanavaz S, Peng LF, Asnes JD, Riley M, Hellenbrand WE et al (2018) Percutaneous transcatheter pulmonary valve replacement in children weighing less than 20 kg. Catheter Cardiovasc Interv 91(3):485–494

16.

Mallula KK, Kenny D, Hijazi ZM (2015) Transjugular melody valve placement in a small child with protein losing enteropathy. Catheter Cardiovasc Interv 85(2):267–270

17.

Cubeddu RJ, Hijazi ZM (2011) Bailout perventricular pulmonary valve implantation following failed percutaneous attempt using the Edwards Sapien transcatheter heart valve. Catheter Cardiovasc Interv 77(2):276–280

18.

Amin Z, Gu X, Berry JM, Titus JL, Gidding SS, Rocchini AP (1999) Perventricular [correction of Periventricular] closure of ventricular septal defects without cardiopulmonary bypass. Ann Thorac Surg. 68(1):149–153 (discussion 53-4)

19.

Amin Z, Berry JM, Foker JE, Rocchini AP, Bass JL (1998) Intraoperative closure of muscular ventricular septal defect in a canine model and application of the technique in a baby. J Thorac Cardiovasc Surg 115(6):1374–1376

20.

Amin Z, Danford DA, Lof J, Duncan KF, Froemming S (2004) Intraoperative device closure of perimembranous ventricular septal defects without cardiopulmonary bypass: preliminary results with the perventricular technique. J Thorac Cardiovasc Surg 127(1):234–241

21.

Bacha EA, Cao QL, Galantowicz ME, Cheatham JP, Fleishman CE, Weinstein SW et al (2005) Multicenter experience with perventricular device closure of muscular ventricular septal defects. Pediatr Cardiol 26(2):169–175

22.

Bacha EA, Cao QL, Starr JP, Waight D, Ebeid MR, Hijazi ZM (2003) Perventricular device closure of muscular ventricular septal defects on the beating heart: technique and results. J Thorac Cardiovasc Surg 126(6):1718–1723

23.

Szkutnik M, Qureshi S, Kusa J, Rosenthal E, Bialkowski J (2007) Use of the Amplatzer muscular ventricular septal defect occluder for closure of perimembranous ventricular septal defects. Heart 93(3):355–358

24.

Zhu D, Gan C, Li X, An Q, Luo S, Tang H et al (2013) Perventricular device closure of perimembranous ventricular septal defect in pediatric patients: technical and morphological considerations. Thorac Cardiovasc Surg 61(4):300–306

25.

Killu AM, Sugrue A, Munger TM, Hodge DO, Mulpuru SK, McLeod CJ et al (2018) Impact of sedation vs. general anaesthesia on percutaneous epicardial access safety and procedural outcomes. Europace 20(2):329–336
Funding
This study has no financial disclosures.
Ethics declarations
Conflicts of interest
All authors have no conflict of interest to disclose.
Ethical Approval
Ethical approval was obtained from the Hospital Research Ethics Board for this study.
Additional information
Publisher's Note
Springer Nature remains neutral with regard to jurisdictional claims in published maps and institutional affiliations.
About this article
Cite this article
Ng, L.Y., Al-Alawi, K., Breatnach, C. et al. Hybrid Subxiphoid Perventricular Approach as an Alternative Access in Neonates and Small Children Undergoing Complex Congenital Heart Interventions. Pediatr Cardiol (2020). https://doi.org/10.1007/s00246-020-02510-z
Received:

Accepted:

Published:
Keywords
Hybrid subxiphoid perventricular approach

Congenital heart disease

Complex cardiac catheterization

Low weight infant