Abstract
Dextrocardia is defined by the authors as a right-sided heart with a base–apex axis directed rightward, resulting from a variation in cardiac development, and not used as a general term indicating any heart in the right chest. Dextrocardia occurs in approximately 0.01% of live births and can be discovered in various clinical settings and at various patient ages. The authors review their experience with dextrocardia, discuss useful clinical points that aid in evaluating complex anatomy, recount the history of dextrocardia terminology, and note the current inconsistent nomenclature.
Access options
Buy single article
Instant access to the full article PDF.
US$ 39.95
Tax calculation will be finalised during checkout.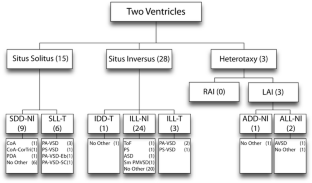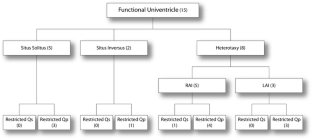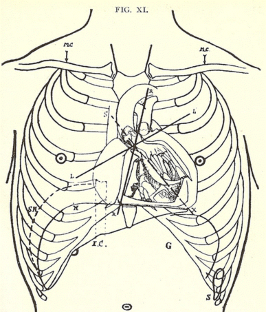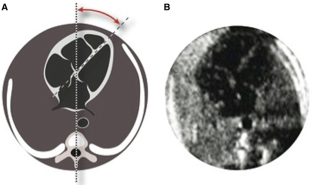 Abbreviations
[A,D,D-Nl]:

Situs ambiguous, atrioventricular concordance, ventriculoarterial concordance, and normally related great arteries

[A,L,L-Nl]:

Situs ambiguous, atrioventricular concordance, ventriculoarterial concordance, and normally related great arteries

[I,D,D-T]:

Situs inversus, atrioventricular discordance, ventriculoarterial discordance, and D-transposition of the great arteries

[I,L,L-Nl]:

Situs inversus, atrioventricular concordance, ventriculoarterial concordance, and normally related great arteries

[I,L,L-T]:

Situs inversus, atrioventricular concordance, ventriculoaterial discordance, and L-transposition of the great arteries

[S,D,D-Nl]:

Situs solitus, atrioventricular concordance, ventriculoarterial concordance, and normally related great arteries

[S,L,L-T]:

Situs solitus, atrioventricular discordance, ventriculoarterial discordance, and L-transposition of the great arteries
References
1.

Allen HD (2008) Dextrocardia. In: Allen HD, Driscoll DJ, Shaddy RE, Feltes TF (eds) Moss and Adams' heart disease in infants, children and adolescents, including the fetus and young adults. Wolters Kluwer Health/Lippincott Williams & Wilkins, Philadelphia, pp 1156–1162

2.

Bernasconi A, Azancot A, Simpson JM, Jones A, Sharland CK (2005) Fetal dextrocardia: diagnosis and outcome in two tertiary centres. Heart 91:1590–1594

3.

Bock CE (1847) Lehrbuch der pathologischen Anatomie: mit Rücksicht auf die Anwendung am Krankenbette. G Wigand, Leipzig, p 653

4.

Bohun CM, Potts JI, Casey BM, Sandor GG (2007) A population-based study of cardiac malformations and outcomes associated with dextrocardia. Am J Cardiol 100:305–309

5.

Comstock CH, Smith R, Lee W, Kira JS (1998) Right fetal cardiac axis: clinical significance and associated findings. Obstet Gynecol 91:495–499

6.

Ewart W (1892) Cardiac outline for clinical clerks and practitioners and first principles in the physical examination of the heart for the beginner. Baillière, Tyndall and Cox, London, p 31

7.

Garg N, Argawal BL, Modi N, Radhakrishnan S, Sinha N (2003) Dextrocardia: an analysis of cardiac structures in 125 patients. Int J Cardiol 88:143–155

8.

Ho SY (2003) What do we mean by "dextrocardia"? Int J Cardiol 88:155–156

9.

Hope J (1832) A treatise on the diseases of the heart and great vessels: comprising a new view of the physiology of the heart's action, according to which the physical signs are explained. Kidd, London, p 513

10.

Jacobs JP, Anderson RH, Weinberg PM, Walters HLIII, Tchervenkov CI, Del Duca D, Franklin RC, Aiello VD, Béland MJ, Colan SD, Gaynor JW, Krogmann ON, Kurosawa H, Maruszewski B, Stellin G, Elliott MJ (2007) The nomenclature, definition, and classification of cardiac structures in the setting of heterotaxy. Cardiol Young 17(Suppl 2):1–28

11.

Jones HW (1924) Types of dextrocardia. Br Med J 1:147–148

12.

Laennec RTH (1819) De l'auscultation médiate; ou, Traité du diagnostic des maladies des poumons et du coeur, fondé principalement sur ce nouveau moyen d'exploration. Brosson et Chaudé, Paris

13.

Lev M, Liberthson RR, Eckner FAO, Arcilla RA (1968) Pathologic anatomy of dextrocardia and its clinical implications. Circulation 37:979–999

14.

Li ZA, Li RM, Liu H, Deng AL (2006) Dexiocarida coupled with lingual lobe atelectasis and mediastinal pulmonary hernia of the left lung in a child. Ahongguo Dang Dai Er Ke Z ZHi 8:2 p following 350

15.

Paltauf R (1901) Dextrocardie und dextroversio cordis. Wien Klin Wochenschr 14:1032–1036

16.

Röntgen WC (1895) Eine neue Art von Strahlen. Stahel, Würzburg

17.

Senac JB (1749) Traité de la structure du coeur, de son action, et de ses maladies, vol 2. Jacques Vincent, Paris, p 643

18.

Smith JJ (1962) The inventum novum of Joseph Leopolod Auenbrugger. Bull N Y Acad Med 38:691–701

19.

Stanger P, Rudolph AM, Edward JE (1977) Cardiac malpositions: an overview based on study of sixty-five necropsy specimens. Circulation 56:159–172

20.

Stokes W (1882) On the diagnosis and treatment of diseases of the chest: part 1. Diseases of the lungs and windpipe. The New Sydenham Society, London, p 513

21.

Stone AK (1904) Cardiac displacement. Boston Med Surg J 150:29–37

22.

Taruffi C (1881–1889) Storia della teratologia, vol 5. Regia tipografia, Bologna, p 474
About this article
Cite this article
Evans, W.N., Acherman, R.J., Collazos, J.C. et al. Dextrocardia: Practical Clinical Points and Comments on Terminology. Pediatr Cardiol 31, 1–6 (2010). https://doi.org/10.1007/s00246-009-9516-0
Received:

Revised:

Accepted:

Published:

Issue Date:
Keywords
Dexiocardia

Dextrocardia

Heterotaxy

Situs inversus

Situs solitus