Abstract
People living near abandoned mines are at increased risk of exposure to toxic metals. We surveyed 4500 inhabitants with the mean age of 68.5 years old (male: 1768, female: 2732) living near 104 abandoned metal mines from 2013 to 2017 (the 2nd phase health survey in Korea). We conducted personal interviews, blood and urine sampling, and analyzed the concentrations of lead (Pb) and cadmium (Cd) in whole blood and Cd in urine using a graphite furnace atomic absorption spectrometer. The geometric means of blood Pb, blood Cd, and urine Cd were 2.27 μg/dL, 1.42 μg/L, and 1.66 μg/g creatinine, respectively. The level of metal exposure was lower than that reported from the first phase health survey in Korea (2008‒2011) but was higher than in the general population of Korea. Blood Pb was higher in males while blood Cd and urine Cd were significantly higher in females. Blood Pb was highest in the 40‒59 age group, while blood and urine Cd levels continuously increased until age 80 or older. The Cd levels in blood and urine were affected by consumption of locally produced rice and duration of residence near abandoned mines. Furthermore, negative correlations were observed between blood Pb and blood and urine Cd levels. Additionally, 252 of the 4500 subjects exceeded the thresholds of blood Cd or urine Cd levels. Together, these findings suggest that Cd has more sustainable and adverse health effects on the abandoned mine inhabitants, who are mostly aged. Therefore, continuous biomonitoring and risk assessment to environmental health risks are necessary for environmental pollution control and health promotion.
Access options
Buy single article
Instant access to the full article PDF.
US$ 39.95
Tax calculation will be finalised during checkout.
Subscribe to journal
Immediate online access to all issues from 2019. Subscription will auto renew annually.
US$ 119
Tax calculation will be finalised during checkout.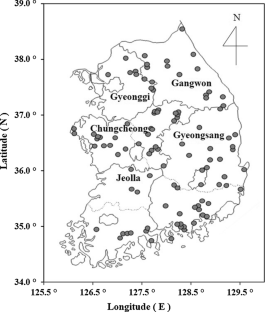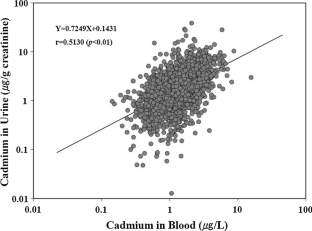 References
Akerstrom M, Barregard L, Lundh T, Sallsten G (2013) The relationship between cadmium in kidney and cadmium in urine and blood in an environmentally exposed population. Toxicol Appl Pharmacol 268:286–293

Åkesson A, Lundh T, Vahter M, Bjellerup P, Lidfeldt J, Nerbrand C, Samsioe G, Stomberg U, Skerfving S (2005) Tubular and glomerular kidney effects in Swedish women with low environmental cadmium exposure. Environ Health Perspect 113:1627–1631

Åkesson A, Bjellerup P, Lundh T, Lidfeldt J, Nerbrand C, Samsioe G, Skerfving S, Vahter M (2006) Cadmium-induced effects on bone in a population-based study of women. J Environ Health Perspect 114:830–834

Ali H, Khan E (2018) Bioaccumulation of non-essential hazardous heavy metals and metalloids in freshwater fish. Risk to human health. Environ Chem Lett 16:903–917

American Conference of Governmental Industrial Hygienists (ACGIH) (2015) TLVs and BEIs based on the documentation of threshold limit values for chemical substances and physical agents and biological exposure indices. ACGIH Signature Publication, Washington

Bonsnes RW, Taussky HH (1945) On the colorimetric determination of creatinine by the Jaffe reaction. J Biol Chem 158:581–591

Bridges CC, Zalups RK (2017) The aging kidney and the nephrotoxic effects of mercury. J Toxicol Environ Health B Crit Rev 20:55–80

Cai LM, Xu ZC, Qi JY, Feng ZZ, Xiang TS (2015) Assessment of exposure to heavy metals and health risks among residents near Tonglushan mine in Hubei, China. Chemosphere 127:127–135

Davodpour R, Sobhanardakani S, Cheraghi M, Abdi N, Lorestani B (2019) Honeybees (Apis mellifera L.) as a potential bioindicator for detection of toxic and essential elements in the environment (case study: Markazi Province, Iran). Arch Environ Contam Toxicol 77:344–358

Eom SY, Seo MN, Lee YS, Park KS, Hong YS, Sohn SJ, Kim YD, Choi BS, Lim JA, Kwon HJ, Kim H, Park JD (2017) Low-level environmental cadmium exposure induces kidney tubule damage in the general population of Korean adults. Arch Environ Contam Toxicol 73:401–409

Eom SY, Lee YS, Lee SG, Seo MN, Choi BS, Kim YD, Lim JA, Hwang MS, Kwon HJ, Hong YS, Sohn SJ, Park KS, Pyo HS, Kim H, Kim H, Park JD (2018) Lead, mercury, and cadmium exposure in the Korean general population. J Korean Med Sci 33:e9

Goyer R (1993) Lead toxicity: current concerns. J Environ Health Perspect 100:177–187

Hong YS, Lee BK, Park JD, Sakong J, Choi JW, Moon JD, Kim DS, Kim BG (2014) Blood cadmium concentration of residents living near abandoned metal mines in Korea. J Korean Med Sci 29:633–639

Horiguchi H, Oguma E, Sasaki S, Okubo H, Murakami K, Miyamoto K, Hosoi Y, Murata K, Kayama F (2013) Age-relevant renal effects of cadmium exposure through consumption of home-harvested rice in female Japanese farmers. Environ Int 56:1–9

Huang M, Choi SJ, Kim DW, Kim NY, Bae HS, Yu SD, Kim DS, Kim H, Choi BS, Yu IJ, Park JD (2013) Evaluation of factors associated with cadmium exposure and kidney function in the general population. Environ Toxicol 28:563–570

Hwangbo Y, Weaver VM, Tellez-Plaza M, Guallar E, Lee BK, Navas-Acien A (2011) Blood cadmium and estimated glomerular filtration rate in Korean adults. Environ Health Perspect 119:1800–1805

Ji K, Kim J, Lee M, Park S, Kwon HJ, Cheong HK, Jang JY, Kim DS, Yu S, Kim YW, Lee KY, Yang SO, Jhung IJ, Yang WH, Paek DH, Hong YC, Choi K (2013) Assessment of exposure to heavy metals and health risks among residents near abandoned metal mines in Goseong, Korea. Environ Pollut 178:322–328

Jung MC (2008) Contamination by Cd, Cu, Pb, and Zn in mine wastes from abandoned metal mines classified as mineralization types in Korea. Environ Geochem Health 30:205–217

Kim SY, Kwon HJ, Cheong HK, Choi KH, Jang JY, Jeong WC, Kim DS, Yu SD, Kim YW, Lee KY, Yang SO, Jhung IJ, Yang WH, Hong YC (2008) Investigation on health effects of an abandoned metal mine. J Korean Med Sci 23:452–458

Korea Centers for Disease Control and Prevention (KCDC) Korean National Health and Nutrition Examination Survey (KNHANES) (2017). https://knhanes.cdc.go.kr/knhanes/sub04/sub04_03.do. Accessed 24 July 2020

Levey AS, Bosch JP, Lewis JB, Greene T, Rogers N, Roth D (1999) A more accurate method to estimate glomerular filtration rate from serum creatinine: a new prediction equation. Ann Intern Med 130:461–470

Lee JW, Lee CK, Moon CS, Choi IJ, Lee KJ, Yi SM, Jang BK, Yoon BJ, Kim DS, Peak DM, Sul DG, Oh EH, Im HS, Kang HS, Kim JH, Lee JT, Kim KS, Park KL, Ahn RM, Park SH, Kim SH, Kim SC, Park CH, Lee JH (2012) Korea national survey for environmental pollutants in the human body 2008: Heavy metals in the blood or urine of the Korean population. J Hyg Environ Health 215:449–457

Liu H, Probst A, Liao B (2005) Metal contamination of soils and crops affected by the Chenzhou lead/zinc mine spill (Human, China). Sci Total Environ 339:153–166

Mckelvey W, Gwynn RC, Jaffery N, Kass D, Thorpe LE, Garg RK (2007) A biomonitoring study of lead, cadmium and mercury in the blood of New York city adults. Environ Health Perpect 115:1435–1441

Mezynska M, Brzóska MM (2018) Environmental exposure to cadmium-a risk for health of the general population in industrialized contries and preventive strategies. Environ Sci Pollut Res 25:3211–3232

Mohammadi MJ, Yari AR, Saghazadeh M, Sobhanardakani S, Geravandi S, Afkar A, Salehi SZ, Valipour A, Biglari H, Hosseini SA, Rastegarimehr B, Vosoughi M, Khaniabadi YO (2018) A health risk assessment of heavy metals in people consuming Sohan in Qom. Iran Toxin Rev 37:278–286

Nakagawa H, Nishijo M, Morikawa Y, Tabata M, Senma M, Kitagawa Y, Kawano S (1993) Urinary β2-microglobulin concentration and mortality in a cadmium-polluted area. Arch Environ Health 48:428–435

Navas-Acien A, Tellez-Plaza M, Guallar E, Muntner P, Silbergeld E, Jaar B, Weaver V (2009) Blood cadmium and lead and chronic kidney disease in US adults: a joint analysis. Am J Epidemiol 170:1156–1164

Park JD, Park CB, Choi BS, Kang EY, Hong YP, Chang IW, Chun BY, Yeh MH (1998) A study on urinary cadmium concentration and renal indices of inhabitant in an abandoned mine area. J Prev Med Public Health 31:424–439 (Korean)

Park DU, Kim DS, Yu SD, Lee KM, Ryu SH, Kim SG, Yang WH, Park DY, Hong YS, Park JD, Lee BK, Moon JD, Sakong J, Ahn SC, Ryu JM, Jung SW (2014) Blood levels of cadmium and lead in residents near abandoned metal mine areas in Korea. Environ Monit Assess 186:5209–5220

Roels HA, Lauwerys RR, Buchet JP, Benard AM, Vos A, Oversteyns M (1989) Health significance of cadmium induced renal dysfunction: a five year follow up. J Occup Environ Med 46:755–764

Schulz C, Angerer J, Ewers U, Kolossa-Gehring M (2007) The German human biomonitoring commission. Int J Hyg Environ Health 210:373–382

Son BC, Lee CK, Suh CH, Kim KH, Kim JH, Jeong SU, Kim DH, Ryu JY, Lee SW, Kim SJ, Kwon YM, Park YB (2019) Blood lead concentration and exposure related factors in Korea from the National Environmental Healthy Survey (KoNEHS) II (2012–2014). J Occup Environ Hyg 16:763–774

Statistics Korea. Korean National Environmental Healthy Survey (KoNEHS) (2017). http://kosis.kr/statHtml/statHtml.do?orgId=106&tblId=DT_106N_99_1100051&conn_path=I2. Accessed 28 July 2020

Sugita M, Tsuchiya K (1995) Estimation of variation among individuals of biological half-time of cadmium calculated from accumulation data. Environ Res 68:31–37

Sun H, Wang D, Zhou Z, Ding Z, Chen X, Xu Y, Huang L, Tang D (2016) Association of cadmium in urine blood with age in a general population with low environmental exposure. Chemosphere 156:392–397

Suwazono Y, Kobayashi E, Okubo Y, Nogawa K, Kido T, Nakagawa H (2000) Renal effects of cadmium exposure in cadmium nonpolluted areas in Japan. Environ Res 84:44–55

Thomas LD, Hodgson S, Nieuwenhuijsen M, Jarup L (2009) Early kidney damage in a population exposed to cadmium and other heavy metals. Environ Health Perspect 117:181–184

Tsuchiya K (1969) Causation of ouch-ouch disease (Itai-Itai Byõ)—an introductory review II. Epidemiology and evaluation. Keio J Med 18:195–211

Wani AL, Ara A, Usmani JA (2015) Lead toxicity: a review. Interdiscip Toxicol 8:55–64

Wu X, Cobbina SJ, Mao G, Xu H, Zhang Z, Yang L (2016) A review of toxicity and mechanisms of individual and mixtures of heavy metals in the environment. Environ Sci Pollut Res 23:8244–8259

Yang Q, LiZ LuX, Duan Q, Huang L, Bi J (2018) A review of soil heavy metal pollution form industrial and agricultural regions in China: Pollustion and risk assessment. Sci Total Environ 642:690–700
Acknowledgements
This research was supported by the Chung-Ang University Research Scholarship Grants in 2018. This work was supported by a grant from the National Institute of Environment Research (NIER), funded by the Ministry of Environment (MOE) of the Republic of Korea (NIER-2018-01-02-058).
Ethics declarations
Conflict of interest
The authors declare no conflicts of interest.
About this article
Cite this article
Moon, JY., Eom, SY., Seo, JW. et al. Effects of Exposure to Lead and Cadmium on Health of Inhabitants of Abandoned Metal Mine Area in Korea. Arch Environ Contam Toxicol 80, 490–498 (2021). https://doi.org/10.1007/s00244-021-00813-7
Received:

Accepted:

Published:

Issue Date: