Abstract
In this work, rare minnow (Gobiocypris rarus) was applied as a sentinel organism and set in cages at control and test sampling sites in Donghu Lake for 4 weeks in March, June, September, and December 2016 to assess the biological toxicity of in situ water. Sampling for active biomonitoring and physicochemical variables was performed weekly. The control was obtained from the outdoor pool of the Institute of Hydrobiology, China. Superoxide dismutase, lipoperoxidation, metallothioneins, acetylcholinesterase activity, and Vtg mRNA expression were determined as biomarkers during the field exposure period. Survival and growth also were monitored to evaluate the overall physiological condition of the fish. The seasonal changes of organic pollutants and trace metals (As, Hg, Cr, Cu, Zn, Cd, Pb) in surface water were determined. The integrated biomarker response (IBR) index was applied to summarize biomarker responses and correlate stress levels with concentrations of organic pollutants and trace metals in the surface water. Results indicated that complex pollution by persistent organic pollutants and heavy metals was present in Donghu Lake and that the in situ exposed organisms were stressed. Moreover, the complex pollution of Donghu Lake in summer and autumn was more serious than that in spring and winter. Active biomonitoring combined with IBR analysis enabled good discrimination among different exposure seasons. The proposed protocol with caged rare minnow revealed marked biological effects caused by the investigated Lake and a useful approach that can easily be extended to monitor water pollution.
This is a preview of subscription content, log in to check access.
Access options
Buy single article
Instant access to the full article PDF.
US$ 39.95
Price includes VAT for USA
Subscribe to journal
Immediate online access to all issues from 2019. Subscription will auto renew annually.
US$ 199
This is the net price. Taxes to be calculated in checkout.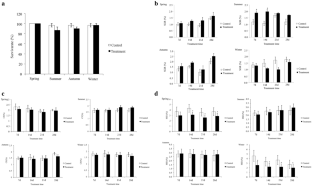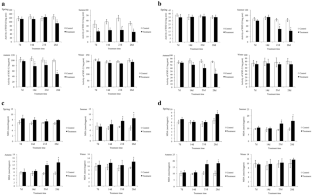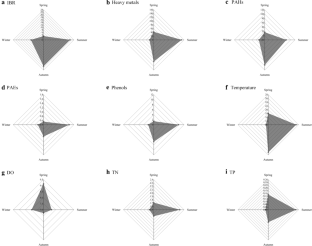 References
Abo-Ghanema I, Nasr S, Abdalrahman H, Elfar A (2019) Effects of potassium permanganate on vitellogenin gene expression in male Nile tilapia (Oreochromis niloticus) exposed to Phenol pollution. Damanhour J Veterinary Sci 1:13–16

Administration SEP (1989) Water quality standard for fisheries GB 11607-89 Beijing. People's Republic of China

Administration SEP (2002) Environmental quality standard for surface water Beijing. People's Republic of China

Alavinia SJ, Mirvaghefi A, Farahmand H, Rafiee G, Alavinia SJ, Shiry N, Moodi S (2019) DNA damage, acetylcholinesterase activity, and hematological responses in rainbow trout exposed to the organophosphate malathion. Ecotoxicol Environ Saf 182:109311

Balbi T, Franzellitti S, Fabbri R, Montagna M, Fabbri E, Canesi L (2016) Impact of bisphenol A (BPA) on early embryo development in the marine mussel Mytilus galloprovincialis: effects on gene transcription. Environ Pollut 218:996–1004

Baldauf SA, Bakker TC, Herder F, Kullmann H, Thünken T (2010) Male mate choice scales female ornament allometry in a cichlid fish. BMC Evolutionary Biol 10:301

Baudou FG, Ossana NA, Castañé PM, Mastrángelo MM, Núñez AAG, Palacio MJ, Ferrari L (2019) Use of integrated biomarker indexes for assessing the impact of receiving waters on a native neotropical teleost fish. Sci Total Environ 650:1779–1786

Beliaeff B, Burgeot T (2002) Integrated biomarker response: a useful tool for ecological risk assessment. Environ Toxicol Chem 21:1316–1322

Bertrand L, Monferrán MV, Mouneyrac C, Amé MV (2018) Native crustacean species as a bioindicator of freshwater ecosystem pollution: a multivariate and integrative study of multi-biomarker response in active river monitoring. Chemosphere 206:265–277

Besse J-P, Geffard O, Coquery M (2012) Relevance and applicability of active biomonitoring in continental waters under the Water Framework Directive. Trends Anal Chem 36:113–127

Boltachev A, Danilyuk O, Pakhorukov N, Bondarev V (2006) Distribution and certain features of the morphology and biology of the stone moroco Pseudorasbora parva (Cypriniformes, Cyprinidae) in the waters of Crimea. J Ichthyol 46:58–63

Bradford M (1976) A rapid and sensitive method for quantification of microgram quantification of protein utilizing of microgram quantities of protein utilizing the principle of protein-dye binding. Anal Biochem 72:248–253

Cai J, Varis O, Yin H (2017) China's water resources vulnerability: a spatio-temporal analysis during 2003–2013. J Cleaner Prod 142:2901–2910

Canter LW (2018) River water quality monitoring. CRC Press, Boca Raton

Cao WX, Wang JW (2003) Rare Minnow: a new laboratory animal in China. Lab Animal Sci Adm 20:96–99

Cavas T (2011) In vivo genotoxicity evaluation of atrazine and atrazine–based herbicide on fish Carassius auratus using the micronucleus test and the comet assay. Food Chem Toxicol 49:1431–1435

Cazenave J, Bacchetta C, Rossi A, Ale A, Campana M, Parma MJ (2014) Deleterious effects of wastewater on the health status of fish: a field caging study. Ecol Indicators 38:104–112

Crane M et al (2007) Review of aquatic in situ approaches for stressor and effect diagnosis. Integr Environ Assess Manag Int J 3:234–245

De Vlaming V, Connor V, DiGiorgio C, Bailey HC, Deanovic LA, Hinton DE (2000) Application of whole effluent toxicity test procedures to ambient water quality assessment. Environ Toxicol Chem 19(1):42–62

Eweda SM, Rezk NL, Ahmed AM, Rezk OA (2018) Effects of vanadium on oxidative stress and electrolytes balance of dyslipidemic male rats treated with simvastatin. African J Pharm Pharmacol 12:87–96

Ghaly A, Ananthashankar R, Alhattab M, Ramakrishnan V (2014) Production, characterization and treatment of textile effluents: a critical review. J Chem Eng Process Tech 5:1000182

He X et al (2011) Assessment of typical pollutants in waterborne by combining active biomonitoring and integrated biomarkers response. Chemosphere 84:1422–1431

Huang YQ et al (2012) Bisphenol A (BPA) in China: A review of sources, environmental levels, and potential human health impacts. Environ Int 42:91–99

Huang P, Liu Y, Fang L, Zhao J (2013) Study on non-point source pollution of East Lake in Wuhan, China. J Chem Pharm Res 5:675–680

Ji Y, Lu G, Wang C, Song W, Wu H (2010) Fish transplantation and stress-related biomarkers as useful tools for assessing water quality. J Environ Sci 22:1826–1832

Kappus H (1985) Lipid peroxidation: mechanisms, analysis, enzymology and biological relevance. Oxidative Stress 273

Kim W-K, Kim J-H, Yeom D-H, Lee S-K (2008) Responses of various biomarkers in Common carp (Cyprinus carpio) exposed to Benzo [k] fluoranthene Korean. J Ecol Environ 41:331–337

Kim W-K, Lee S-K, Jung J (2010) Integrated assessment of biomarker responses in common carp (Cyprinus carpio) exposed to perfluorinated organic compounds. J Hazard Mater 180:395–400

Linde AR, Garcia-Vazquez E (2006) A simple assay to quantify metallothionein helps to learn about bioindicators and environmental health. Biochem Molec Biol Education 34:360–363

Liu M, Yang Y, Yun X, Zhang M, Li QX, Wang J (2014) Distribution and ecological assessment of heavy metals in surface sediments of the East Lake, China. Ecotoxicology 23:92–101

Livak KJ, Schmittgen TD (2001) Analysis of relative gene expression data using real-time quantitative PCR and the 2−ΔΔCT method. Methods 25:402–408

Lu G, Yang X, Li Z, Zhao H, Wang C (2013) Contamination by metals and pharmaceuticals in northern Taihu Lake (China) and its relation to integrated biomarker response in fish. Ecotoxicology 22:50–59

Lunardelli B, Cabral MT, Vieira CE, Oliveira LF, Risso WE, Meletti PC, Martinez CB (2018) Chromium accumulation and biomarker responses in the Neotropical fish Prochilodus lineatus caged in a river under the influence of tannery activities. Ecotoxicol Environ Saf 153:188–194

Luo Y, Wang XR, Shi HH, Dq M, Sui YX, Ji LL (2005) Electron paramagnetic resonance investigation of in vivo free radical formation and oxidative stress induced by 2, 4-dichlorophenol in the freshwater fish Carassius auratus. Environ Toxicol Chem 24:2145–2153

Luo Y, Sui Y-x, Wang X-r, Tian Y (2008) 2-chlorophenol induced hydroxyl radical production in mitochondria in Carassius auratus and oxidative stress–an electron paramagnetic resonance study. Chemosphere 71:1260–1268

Luo S, Wu B, Xiong X, Wang J (2016) Short-term toxicity of ammonia, nitrite, and nitrate to early life stages of the rare minnow (Gobiocypris rarus). Environ Toxicol Chem 35:1422–1427

Marklund S, Marklund G (1974) Involvement of the superoxide anion radical in the autoxidation of pyrogallol and a convenient assay for superoxide dismutase. Eur J Biochem 47:469–474

Muchlisin ZA, Arisa AA, Muhammadar AA, Fadli N, Arisa II, Siti-Azizah MN (2016) Growth performance and feed utilization of keureling (Tor tambra) fingerlings fed a formulated diet with different doses of vitamin E (alpha-tocopherol). Arch Polish Fish 24:47–52

Osorio V, Marcé R, Pérez S, Ginebreda A, Cortina JL, Barceló D (2012) Occurrence and modeling of pharmaceuticals on a sewage-impacted Mediterranean river and their dynamics under different hydrological conditions. Sci Total Environ 440:3–13

Palace V, Dick T, Brown S, Baron C, Klaverkamp J (1996) Oxidative stress in Lake Sturgeon (Acipenser fulvescens) orally exposed to 2, 3, 7, 8-tetrachlorodibenzofuran. Aquat Toxicol 35:79–92

Rodríguez-Fuentes G, Luna-Ramírez KS, Soto M, Richardson KL (2012) Gene expression in caged fish as indicators of contaminants exposure in tropical karstic water bodies. Mar Environ Res 75:62–66

Santana MS, Yamamoto FY, Sandrini-Neto L, Neto FF, Ortolani-Machado CF, Ribeiro CAO, Prodocimo MM (2018) Diffuse sources of contamination in freshwater fish: Detecting effects through active biomonitoring and multi-biomarker approaches. Ecotoxicol Environ Saf 149:173–181

Serafifim A, Lopes CB, Fonseca VF, Franca S, Vasconcelos RP, Bebianno MJ, Cabral HN (2013) Application of an integrated biomarker response index (IBR) to assess temporal variation of environmental quality in two Portuguese aquatic system. Ecol Indicators 19:215–225

Souza-Bastos LR, Bastos LP, Carneiro PCF, Guiloski IC, de Assis HCS, Padial AA, Freire CA (2017) Evaluation of the water quality of the upper reaches of the main Southern Brazil river (Iguaçu river) through in situ exposure of the native siluriform Rhamdia quelen in cages. Environ Pollut 231:1245–1255

Tian X et al (2018) Chronic brain toxicity response of juvenile Chinese rare minnows (Gobiocypris rarus) to the neonicotinoid insecticides imidacloprid and nitenpyram. Chemosphere 210:1006–1012

Tsangaris C et al (2011) Active biomonitoring in Greek coastal waters: application of the integrated biomarker response index in relation to contaminant levels in caged mussels. Sci Total Environ 412:359–365

Van Dam R, Chapman J (2002) Direct toxicity assessment(DTA) for water quality guidelines in Australia and New Zealand Australasian. J Ecotoxicol 7:175–198

Van der Oost R, Beyer J, Vermeulen NP (2003) Fish bioaccumulation and biomarkers in environmental risk assessment: a review. Environ Toxicol Pharmacol 13:57–149

Viarengo A, Ponzano E, Dondero F, Fabbri R (1997) A simple spectrophotometric method for metallothionein evaluation in marine organisms: an application to Mediterranean and Antarctic molluscs. Mar Environ Res 44:69–84

Vieira CED, Costa PG, Cabrera LC, Primel EG, Fillmann G, Bianchini A, dos Reis Martinez CB (2017) A comparative approach using biomarkers in feral and caged Neotropical fish: implications for biomonitoring freshwater ecosystems in agricultural areas. Sci Total Environ 586:598–609

Vieira CED et al (2019) An integrated approach in subtropical agro-ecosystems: active biomonitoring, environmental contaminants, bioaccumulation, and multiple biomarkers in fish. Sci Total Environ 666:508–524

Vivek C, Veeraiah K, Padmavathi P, Rao HD, Bramhachari P (2016) Acute toxicity and residue analysis of cartap hydrochloride pesticide: toxicological implications on the fingerlings of fresh water fish Labeo rohita. Biocatal Agric Biotechnol 7:193–201

Walker SL, Hedley K, Porter E (2002) Pulp and paper environmental effects monitoring in Canada: an overview. Water Quality Res J 37:7–19

Webber A, Baker J, Gaudry L, Swatuk LA (2018) Water as threat and solution: improving health outcomes in developing country contexts. Water, energy food and people across the global south. Palgrave Macmillan, Cham, pp 187–206

Wepener V, Van Vuren J, Chatiza F, Mbizi Z, Slabbert L, Masola B (2005) Active biomonitoring in freshwater environments: early warning signals from biomarkers in assessing biological effects of diffuse sources of pollutants. Phys Chem Earth 30:751–761

Wieczerzak M, Namieśnik J, Kudłak B (2016) Bioassays as one of the Green Chemistry tools for assessing environmental quality: a review. Environ Int 94:341–361

Xiong X, Li H, Qiu N, Su L, Huang Z, Song L, Wang J (2020) Bioconcentration and depuration of cadmium in the selected tissues of rare minnow (Gobiocypris rarus) and the effect of dietary mulberry leaf supplementation on depuration. Environ Toxicol Pharmacol 73:103278

Yun X, Yang Y, Liu M, Zhang M, Wang J (2016) Distribution, seasonal variations, and ecological risk assessment of polycyclic aromatic hydrocarbons in the East Lake, China. CLEAN–Soil. Air, Water 44:506–514

Zhang Z, Hu J, Wei An FJ, An L, Tao S, Chen J (2005) Induction of vitellogenin mRNA in juvenile Chinese sturgeon (acipenser sinensis gray) treated with 17β-estradiol and 4-nonylphenol. Environ Toxicol Chem 24:1944–1950

Zhang Y, Guan Y, Fan X, Wu L, Wang Z (2018) Bisphenol A regulates rare minnow testicular vitellogenin expression via reducing its promoter Er recruitment. Ecotoxicol Environ Saf 147:423–429
Acknowledgements
The study was granted by the science and technology support project of Hubei province (Grant No. 2015BCE098, the Foundation of Ph.D. Scientific Research of Neijiang Normal University (Grant No. 18B13) and the university level research project of Neijiang Normal University (Grant No. Z2019068).
Ethics declarations
Conflict of interest
All authors declare that they have no conflict of interest.
Ethical Approval
All experimental procedures were approved by the Animal Care and Use Committee at Institute of Hydrobiology, Chinese Academy of Sciences (Protocol: Y21201-1-101).
Additional information
Publisher's Note
Springer Nature remains neutral with regard to jurisdictional claims in published maps and institutional affiliations.
About this article
Cite this article
Xiong, X., Qiu, N., Su, L. et al. In Situ Assessment of Donghu Lake China Using Rare Minnow (Gobiocypris rarus). Arch Environ Contam Toxicol (2020). https://doi.org/10.1007/s00244-020-00744-9
Received:

Accepted:

Published: