Abstract
Organochlorine pesticides (OCs) and polychlorobiphenyls (PCBs) were determined in sediments and oysters' soft tissues (Cassostrea gigas) collected in selected sites of Manila Bay. Overall, the concentration levels were very low. In sediments, PCBs were the compounds present in higher concentrations, with Σ13PCB congeners averaging 0.69 ± 0.46 ng/g (dry weight), followed by ΣDDT averaging 0.53 ± 0.28 ng/g and Σchlordane with 0.26 ± 0.28 ng/g. Concentrations measured in oysters averaged 20 ± 17 ng/g (dry weight) for Σ13PCB and were higher than ΣDDT, with 9.5 ± 2.4 ng/g, and Σchlordane, with 3.8 ± 3.1 ng/g. No dissolved residues of polar compounds, such as herbicides, and organophosphorous and organochlorine pesticides were found in the bay water. In general, results showed that concentrations of organochlorine pesticide residues, such as DDT, hexachlorocyclohexane, chlordane, lindane, endosulfan, and heptachlor in sediments and oysters were low in comparison with other coastal areas in Asia, although PCB concentrations in oysters were relatively high in some zones of Manila Bay and indicative of loose control of industrial chemical waste discharges into the bay. Nevertheless, current concentrations of persistent organochlorine contaminants in sediments were under threshold effect levels (TELs) and chronic toxic effects are, thus, unlikely to generate impairment of marine biota in Manila Bay.
Access options
Buy single article
Instant access to the full article PDF.
US$ 39.95
Tax calculation will be finalised during checkout.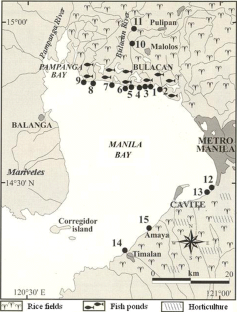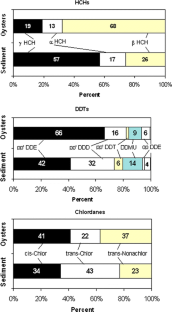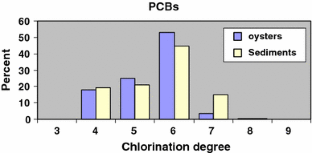 References
Bajet CM (2003) Ecotoxicology of pesticides in Philippine aquatic ecosystems. In: Taylor MD, Klaine SJ, Carvalho FP, Barceló D, Everaarts J (eds) Pesticide residues in coastal tropical ecosystems. Distribution, fate and effects. Taylor & Francis/CRC Press, London, pp 271–310

Barceló D, Hennion MC (1997) Trace determination of pesticides and their degradation products in water. Elsevier, Amsterdam

Burton GA (2002) Sediment quality criteria in use around the world. Limnology 3:65–75. doi:10.1007/s102010200008

Carvalho FP, Fowler SW, Readman JW, Mee LD (1992) Pesticide residues in tropical coastal lagoons: the use of 14C-labelled compounds to study cycling and fates of agrochemicals. In: Proceedings of the international symposium on applications of isotopes and radiation in conservation of the environment. Karlsruhe, Germany, 9–13 March 1992. IAEA, Vienna, pp 637–653

Carvalho FP, Gonzalez-Farias F, Villeneuve JP, Cattini C, Hernandez-Garza M, Mee LD, Fowler SW (2002a) Distribution, fate and effects of pesticide residues in tropical coastal lagoons of north-western Mexico. Environ Technol 23:1257–1270. doi:10.1080/09593332308618321

Carvalho FP, Montenegro-Guillen S, Villeneuve JP, Cattini C, Bartocci J, Lacayo M, Cruz A (1999) Chlorinated hydrocarbons in coastal lagoons of the Pacific coast of Nicaragua. Arch Environ Contam Toxicol 36:132–139. doi:10.1007/s002449900452

Carvalho FP, Villeneuve JP, Cattini C, Tolosa I, Montenegro-Guillén S, Lacayo M, Cruz A (2002b) Ecological risk assessment of pesticide residues in coastal lagoons of Nicaragua. J Environ Monit 4:778–787. doi:10.1039/b203728a

Carvalho FP, Villeneuve JP, Cattini C, Tolosa I, Thuan DD, Nhan DD (2008) Agrochemical and polychlorobyphenyl (PCB) residues in the Mekong River delta, Vietnam. Mar Pollut Bull 56:1476–1485. doi:10.1016/j.marpolbul.2008.04.042

Chen W, Zhang L, Xu L, Wang X, Hong L, Hong H (2002) Residue levels of HCHs, DDTs and PCBs in shellfish from coastal areas of east Xiamen Island and Minjiang Estuary, China. Mar Pollut Bull 45:385–390. doi:10.1016/S0025-326X(02)00092-9

Cotham WE, Bidleman TF (1989) Degradation of malathion, endosulfan, and fenvalerate in seawater and seawater/sediment microcosms. J Agric Food Chem 37:824–828. doi:10.1021/jf00087a055

de Mora SJ, Fowler SW, Tolosa I, Villeneuve JP, Cattini C (2005) Chlorinated hydrocarbons in marine biota and coastal sediments from the Gulf and the Gulf of Oman. Mar Pollut Bull 50:835–849

EEA (2005) Environment and health. European Environmental Agency report No. 10/2005. European Environmental Agency, Copenhagen, Denmark

Fillmann G, Readman JW, Tolosa I, Bartocci J, Villeneuve JP, Cattini C, Mee LD (2002) Persistent organochlorine residues in sediments from the Black Sea. Mar Pollut Bull 44:122–133. doi:10.1016/S0025-326X(01)00188-6

Gómez-Gutierrez A, Garnacho E, Bayona JM, Albaigés J (2007) Screening ecological risk assessment of persistent organic pollutants in Mediterranean sediments. Environ Int 33:867–876. doi:10.1016/j.envint.2007.04.002

Hermsen W, Sims I, Crane M (1994) The bioavailability and toxicity to Mytilus edulis of two organochlorine pesticides adsorbed to suspended solids. Mar Environ Res 38:61–69. doi:10.1016/0141-1136(94)90046-9

Iwata H, Tanabe S, Sakai N, Nishimura A, Tatsukawa R (1994) Geographical distribution of persistent organochlorines in air, water and sediments from Asia and Oceania, and their implication for global redistribution from lower latitudes. Environ Pollut 85:15–33. doi:10.1016/0269-7491(94)90234-8

Jacinto GS, Azanza RV, Velasquez IB, Siringan FP (2006) Manila Bay: environmental challenges and opportunities. In: Wolansly E (ed) The environment in Asia Pacific harbours. Springer, Amsterdam, pp 309–328

Lacorte S, Barceló D (1994) Rapid degradation of fenitrothion in estuarine waters. Environ Sci Technol 28:1159–1163. doi:10.1021/es00055a029

Lacorte S, Lartiges SB, Garrigues P, Barcelo D (1995) Degradation of organophosphorus pesticides and their transformation products in estuarine waters. Environ Sci Technol 29:431–438. doi:10.1021/es00002a020

Li YF, Cai DJ, Singh A (1998) Technical hexachlorocyclohexane: use trends in China and their impact on the environment. Arch Environ Contam Toxicol 35:688–697. doi:10.1007/s002449900432

Mayer FL Jr (1987) Acute toxicity handbook of chemicals to estuarine organisms. EPA/600/8-87/017. US Environmental Protection Agency, Gulf Breeze

Monirith I, Ueno D, Takahashi S, Nakata H, Sudaryanto A, Subramanian A, Karuppiah S, Ismail A, Muchtar M, Zheng J, Richardson BJ, Prudente M, Hue ND, Tana TS, Tkalin AV, Tanabe S (2003) Asia-Pacific mussel watch: monitoring contamination of persistent organochlorine compounds in coastal waters of Asian countries. Mar Pollut Bull 46:281–300. doi:10.1016/S0025-326X(02)00400-9

Nhan DD, Am NM, Carvalho FP, Villeneuve JP, Cattini C (1999) Organochlorine pesticides and PCBs along the coast of North Vietnam. Sci Total Environ 237/238:363–371. doi:10.1016/S0048-9697(99)00149-7

Nhan DD, Carvalho FP, Am NM, Tuan NQ, Yen NTH, Villeneuve JP, Cattini C (2001) Chlorinated pesticides and PCBs in sediments and molluscs from freshwater canals in the Hanoi region. Environ Poll 112/3:311–320. doi:10.1016/S0269-7491(00)00149-4

NOAA (1999) National Oceanic and Atmospheric Administration. Screening quick reference tables (SquiRTs). Available from http://response.restoration.noaa.gov/cpr/sediment/squirt/squirt.html

O'Connor TP (1996) Trends in chemical concentrations in mussels and oysters collected along the US coast from 1986 to 1993. Mar Environ Res 41:183–200. doi:10.1016/0141-1136(95)00011-9

PEMSEA (2001) Manila Bay: initial risk assessment. PEMSEA Technical Information Report No. 2001/01. Global Environment Facility/United Nations Development Programme/International Maritime Organization Regional Programme on Building Partnerships in Environmental Management for the Seas of East Asia (PEMSEA), Quezon City, Philippines

Peterson SM, Batley GE (1993) The fate of endosulfan in aquatic systems. Environ Pollut 82:143–152. doi:10.1016/0269-7491(93)90111-Z

Quensen JFIII, Mueller SA, Jain MK, Tiedje JM (1998) Reductive dechlorination of DDE to DDMU in marine sediment microcosms. Science 280:722. doi:10.1126/science.280.5364.722

Rand GM, Bachman PM (2008) South Florida ecosystem. Ecotoxicology 17:565–568. doi:10.1007/s10646-008-0235-8

Readman JW, Liong Wee Kwong L, Mee LD, Bartocci J, Nilve G, Rodriguez JA, Gonzalez-Farias F (1992) Persistent organophosphorus pesticides in tropical marine environments. Mar Pollut Bull 24:398–402. doi:10.1016/0025-326X(92)90500-6

Renner R (1998) "Natural" remediation of DDT, PCBs debated. Environ Sci Technol/News August 1, pp 360A–363A

Sericano JL, Atlas EL, Wade TL, Brooks JM (1990) NOAA's Status and Trends Mussel Watch Programme: chlorinated pesticides and PCBs in oysters (Cassostrea virginica) and sediments from the Gulf of Mexico, 1986–1987. Mar Environ Res 29:161–203. doi:10.1016/0141-1136(90)90033-K

Tanabe S, Prudente MS, Kan-atireklap S, Subramanian A (2000) Mussel match: marine pollution monitoring of butyltins and organochlorines in coastal waters of Thailand, Philippines and India. Ocean Coastal Manage 43:819–839. doi:10.1016/S0964-5691(00)00060-0

Taylor, MD, Klaine SJ, Carvalho FP, Barcelo D, Everaarts J (eds) (2003) Pesticide residues in coastal tropical ecosystems. Distribution, fate and effects. Taylor & Francis/CRC Press, London

Tolosa I, Bayona JM, Albaiges J (1995) Spatial and temporal distribution, fluxes, and budgets of organochlorinated compounds in northwest Mediterranean sediments. Environ Sci Technol 29:2519–2527. doi:10.1021/es00010a010

Tolosa I, Douy B, Carvalho FP (1999) Comparision of the performance of graphitized carbon black and poly (styrene-divinylbenzene) cartridges for determination of pesticides and industrial phosphates in environmental waters. J Chromatogr A 864:121–136. doi:10.1016/S0021-9673(99)00989-9

Villeneuve JP, Cattini C (1986) Input of chlorinated hydrocarbons through dry and wet deposition to the western Mediterranean. Chemosphere 15:115–120. doi:10.1016/0045-6535(86)90562-X

Villeneuve JP, Mee LD (1992) World-wide and regional intercomparison for the determination of organochlorine compounds and petroleum hydrocarbons in sediment sample. IAEA-357. Results of a world-wide exercise. ILMR intercalibration report No 51. International Atomic Energy Agency, Monaco

Villeneuve JP, Carvalho FP, Cattini C (1999) Levels and trends of PCBs, chlorinated pesticides and petroleum hydrocarbons in mussels from the NW Mediterranean coast: comparison of concentrations in 1973/1974 and 1988/1989. Sci Total Environ 237:57–65. doi:10.1016/S0048-9697(99)00124-2

Villeneuve JP, Carvalho FP, Horvat M, Cattini C (2004) Worldwide intercomparison on the determination of chlorinated pesticides, PCBs and petroleum hydrocarbons in a mussel tissue homogenate, IAEA-142. Int J Environ Stud 61:437–452. doi:10.1080/0020723032000203268

Wei S, Lau RKF, Fung CN, Zheng GJ, Lam JCW, Connel DW, Fang Z, Richardson BJ, Lam PKS (2006) Trace organic contamination in biota collected from the Pearl River Estuary, China: a preliminary risk assessment. Mar Pollut Bull 52:1682–1694. doi:10.1016/j.marpolbul.2006.06.009

Woolcoot CG, Aronson KJ, Hanna WM, SenGupta SK, McCready DR, Sterns EE, Miller AB (2001) Organochlorines and breast cancer risk by receptor status, tumor size, and grade (Canada). Cancer Causes Control 12:395–404. doi:10.1023/A:1011289905751
Acknowledgments
Support for this research is gratefully acknowledged. The NCPC project was supported by the International Atomic Energy Agency (IAEA) Research Contract No. 7977/MC. This project was supported by the Swedish International Development Authority (SIDA) through the IAEA. The IAEA is grateful for the support provided to its Marine Environment Laboratories by the government of the Principality of Monaco.
About this article
Cite this article
Carvalho, F.P., Villeneuve, JP., Cattini, C. et al. Organic Contaminants in the Marine Environment of Manila Bay, Philippines. Arch Environ Contam Toxicol 57, 348–358 (2009). https://doi.org/10.1007/s00244-008-9271-x
Received:

Accepted:

Published:

Issue Date:
Keywords
PCBs

Endosulfan

Rice Field

Organochlorine Pesticide

Chlordane