Abstract
The authors aimed to evaluate the factors affecting clinical outcomes of cystine stone disease in children and to understand the change in disease management over time. Between January 1991 and September 2017, the demographic and clinical data of pediatric patients with documented cystine stone disease were retrospectively analyzed. Patients with at least 12-month follow-up were included. Disease management and clinical outcomes were compared between the first and second 35 patients managed during the study's time frame. A total of 70 patients were included. The female to male ratio was 30/40. The mean age and follow-up period was 29.8 ± 40.1 months and 106.5 ± 56 months, respectively. The mean initial procedure number to treat the first stone episode was 2.4 ± 1.6. Single stone and single affected site were significant predictors for stone clearance. Overall, patients underwent a mean of 5.5 procedure during their follow-up. Recurrence was detected in 71.4% (50/70) of patients. Residual fragments and non-compliance to medical treatment after the initial intervention were significant predictors for recurrence within shorter interval period. 31.4% (22/70) of patients had renal atrophy during follow-up. They were older at the initial diagnosis and had average urine pH lower than 7.5. The first 35 patients had more open procedures. Still, they had more recurrence rate and tend to have more renal atrophy. As a conclusion, cystine stone disease has a recurrent course in children. Stone and fragments entirely removed (SaFER) concept with all minimally invasive methods available and strict follow-up should be the basis for any management plan.
This is a preview of subscription content, log in to check access.
Access options
Buy single article
Instant access to the full article PDF.
US$ 39.95
Price includes VAT for USA
Subscribe to journal
Immediate online access to all issues from 2019. Subscription will auto renew annually.
US$ 199
This is the net price. Taxes to be calculated in checkout.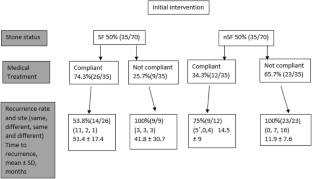 References
1.

Leusmann DB, Blaschke R, Schmandt W (1990) Results of 5,035 stone analyses: a contribution to epidemiology of urinary stone disease. Scand J Urol Nephrol 24:205–210

2.

Milliner DS, Murphy ME (1993) Urolithiasis in pediatric patients. Mayo Clin Proc 68:241–248

3.

Streeper NM, Wertheim ML, Nakada SY et al (2017) Cystine stone formers have impaired health-related quality of life compared with noncystine stone formers: a case-referent study piloting the Wisconsin stone quality of life questionnaire among patients with cystine stones. J Endourol 31:S48–s53

4.

Thomas K, Wong K, Withington J et al (2014) Cystinuria-a urologist's perspective. Nat Rev Urol 11:270–277

5.

Prot-Bertoye C, Lebbah S, Daudon M et al (2015) CKD and its risk factors among patients with cystinuria. Clin J Am Soc Nephrol 10:842–851

6.

Kum F, Wong K, Game D et al (2019) Hypertension and renal impairment in patients with cystinuria: findings from a specialist cystinuria centre. Urolithiasis 47:357–363

7.

Cain JE, Di Giovanni V, Smeeton J et al (2010) Genetics of renal hypoplasia: insights into the mechanisms controlling nephron endowment. Pediatr Res 68:91–98

8.

Knoll T, Zollner A, Wendt-Nordahl G et al (2005) Cystinuria in childhood and adolescence: recommendations for diagnosis, treatment, and follow-up. Pediatr Nephrol 20:19–24

9.

Zu'bi F, Sidler M, Harvey E et al (2017) Stone growth patterns and risk for surgery among children presenting with hypercalciuria, hypocitraturia and cystinuria as underlying metabolic causes of urolithiasis. J Pediatr Urol 13:357.e351–357.e357

10.

Shim M, Park HK (2014) Multimodal treatments of cystine stones: an observational, retrospective single-center analysis of 14 cases. Korean J Urol 55:515–519

11.

Ahmed K, Khan MS, Thomas K et al (2008) Management of cystinuric patients: an observational, retrospective, single-centre analysis. Urol Int 80:141–144

12.

Moore SL, Somani BK, Cook P (2019) Journey of a cystinuric patient with a long-term follow-up from a medical stone clinic: necessity to be SaFER (stone and fragments entirely removed). Urolithiasis 47:165–170

13.

Dello Strologo L, Pras E, Pontesilli C et al (2002) Comparison between SLC3A1 and SLC7A9 cystinuria patients and carriers: a need for a new classification. J Am Soc Nephrol 13:2547–2553

14.

Saravakos P, Kokkinou V, Giannatos E (2014) Cystinuria: current diagnosis and management. Urology 83:693–699

15.

Martell HJ, Wong KA, Martin JF et al (2017) Associating mutations causing cystinuria with disease severity with the aim of providing precision medicine. BMC Genom 18:550

16.

Ozden E, Mercimek MN (2016) Percutaneous nephrolithotomy in pediatric age group: Assessment of effectiveness and complications. World J Nephrol 5:84–89

17.

Onal B, Dogan C, Citgez S et al (2013) Percutaneous nephrolithotomy in children with cystine stone: long-term outcomes from a single institution. J Urol 190:234–237

18.

Trinchieri A, Montanari E, Zanetti G et al (2007) The impact of new technology in the treatment of cystine stones. Urol Res 35:129–132

19.

Claes DJ, Jackson E (2012) Cystinuria: mechanisms and management. Pediatr Nephrol 27:2031–2038

20.

Malieckal DA, Modersitzki F, Mara K et al (2019) Effect of increasing doses of cystine-binding thiol drugs on cystine capacity in patients with cystinuria. Urolithiasis 47:549–555

21.

Andreassen KH, Pedersen KV, Osther SS et al (2016) How should patients with cystine stone disease be evaluated and treated in the twenty-first century? Urolithiasis 44:65–76

22.

Lambert EH, Asplin JR, Herrell SD et al (2010) Analysis of 24-hour urine parameters as it relates to age of onset of cystine stone formation. J Endourol 24:1179–1182

23.

Wagner CA, Mohebbi N (2010) Urinary pH and stone formation. J Nephrol 23(Suppl 16):S165–169

24.

Ingsathit A, Thakkinstian A, Chaiprasert A et al (2010) Prevalence and risk factors of chronic kidney disease in the Thai adult population: Thai SEEK study. Nephrol Dial Transpl 25:1567–1575

25.

Shen L, Sun X, Zhu H et al (2013) Comparison of renal function and metabolic abnormalities of cystine stone patients and calcium oxalate stone patients in China. World J Urol 31:1219–1223

26.

Reinstatler L, Stern K, Batter H et al (2018) Conversion from cystine to noncystine stones: incidence and associated factors. J Urol 200:1285–1289

27.

Bhatta KM, Prien EL Jr, Dretler SP (1989) Cystine calculi–rough and smooth: a new clinical distinction. J Urol 142:937–940

28.

Patel SR, Wagner LE, Lubner MG et al (2014) Radiopacity and Hounsfield attenuation of cystine urolithiasis: case series and review of the literature. J Endourol 28:472–475

29.

Varda BK, Johnson EK, Johnson KL et al (2016) Imaging and surgical utilization for pediatric cystinuria patients: a single-institution cohort study. J Pediatr Urol 12:106.e101–107
Ethics declarations
Conflict of interest
The authors declare that they have no conflict of interest.
Human and animal rights
This article does not contain any studies with human participants or animals performed by any ofthe authors.
Additional information
Publisher's Note
Springer Nature remains neutral with regard to jurisdictional claims in published maps and institutional affiliations.
About this article
Cite this article
Asi, T., Dogan, H.S., Bozaci, A.C. et al. A single center's experience in pediatric cystine stone disease management: what changed over time?. Urolithiasis (2020). https://doi.org/10.1007/s00240-020-01200-y
Received:

Accepted:

Published:
Keywords
Cystine

Stone

Pediatric

Outcome

Treatment