Abstract
Retrograde intrarenal surgery (RIRS) is one of the minimally invasive main treatment modalities in renal stone disease. There are many factors which affect stone-free rate (SFR). Our study was based on the hypothesis that higher renal parenchymal thickness (RPT) which may include higher average number of nephrons provides better diuresis. We investigated the efficacy of RPT on success of RIRS. This study is a single-centered prospective surgical cohort study. A total of 383 patients were analyzed. Regularly followed 304 patients with unilateral kidney stone at single pole or renal pelvis and who underwent single-session RIRS were included in the final analysis, and the patients' preoperative and postoperative 1st and 3rd months' data were evaluated. RPT was measured on the non-contrast computed tomography (CT) images. ROC analysis was performed to estimate the cutoff value of RPT for SFR. Univariate and multivariate logistic regression analyses were used to model the relationship between RPT and SFR after RIRS. ROC analysis revealed the best cutoff value of the RPT for predicting residual stone as 19 mm for both the 1st and 3rd month visits with Youden indexes of 0.397 and 0.406, respectively. To the best of our knowledge, this is the first study which evaluated the effect of RPT on the efficacy of RIRS. RPT measurement is a cost-effective method that can be easily performed on routinely applied non-contrast CT and may have predictive value for the surgical success in patients with nephrolithiasis.
Access options
Buy single article
Instant access to the full article PDF.
US$ 39.95
Tax calculation will be finalised during checkout.
Subscribe to journal
Immediate online access to all issues from 2019. Subscription will auto renew annually.
US$ 119
Tax calculation will be finalised during checkout.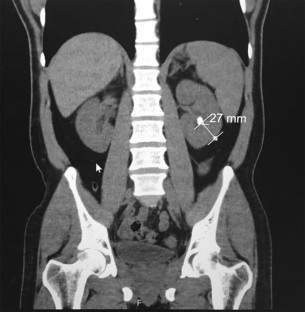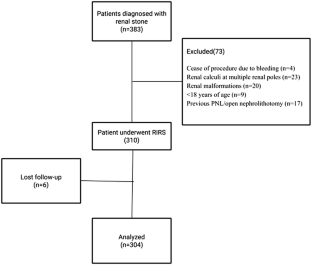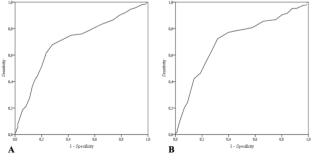 References
1.

Romero V, Akpinar H, Assimos DG (2010) Kidney stones: a global picture of prevalence, incidence, and associated risk factors. Rev Urol 12:86–96

2.

Türk C, Neisius A, Petrik A, Seitz C, Skolarikos A, Thomas K (2018) EAU Guidelines on Urolithiasis. EAU Guidelines Office, Arnhem, The Netherlands. https://uroweb.org/guideline/urolithiasis. Accessed 02 Dec 2019

3.

ElSheemy MS, Elmarakbi AA, Hytham M, Ibrahim H, Khadgi S, Al-Kandari AM (2019) Mini vs standard percutaneous nephrolithotomy for renal stones: a comparative study. Urolithiasis 47:207–214

4.

Muto NS, Kamishima T, Harris AA et al (2011) Renal cortical volume measured using automatic contouring software for computed tomography and its relationship with BMI, age and renal function. Eur J Radiol 78:151–156

5.

Wang X, Vrtiska TJ, Avula RT et al (2014) Age, kidney function, and risk factors associate differently with cortical and medullary volumes of the kidney. Kidney Int 85:677–685

6.

Widjaja E, Oxtoby JW, Hale TL, Jones PW, Harden PN, McCall IW (2004) Ultrasound measured renal length versus low dose CT volume in predicting single kidney glomerular filtration rate. Br J Radiol 77:759–764

7.

Kaplon DM, Lasser MS, Sigman M, Haleblian GE, Pareek G (2009) Renal parenchyma thickness: a rapid estimation of renal function on computed tomography. Int Braz J Urol 35:5–8

8.

Breau RH, Clark E, Bruner B et al (2013) A simple method to estimate renal volume from computed tomography. Can Urol Assoc J 7:189–192

9.

Beland MD, Walle NL, Machan JT, Cronan JJ (2010) Renal cortical thickness measured at ultrasound: is it better than renal length as an indicator of renal function in chronic kidney disease? AJR Am J Roentgenol 195:146–149

10.

Chou YH, Chen MT, Huang CH (1997) The correlation between ultrasound-detected renal parenchymal thickness and isotope-detected individual renal function. Kaohsiung J Med Sci 13:682–684

11.

Sohu S, Soomro MH, Mangrio RH et al (2019) Efficacy of extracorporeal shockwave lithotripsy with furosemide and hydration in renal stone management: a randomised controlled trial. Arab J Urol 17:279–284

12.

Gopalakrishnan G, Prasad GS (2007) Management of urolithiasis with chronic renal failure. Curr Opin Urol 17:132–135

13.

Srivastava A, Sinha T, Karan SC et al (2006) Assessing the efficiency of extracorporeal shockwave lithotripsy for stones in renal units with impaired function: a prospective controlled study. Urol Res 34:283–287

14.

Jessen JP, Honeck P, Knoll T, Wendt-Nordahl G (2014) Flexible ureterorenoscopy for lower pole stones: influence of the collecting system's anatomy. J Endourol 28:146–151

15.

Ito H, Sakamaki K, Kawahara T et al (2015) Development and internal validation of a nomogram for predicting stone-free status after flexible ureteroscopy for renal stones. BJU Int 115:446–451

16.

Ito H, Kawahara T, Terao H et al (2012) The most reliable preoperative assessment of renal stone burden as a predictor of stone-free status after flexible ureteroscopy with holmium laser lithotripsy: a single-center experience. Urology 80:524–528

17.

Erbin A, Tepeler A, Buldu I, Ozdemir H, Tosun M, Binbay M (2016) External comparison of recent predictive nomograms for stone-free rate using retrograde flexible ureteroscopy with laser lithotripsy. J Endourol 30:1180–1184

18.

Clavien PA, Barkun J, De Oliveira ML et al (2009) The Clavien-Dindo classification of surgical complications: five-year experience. Ann surg 250:187–196

19.

Tepeler A, Binbay M, Akman T et al (2013) Parenchymal thickness: does it have an impact on outcomes of percutaneous nephrolithotomy? Urol Int 90:405–410

20.

Kukreja R, Desai M, Patel S, Bapat S, Desai M (2004) First prize: factors affecting blood loss during percutaneous nephrolithotomy: prospective study. J Endourol 18:715–722

21.

Karalar M, Tuzel E, Keles I, Okur N, Sarici H, Ates M (2016) Effects of parenchymal thickness and stone density values on percutaneous nephrolithotomy outcomes. Med Sci Monit 22:4363

22.

Resorlu B, Unsal A, Gulec H, Oztuna D (2012) A new scoring system for predicting stone-free rate after retrograde intrarenal surgery: the "Resorlu-Unsal stone score". Urology 80:512–518

23.

Jung JW, Lee BK, Park YH et al (2014) Modified Seoul National University renal stone complexity score for retrograde intrarenal surgery. Urolithiasis 42:335–340

24.

Karim SS, Hanna L, Geraghty R, Somani BK (2019) Role of pelvicalyceal anatomy in the outcomes of retrograde intrarenal surgery (RIRS) for lower pole stones: outcomes with a systematic review of literature. Urolithiasis. https://doi.org/10.1007/s00240-019-01150-0

25.

Resorlu B, Oguz U, Resorlu EB, Oztuna D, Unsal A (2012) The impact of pelvicaliceal anatomy on the success of retrograde intrarenal surgery in patients with lower pole renal stones. Urology 79:61–66

26.

Sari S, Ozok HU, Topaloglu H et al (2017) The Association of a number of anatomical factors with the success of retrograde intrarenal surgery in lower calyceal stones. Urol J 14:4008–4014
Funding
This research did not receive any funding from the public, commercial, or not-for-profit agencies.
Ethics declarations
Conflict of interest
The authors indicated no potential conflicts of interest.
Human and animal rights
This research was conducted according to Declaration of Helsinki. Informed consent was obtained from all individual participants included in the study.
Additional information
Publisher's Note
Springer Nature remains neutral with regard to jurisdictional claims in published maps and institutional affiliations.
About this article
Cite this article
Koc, E., Kamaci, D., Gok, B. et al. Does the renal parenchymal thickness affect the efficacy of the retrograde intrarenal surgery? A prospective cohort study. Urolithiasis 49, 57–64 (2021). https://doi.org/10.1007/s00240-020-01185-8
Received:

Accepted:

Published:

Issue Date:
Keywords
Renal parenchymal thickness

Computed tomography

Retrograde intrarenal surgery

Renal stone