Abstract
To perform a systematic review and meta-analysis for the evaluation of 22 drug interventions in the management of ureteral stones, MEDLINE, Web of Science, EMBASE, and Cochrane central databases were searched to identify RCTs focusing on the evaluation of the efficacy of multiple drug interventions in medical expulsive therapy (MET) for ureteral stones, with no restrictions on year or language. Study quality assessment and data extraction were performed by independent reviewers. Major outcome measures were the stone expulsion rate, stone expulsion time, and pain episodes during treatment. A total of 78 RCTs with 14,922 participants were included in the present study. The final comparative results show that naftopidil plus corticosteroids was associated with higher stone expulsion rates than other drug interventions. Silodosin plus tadalafil had the highest probability of reducing stone expulsion time. Tamsulosin plus tadalafil performed better than all the other drug interventions in reducing pain episodes during treatment. However, in terms of all the outcome measures, the ranking plot results demonstrate that silodosin plus tadalafil, in addition to tamsulosin plus tadalafil and corticosteroids, was the best drug intervention as medical expulsive therapy in the management of ureteral stones. In ureteral stones ≤ 10 mm, all active drug interventions were more efficacious than the control; however, not all active drug interventions had an efficacy superior to the placebo. Silodosin plus tadalafil, tamsulosin plus tadalafil and corticosteroids, tamsulosin plus tadalafil, and naftopidil plus corticosteroids were the most effective drug interventions. Considering the choice of treatment, these results should serve as evidence-based practice and be considered by physicians, patients, and guideline developers. However, with respect to the limitations of the present study, further high-quality studies are needed for more in-depth evaluation of both the efficacy and safety of these drug interventions.
This is a preview of subscription content, log in to check access.
Access options
Buy single article
Instant access to the full article PDF.
US$ 39.95
Price includes VAT for USA
Subscribe to journal
Immediate online access to all issues from 2019. Subscription will auto renew annually.
US$ 199
This is the net price. Taxes to be calculated in checkout.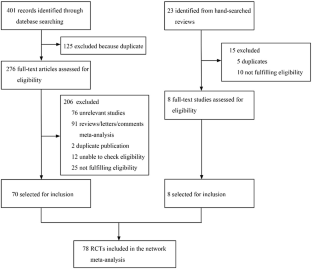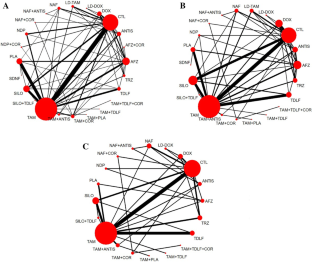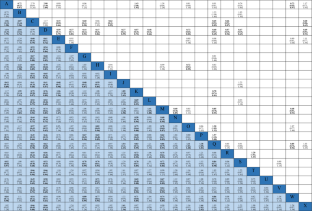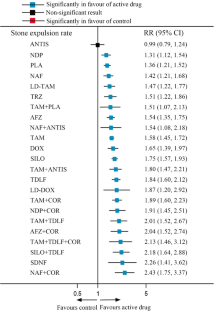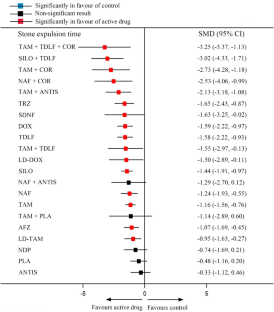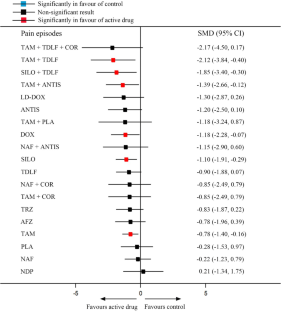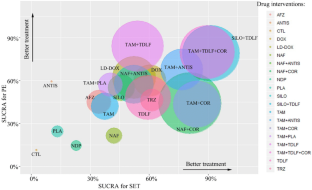 References
1.

Romero V, Akpinar H, Assimos DG (2010) Kidney stones: a global picture of prevalence, incidence, and associated risk factors. Rev Urol 12(2–3):e86–e96

2.

Ghani KR, Roghmann F, Sammon JD, Trudeau V, Sukumar S, Rahbar H et al (2014) Emergency department visits in the United States for upper urinary tract stones: trends in hospitalization and charges. J Urol 191(1):90–96

3.

Ghani KR, Sammon JD, Karakiewicz PI, Sun M, Bhojani N, Sukumar S et al (2013) Trends in surgery for upper urinary tract calculi in the USA using the nationwide inpatient sample: 1999–2009. BJU Int 112(2):224–230

4.

Turk C, Petrik A, Sarica K, Seitz C, Skolarikos A, Straub M et al (2016) EAU guidelines on diagnosis and conservative management of urolithiasis. Eur Urol 69(3):468–474

5.

Papadoukakis SSJ-U, Truss MC (2006) Treatment strategies of ureteral stones. EAU-EBU Update Series 4(5):184–190

6.

Davenport K, Timoney AG, Keeley FX Jr (2007) Effect of smooth muscle relaxant drugs on proximal human ureteric activity in vivo: a pilot study. Urol Res 35(4):207–213

7.

Hollingsworth JM, Rogers MA, Kaufman SR, Bradford TJ, Saint S, Wei JT et al (2006) Medical therapy to facilitate urinary stone passage: a meta-analysis. Lancet 368(9542):1171–1179

8.

Singh A, Alter HJ, Littlepage A (2007) A systematic review of medical therapy to facilitate passage of ureteral calculi. Ann Emerg Med 50(5):552–563

9.

Assimos D, Krambeck A, Miller NL, Monga M, Murad MH, Nelson CP et al (2016) Surgical management of stones: American urological association/endourological society guideline. PART II. J Urol 196(4):1161–1169

10.

Tan SH, Cooper NJ, Bujkiewicz S, Welton NJ, Caldwell DM, Sutton AJ (2014) Novel presentational approaches were developed for reporting network meta-analysis. J Clin Epidemiol 67(6):672–680

11.

Greco T, Landoni G, Biondi-Zoccai G, D'Ascenzo F, Zangrillo A (2016) A Bayesian network meta-analysis for binary outcome: how to do it. Stat Methods Med Res 25(5):1757–1773

12.

Salanti G, Ades AE, Ioannidis JP (2011) Graphical methods and numerical summaries for presenting results from multiple-treatment meta-analysis: an overview and tutorial. J Clin Epidemiol 64(2):163–171

13.

Higgins JPT, Altman DG, Gotzsche PC, Juni P, Moher D, Oxman AD et al (2011) The Cochrane Collaboration's tool for assessing risk of bias in randomised trials. BMJ 343:d5928

14.

Salanti G (2012) Indirect and mixed-treatment comparison, network, or multiple-treatments meta-analysis: many names, many benefits, many concerns for the next generation evidence synthesis tool. Res Synth Methods 3(2):80–97

15.

Palmer SC, Mavridis D, Navarese E, Craig JC, Tonelli M, Salanti G et al (2015) Comparative efficacy and safety of blood pressure-lowering agents in adults with diabetes and kidney disease: a network meta-analysis. Lancet 385(9982):2047–2056

16.

Higgins JP, Jackson D, Barrett JK, Lu G, Ades AE, White IR (2012) Consistency and inconsistency in network meta-analysis: concepts and models for multi-arm studies. Res Synth Methods 3(2):98–110

17.

Healy KA, Shah O (2018) Stones: MET for distal ureteral calculi: not all stones are created equal. Nat Rev Urol 15(4):210–211

18.

Campschroer T, Zhu X, Vernooij RW, Lock MT (2018) Alpha-blockers as medical expulsive therapy for ureteral stones. Cochrane Database Syst Rev 4:CD008509

19.

Hollingsworth JM, Canales BK, Rogers MA, Sukumar S, Yan P, Kuntz GM et al (2016) Alpha blockers for treatment of ureteric stones: systematic review and meta-analysis. BMJ 355:i6112

20.

Sridharan K, Sivaramakrishnan G (2017) Medical expulsive therapy in urolithiasis: a mixed treatment comparison network meta-analysis of randomized controlled clinical trials. Expert Opin Pharmacother 18(14):1421–1431

21.

Somani BK, Aboumarzouk O, Traxer O, Baard J, Kamphuis G, de la Rosette J (2016) Medical expulsive therapy for ureteral stones: where do we go from here? Nat Rev Urol 13(10):608–612

22.

Sridharan K, Sivaramakrishnan G (2018) Efficacy and safety of alpha blockers in medical expulsive therapy for ureteral stones: a mixed treatment network meta-analysis and trial sequential analysis of randomized controlled clinical trials. Expert Rev Clin Pharmacol 11(3):291–307

23.

Kupeli B, Irkilata L, Gurocak S, Tunc L, Kirac M, Karaoglan C et al (2004) Does tamsulosin enhance lower ureteral stone clearance with or without shock wave lithotripsy? Urology 64(6):1111–1115

24.

Goyal SK, Singh V, Pandey H, Chhabra MK, Aggarwal SP, Bhat A (2018) Comparative efficacy of tamsulosin versus tadalafil as medical expulsive therapy for distal ureteric stones. Urol Ann 10(1):82–86

25.

Bahadur KCH, Shrestha A, Acharya GB, Basnet RB, Shah AK, Shrestha PM (2016) Tamsulosin versus tadalafil as a medical expulsive therapy for distal ureteral stones: a prospective randomized study. Investig Clin Urol 57(5):351–356

26.

Kumar S, Jayant K, Agrawal MM, Singh SK, Agrawal S, Parmar KM (2015) Role of Tamsulosin, Tadalafil, and Silodosin as the medical expulsive therapy in lower ureteric stone: a randomized trial (a pilot study). Urology 85(1):59–63

27.

Puvvada S, Mylarappa P, Aggarwal K, Patil A, Joshi P, Desigowda R (2016) Comparative efficacy of tadalafil versus tamsulosin as the medical expulsive therapy in lower ureteric stone: a prospective randomized trial. Cent Eur J Urol 69(2):178–182

28.

Meltzer AC, Burrows PK, Wolfson AB, Hollander JE, Kurz M, Kirkali Z et al (2018) Effect of Tamsulosin on passage of symptomatic ureteral stones: a randomized clinical trial. JAMA Intern Med 178(8):1051–1057
Acknowledgements
This work is supported by the grant from National Natural Science Foundation of China (81573776).
Ethics declarations
Conflict of interest
We declare that there are no potential competing interests in this research.
Human and animal rights
This manuscript adopted study-level data, not involving human individual participants or animals.
Additional information
Publisher's Note
Springer Nature remains neutral with regard to jurisdictional claims in published maps and institutional affiliations.
Electronic supplementary material
Below is the link to the electronic supplementary material.
About this article
Cite this article
Liu, H., Wang, S., Zhu, W. et al. Comparative efficacy of 22 drug interventions as medical expulsive therapy for ureteral stones: a systematic review and network meta-analysis. Urolithiasis 48, 447–457 (2020). https://doi.org/10.1007/s00240-019-01159-5
Received:

Accepted:

Published:

Issue Date:
Keywords
Ureteral stones

Medical expulsive therapy

Drug interventions

Efficacy