Abstract
In this study, we aimed to investigate the feasibility of using Materialise's interactive medical image control system (MIMICS) to measure urinary calculi volume. We used a cylinder measuring to measure the same polymer clay volume in different groups. Polymer clay was made into an oval shape, an antler type, and a multiple irregular shapes by hand. They are divided into three groups, that is, A, B, and C, each of which has seven polymer clays. The computer tomography (CT) 3D images of each sample were obtained by 256iCT scanning. The CT 3D image was imported into MIMICS to measure the theoretical volume and average CT value of polymer clay. The differences between the volume and CT values measured by MIMICS and 256iCT were evaluated. The volume of each polymer clay that was measured by a measuring cylinder was 34.7 ml. The average CT values of groups A, B, and C measured by 256iCT were 1121.3 ± 35.8, 1071.3 ± 22.2, and 1083.9 ± 6.3 Hu, respectively. The theoretical volume and CT values of the ceramics measured by MIMICS were as follows: the averaged volume of group A was 35.1 ± 0.4 ml, and the average CT value was 1065.7 ± 5.3 Hu. The average volume of group B was 34.5 ± 0.2 ml, and the average CT value was 1008.9 ± 7.7 Hu. The average volume of group C was 34.4 ± 0.5 ml, and the average CT value was 980.9 ± 6.1 Hu. MIMICS was reliable in measuring urinary stone volume. The difference between the CT values measured by MIMICS and 256iCT was statistically significant. MIMICS had a slightly lower CT value than that of 256iCT. However, from the data point of view, the difference between the two methods was small.
This is a preview of subscription content, log in to check access.
Access options
Buy single article
Instant access to the full article PDF.
US$ 39.95
Price includes VAT for USA
Subscribe to journal
Immediate online access to all issues from 2019. Subscription will auto renew annually.
US$ 199
This is the net price. Taxes to be calculated in checkout.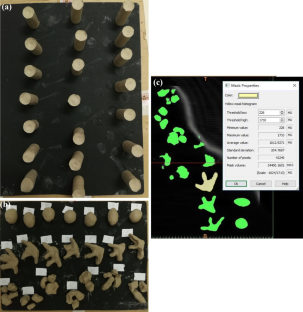 Ethics declarations
Conflict of interest
We declared that we do not have any commerical or associative interest that reprents a conflict of inerest in connection with the work.
Additional information
Publisher's Note
Springer Nature remains neutral with regard to jurisdictional claims in published maps and institutional affiliations.
About this article
Cite this article
Wang, J., Huang, Z., Wang, F. et al. Materialise's interactive medical image control system (MIMICS) is feasible for volumetric measurement of urinary calculus. Urolithiasis 48, 443–446 (2020). https://doi.org/10.1007/s00240-019-01158-6
Received:

Accepted:

Published:

Issue Date:
Keywords
CT stone volume

Kidney stone volume

Nephrolithiasis

Region growing algorithm