Abstract
We examined the renal pelvic urine culture (RPUC) and stone culture (SC) during ureteroscopy and evaluated their associations with postoperative systemic inflammatory response syndrome (SIRS). We prospectively collected data of 224 patients who underwent ureteroscopic laser lithotripsy from March 2015 to December 2017. We examined the bladder urine culture pre-operatively. If the patients had positive culture results, we treated them with antibiotics for 5–7 days before surgery based on the sensitivity profile. We collected RPUC and SC samples during surgery. After ureteroscopy, patients were closely monitored for any signs of SIRS. Using a logistic regression model, we analyzed how the clinical factors affected the incidence of SIRS. Pre-operative bladder urine culture (PBUC) was positive in 111 patients (49.6%). Intraoperative RPUC was positive in 43 patients (19.2%), and SC was positive in 34 patients (15.2%). Postoperatively, 23 patients (10.3%) were diagnosed with SIRS. A multivariate analysis revealed that female gender, struvite calculi and positive intraoperative RPUC results were significantly associated with postoperative SIRS. Among the 31 patients who were positive for both PBUC and intraoperative RPUC, the pathogens were not consistent in 11 patients (35.5%). Among the 25 patients who were positive for both PBUC and intraoperative SC, the pathogens were not consistent in 13 patients (52.0%). We recommend collecting RPUC and SC samples during ureteroscopy, especially for patients with high risk factors, including female gender, expected struvite calculi and positive PBUC results.
This is a preview of subscription content, log in to check access.
Access options
Buy single article
Instant access to the full article PDF.
US$ 39.95
Price includes VAT for USA
Subscribe to journal
Immediate online access to all issues from 2019. Subscription will auto renew annually.
US$ 199
This is the net price. Taxes to be calculated in checkout.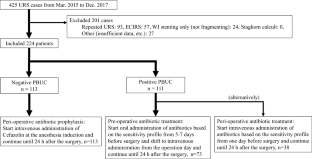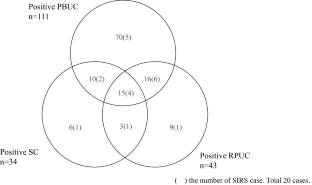 References
1.

Giusti G, Proietti S, Perschechera R, Taverna G, Sortino G, Cindolo L, Graziotti P (2015) Sky is no limit for ureteroscopy: extending the indications and special circumstances. World J Urol 33:257–273

2.

Takazawa R, Kitayama S, Tsujii T (2012) Successful outcomes of flexible ureteroscopy with holumium laser lithotripsy for renal stones 2 cm or greater. Int J Urol 19:264–267

3.

Cindolo L, Castellan P, Scoffone CM, Cracco CM, Celia A, Paccaduscio A, Schips L, Proietti S, Breda A, Guisti G (2016) Mortality and flexible ureteroscopy: analysis of six cases. World J Urol 34:305–310

4.

Uchida Y, Takazawa R, Kitayama S, Tsujii T (2018) Predictive risk factors for systemic inflammatory response syndrome following ureteroscopic laser lithotripsy. Urolithiasis 46:375–381

5.

Mariappan P, Smith G, Bariol SV, Moussa SA, Tolley DA (2005) Stone and pelvic urine culture and sensitivity are better than urine as predictors of urosepsis following percutaneous nephrolithotomy: a prospective clinical study. J Urol 173:1610–1614

6.

Korets R, Graversen JA, Kates M, Mues AC, Gupta M (2011) Post-percutaneous nephrolithotomy systemic inflammatory responses: a prospective analysis of preoperative urine, renal pelvic urine and stone cultures. J Urol 186:1899–1903

7.

Bone RC, Balk RA, Cerra FB, Dellinger RP, Ferin AM, Knaus WA, Schein RM, Sibbald WJ (1992) Definitions for sepsis and organ failure and guidelines for the use of innovative therapies in sepsis. The ACCP/SCCM Consensus Conference Committee. American College of Chest Physicians/Society of Critical Care Medicine. Chest 101:1644–1655

8.

Wollin DA, Joyce AD, Gupta M, Wong MYC, Laguna P, Gravas S, Gutierrez J, Cormio L, Wang K, Preminger GM (2017) Antibiotic use and the prevention and management of infectious complications in stone disease. World J Urol 35:1369–1379

9.

Blackmur JP, Maitra NU, Marri RR, Housami F, Malki M, Mcllhenny C (2016) Analysis of factors' association with risk of postoperative urosepsis in patients undergoing ureteroscopy for treatment of stone disease. J Endourol 30:963–969

10.

Fan S, Gong B, Hao Z, Zhang L, Zhou J, Zhang Y, Liang C (2015) Risk factors of infectious complications following flexible ureteroscope with a holmium laser: a retrospective study. Int J Clin Exp Med 8:11252–11259

11.

Zhong W, Leto G, Wang L, Zeng G (2015) Systemic inflammatory response syndrome after flexible ureteroscopic lithotripsy: a study of risk factors. J Endourol 29:25–28

12.

Eswara JR, Shariftabrizi A, Sacco D (2013) Positive stone culture is associated with a higher rate of sepsis after endourological procedures. Urolithiasis 41:411–414

13.

Skolarikos A, Gross AJ, Krebs A, Unal D, Bercowsky E, Eltahawy E, Somani B, dela Rosette J (2015) Outcomes of flexible ureterorenoscopy for solitary renal stones in the CROES URS grobal study. J Urol 194:137–143

14.

Turk C, Petrik A, Sarica K, Seitz C, Skolarikos A, Straub M, Knoll T (2016) EAU guidelines on interventional treatment for urolithiasis. Eur Urol 69:475–482

15.

Dogan HS, Guliyev F, Cetinkaya YS, Sofikerim M, Ozden E, Sahin A (2007) Importance of microbiological evaluation in management of infectious complications following percutaneous nephrolithotomy. Int Urol Nephrol 39:737–742

16.

Margel D, Ehrlich Y, Brown N, Lask D, Livne PM, Lifshitz DA (2006) Clinical implication of routine stone culture in percutaneous nephrolithotomy: a prospective study. Urology 67:26–29

17.

Singer M, Deutschman CS, Seymour CW, Shankar-Hari M, Annane D, Bauer M, Bellomo R, Bernard GR, Chiche JD, Coopersmith CM, Hotchkiss RS, Levy MM, Marshall JC, Martin GS, Opal SM, Rubenfeld GD, van der Poll T, Vincent JL, Anqus DC (2016) The third international consensus definition for sepsis and septic shock (sepsis-3). JAMA 315:801–810
Acknowledgements
We greatly appreciate Dr. Sachi Kitayama for her contribution to this study.
Ethics declarations
Conflict of interest
The authors declare that they have no conflict of interest.
Ethical approval
All procedures performed in studies involving human participants were in accordance with ethical standards of the institutional research committee and with the 1964 Declaration of Helsinki and its later amendments or comparable ethical standards. The institutional official ethics committee approved this study (registration number 2015-15). For this type of study, formal consent was not required.
Additional information
Publisher's Note
Springer Nature remains neutral with regard to jurisdictional claims in published maps and institutional affiliations.
About this article
Cite this article
Yoshida, S., Takazawa, R., Uchida, Y. et al. The significance of intraoperative renal pelvic urine and stone cultures for patients at a high risk of post-ureteroscopy systemic inflammatory response syndrome. Urolithiasis 47, 533–540 (2019). https://doi.org/10.1007/s00240-019-01112-6
Received:

Accepted:

Published:

Issue Date:
Keywords
Ureteroscopy

Systemic inflammatory response syndrome

Bladder urine culture

Renal pelvic urine culture

Stone culture