Abstract
Background
The CoolAdvantage family of CoolSculpting applicators reduces skin tension and increases tissue contact compared with the previous CoolCore system. We assessed the impact of transitioning from CoolCore to CoolAdvantage in routine practice.
Methods
This was a retrospective, single-center analysis of consecutive cryolipolysis treatments conducted using the CoolSculpting procedure. Between January 2012 and January 2017, these were based on the CoolCore system; between January 2017 and July 2019, treatments used CoolAdvantage.
Results
A total of 253 patients were included (n = 196 female [77.5%]). Of these, 111 received treatment with CoolCore (130 treatment areas; 338 cycles) and 151 with CoolAdvantage (248 treatment areas; 723 cycles). With CoolCore, all treatments were to the abdomen (262 cycles) or flanks (76 cycles); with CoolAdvantage, treatments were to the abdomen (231 cycles), flanks (227 cycles), and many other areas, including the inner thighs (78 cycles), outer thighs (68 cycles), and back (30 cycles). The number of body areas treated per visit was higher with CoolAdvantage versus CoolCore (1.59 ± 1.01 vs 1.14 ± 0.34, respectively; p < 0.0001), as was the mean number of treatment cycles per visit (4.63 ± 4.30 vs 2.96 ± 1.34; p < 0.0001). There were only two significant complications: one paradoxical adipose hyperplasia (with CoolCore) and one loss of sensation (with CoolAdvantage).
Conclusions
Transitioning to the new CoolAdvantage applicator family had no impact on safety and led to greater versatility and increased numbers of cycles per treatment.
Level of evidence: Level IV, therapeutic study.
Access options
Buy single article
Instant access to the full article PDF.
US$ 39.95
Tax calculation will be finalised during checkout.
Subscribe to journal
Immediate online access to all issues from 2019. Subscription will auto renew annually.
US$ 79
Tax calculation will be finalised during checkout.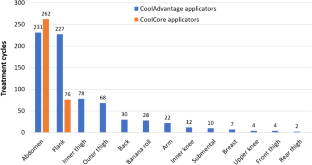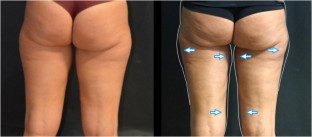 References
1.

American Society of Plastic Surgeons (2019) 2018 Plastic Surgery Statistics Report. www.plasticsurgery.org/documents/News/Statistics/2018/plastic-surgery-statistics-full-report-2018.pdf. Accessed 23 Jul 2020

2.

Manstein D, Laubach H, Watanabe K, Farinelli W, Zurakowski D, Anderson RR (2008) Selective cryolysis: a novel method of non-invasive fat removal. Lasers Surg Med 40:595–604

3.

Dierickx CC, Mazer JM, Sand M, Koenig S, Arigon V (2013) Safety, tolerance, and patient satisfaction with noninvasive cryolipolysis. Dermatol Surg 39:1209–1216

4.

Stevens WG, Pietrzak LK, Spring MA (2013) Broad overview of a clinical and commercial experience with CoolSculpting. Aesthet Surg J 33:835–846

5.

Ingargiola MJ, Motakef S, Chung MT, Vasconez HC, Sasaki GH (2015) Cryolipolysis for fat reduction and body contouring: safety and efficacy of current treatment paradigms. Plast Reconstr Surg 135:1581–1590

6.

Kilmer SL, Burns AJ, Zelickson BD (2016) Safety and efficacy of cryolipolysis for non-invasive reduction of submental fat. Lasers Surg Med 48:3–13

7.

Jain M, Savage NE, Spiteri K, Snell BJ (2020) A 3-dimensional quantitative analysis of volume loss following submental cryolipolysis. Aesthet Surg J 40:123–132

8.

Oh CH, Shim JS, Bae KI, Chang JH (2020) Clinical application of cryolipolysis in Asian patients for subcutaneous fat reduction and body contouring. Arch Plast Surg 47:62–69

9.

CoolSculpting (2020) Freezing away fat cells with CoolSculpting®. https://uk.coolsculpting.com/. Accessed 23 Jul 2020

10.

CoolSculpting (2019) Treatment applicators. www.coolsculptingct.com/coolsculpting-applicators/. Accessed 23 Jul 2020

11.

Bernstein EF, Bloom JD, Basilavecchio LD, Plugis JM (2014) Non-invasive fat reduction of the flanks using a new cryolipolysis applicator and overlapping, two-cycle treatments. Lasers Surg Med 46:731–735

12.

Boey GE, Wasilenchuk JL (2014) Fat reduction in the inner thigh using a prototype cryolipolysis applicator. Dermatol Surg 40:1004–1009

13.

Stevens WG, Bachelor EP (2015) Cryolipolysis conformable-surface applicator for nonsurgical fat reduction in lateral thighs. Aesthet Surg J 35:66–71

14.

Carruthers JD, Humphrey S, Rivers JK (2017) Cryolipolysis for reduction of arm fat: safety and efficacy of a prototype CoolCup applicator with flat contour. Dermatol Surg 43:940–949

15.

Kilmer SL (2017) Prototype CoolCup cryolipolysis applicator with over 40% reduced treatment time demonstrates equivalent safety and efficacy with greater patient preference. Lasers Surg Med 49:63–68

16.

Rivers JK, Ulmer M, Vestvik B, Santos S (2018) A customized approach for arm fat reduction using cryolipolysis. Lasers Surg Med [online ahead of print]

17.

Friedmann DP (2019) Cryolipolysis for noninvasive contouring of the periumbilical abdomen with a nonvacuum conformable-surface applicator. Dermatol Surg 45:1185–1190

18.

Suh DH, Park JH, Kim BY, Lee SJ, Moon JH, Ryu HJ (2019) Double stacking cryolipolysis treatment of the abdominal fat with use of a novel contoured applicator. J Cosmet Laser Ther 21:238–242

19.

Ho D, Jagdeo J (2017) A systematic review of paradoxical adipose hyperplasia (PAH) post-cryolipolysis. J Drugs Dermatol 16:62–67

20.

Keaney TC, Gudas AT, Alster TS (2015) Delayed onset pain associated with cryolipolysis treatment: a retrospective study with treatment recommendations. Dermatol Surg 41:1296–1299

21.

Bertossi D, Botti G, Gualdi A, Fundarò P, Nocini R, Pirayesh A, van der Lei B (2019) Effectiveness, longevity, and complications of facelift by barbed suture insertion. Aesthet Surg J 39:241–247

22.

Gualdi A, Cambiaso-Daniel J, Gatti J, Bertossi D, Pietramaggiori G, Scherer SS, Wurzer P, Lumenta DB (2017) Minimal undermining suspension technique (MUST): combined eyebrow and mid-face lift via temporal access. Aesthet Plast Surg 41:40–46
Funding
Writing and editorial assistance was provided to the authors by Timothy Ryder, DPhil, of Biological Communications Limited (London, UK) and funded by Allergan plc (now AbbVie) at the request of the investigator. All authors met the ICMJE authorship criteria. Neither honoraria nor payments were made for authorship.
Ethics declarations
Patient consent statement
Patients signed informed consent regarding publishing their data and photographs.
Conflict of interest
Dario Bertossi is a consultant and speaker for Allergan S.p.A. The other authors report no conflict of interest to declare.
Ethics approval
The study was conducted in accordance with the Declaration of Helsinki and further ammendments. According to Italian law, approval by an Ethics Committee did not apply to retrospective studies.
Informed consent
Informed consent was obtained from all participants included in the study.
Additional information
Publisher's note
Springer Nature remains neutral with regard to jurisdictional claims in published maps and institutional affiliations.
About this article
Cite this article
Gualdi, A., Gatti, J., Bertossi, D. et al. Evolution of the treatment approach to cryolipolysis using the CoolAdvantage® applicator family: results from a retrospective database review. Eur J Plast Surg (2021). https://doi.org/10.1007/s00238-021-01789-2
Received:

Accepted:

Published:
Keywords
Body contouring

CoolAdvantage

CoolSculpting

Cryolipolysis