Abstract
Neurilemmomas, also known as schwannomas, present as encapsulated, slow-growing, solitary, smooth-surfaced, and usually asymptomatic mass arising from Schwann cells of the nerve sheath surrounding cranial or peripheral nerves. They represent the most prevalent benign peripheral nerve sheath tumours and the occurrence in the upper extremity accounts for 12 to 19% and in the lower extremity for 13.5 to 17.5% of all cases. Schwannomas of the superficial peroneal nerve are very rare, and one can find in the literature only a few cases in the last 20 years. The smallest reported spinal giant schwannoma was of size 3 cm × 2 cm × 3 cm while the largest size reported of the same was 10 cm × 10 cm × 12 cm. We present a case report of a 54-year-old male with multiple huge ancient neurilemmomas arising from superficial peroneal nerve of 17 years' duration. As the ultrasonography reported a hypoechoic mass in the left leg, antero-lateral muscular compartment with increased vascularity and magnetic resonance imaging (MRI) suggested large elongated lesion with multiple areas of haemorrhages; the primary diagnosis was made as vascular malformation. It was only after surgical exploration, three tumour masses were found arising from superficial peroneal nerve of sizes 15 × 6 cm, 2 × 2 cm, and 1 × 1 cm. The tumour was completely removed with meticulous dissection. Even though few fascicles of superficial peroneal nerve had to be sacrificed during excision, the patient recovered well with no neurological deficit.
Level of evidence: Level V, therapeutic study.
We're sorry, something doesn't seem to be working properly.
Please try refreshing the page. If that doesn't work, please contact support so we can address the problem.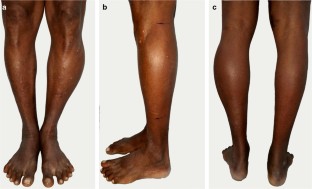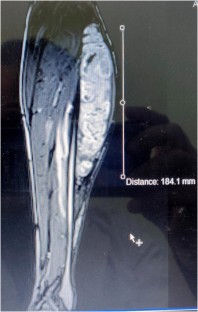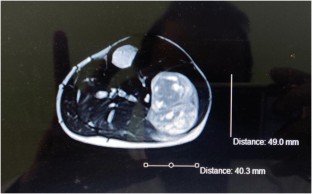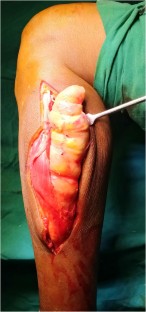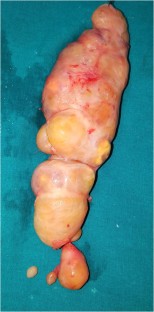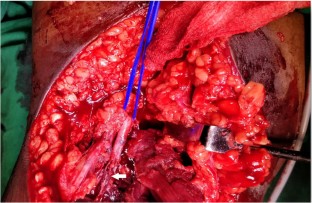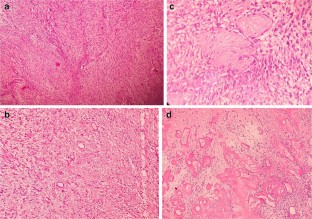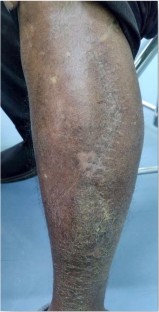 References
1.

Rathore AS, Srivastava D, Narwal N, Shetty DC (2015) Neurilemmoma of retromolar region in the oral cavity. Case Rep Dent 2015:320830

2.

Nascimento G, Nomi T, Marques R, Leiria J, Silva C, Periquito J (2015) Ancient Schwannoma of superficial peroneal nerve presenting as intermittent leg pain: a case report. Int J Surg Case Rep 6C:19–22

3.

Arabi H, Bakzaza O, El Fikri A, Elktaibi A, Saidi H, El Alaoui M (2016) Compression of the peroneal nerve by a neurofibroma originating from collaterals of the peroneal nerve: a case report. J Med Case Rep 10:28

4.

Shariq O, Radha S, Konan S (2012) Common peroneal nerve schwannoma: an unusual differential for a symptomatic knee lump. BMJ Case Rep 2012:bcr2012007346

5.

Kuo W-H, Wu C-H, Wang T-G (2012) Sonographic detection of knee neurilemmoma: a case report and literature review. J Med Ultrasound 20(2):125–128

6.

Patil S, Babu K, Reddy S, Bandari D, Sudhaker G, Pranavi V (2014) Schwannoma of the superficial peroneal nerve in 12-year-old female child: a case report. Open J Orthop 04:189–193

7.

Oz TT, Aktas B, Ozkan K, Ozturan B, Kilic B, Demiroglu M (2017) A case of schwannoma of the common peroneal nerve in the knee. Orthop Rev (Pavia) 9(1):6825

8.

Gosk J, Gutkowska O, Urban M, Wnukiewicz W, Reichert P, Ziółkowski P (2015) Results of surgical treatment of schwannomas arising from extremities. Biomed Res Int 2015:547926

9.

Shim S-K, Myoung H (2016) Neurilemmoma in the floor of the mouth: a case report. J Korean Assoc Oral Maxillofac Surg 42(1):60–64

10.

Budohoski KP, Guilfoyle MR, Kenyon O, Barone DG, Santarius T, Trivedi RA (2018) Microsurgical resection of a common peroneal nerve schwannoma: a 3-dimensional operative video. Oper Neurosurg 14(1):83
Ethics declarations
Conflict of interest
All authors Rajesh S Powar, Kiran S Mahapure, and Saipriya Natrajan declare that they have no conflict of interest.
Ethical approval
This is a case report. The Institutional Ethics Committee has confirmed that no ethical approval is required.
Informed consent
Informed consent was obtained from the patient included in the study. The Patients signed informed consent regarding publishing their data and photographs without their name and identifying details.The participant has consented to the submission of the case report to the journal.
Consent for publication
Appropriate written and informed consent was obtained from the patient for publication of the clinical data after de-identification/removing the personal details.
Additional information
Prior presentation
The case report was presented as e-poster in 78th Annual Conference of the Association of Surgeons of India, ASICON 2018, Chennai.
Publisher's note
Springer Nature remains neutral with regard to jurisdictional claims in published maps and institutional affiliations.
About this article
Cite this article
Powar, R.S., Mahapure, K.S. & Natrajan, S. Multiple huge ancient neurilemmomas arising from superficial peroneal nerve: a case report. Eur J Plast Surg (2021). https://doi.org/10.1007/s00238-020-01774-1
Received:

Accepted:

Published:
Keywords
Neurilemmoma

Schwannoma

Superficial peroneal nerve sheath tumour