Abstract
Background
There are speculations that the proximal third fibular osseosomes, supplied by the anterior tibial vessels cannot be reliably recruited on the peroneal vessels supplying fibular diaphyseal osseosomes. Anatomical study by the authors eschewed this speculation and paved way for an evidence-based surgery. Cadaveric dissection, dye injection, and radiological studies revealed existence of a reliable anastomotic musculoperiosteal vessel between these two osseosomes that could effectively recruit the proximal fibular osseosomes on the peroneal vessels. Also, operative tips and tricks for safeguarding these anastomotic vessels were defined by the cadaveric study. Aesthetic and functional outcomes were assessed in five clinical cases, where the fibular heads were harvested reliably on the peroneal pedicle and stable wrist joints were reconstructed following oncological excisions.
Methods
Based on the evidence from the anatomical study, five clinical cases (three males and two females) affected by stage III GCT (giant cell tumor) of distal radius underwent microvascular fibular head hemiarthroplasty following tumor excision. Average follow-up of the patients was 18 months.
Results
At the end of follow-up period, all patients had an average MSTS (Musculoskeletal Tumor Society) score of 23. Scores ranged from 21 to 25. Patients had good functional outcomes with 69% average mobility in the reconstructed wrist when compared with the opposite normal wrist. Aesthesis of the reconstructed wrists were acceptable.
Conclusion
The cadaveric study demonstrated concrete anatomical evidence of existence of an anastomotic musculoperiosteal vessel between anterior tibial and peroneal fibular osseosomes in all the specimens. Clinical study validated the safety of the vascularized proximal fibular hemiarthroplasty on peroneal pedicle. It may be a reliable method for reconstruction of the radiocarpal joint in the post-GCT distal radius excision with good aesthetic and functional outcomes.
Level of Evidence: Level V, therapeutic study
This is a preview of subscription content, log in to check access.
Access options
Buy single article
Instant access to the full article PDF.
US$ 39.95
Price includes VAT for USA
Subscribe to journal
Immediate online access to all issues from 2019. Subscription will auto renew annually.
US$ 99
This is the net price. Taxes to be calculated in checkout.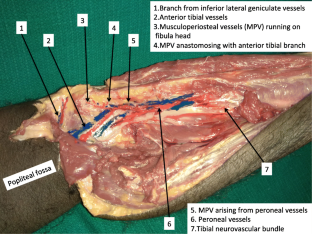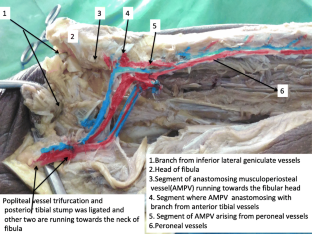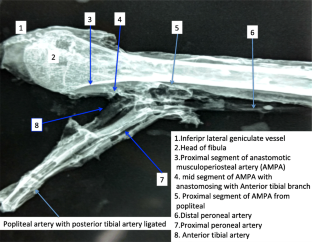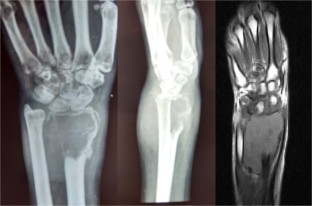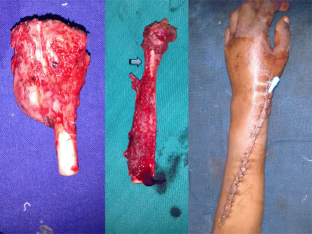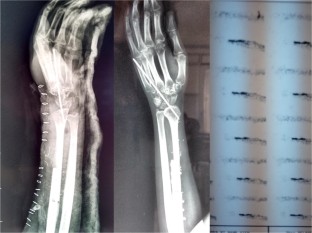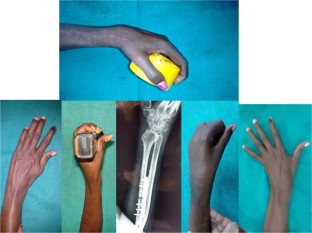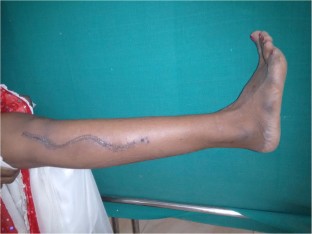 References
1.

Innocenti M et al (2004) Vascularized proximal fibula transfer for distal radial reconstruction. J Bone Joint Surg (Am Vol) 88(7):1504–1511

2.

Sun F-F, Jiu Y-H (2011) Reconstruction of distal radius following excision of grade III giant cell tumor: follow up of 18 cases. Int Orthod (SICOT) 35:577–580

3.

Serafin D (1996) Atlas of microsurgical composite tissue transplantation. W.B. Saunders Company. (Chapter 53):567–569

4.

Menezes-Leite MC, Dautel G, Duteille F, Lascombes P (2000) Transplantation of the proximal fibula based on the anterior tibial artery: anatomical study and clinical application. Surg Radiol Anat 22:235–238

5.

Mozaffarian K, Lascombes P, Dautel G (2009) Vascular basis of free transfer of proximal epiphysis and diaphysis of fibula: an anatomical study. Arch Orthop Trauma Surg 129:183–187

6.

Innocenti M, Delcroix L, Romano GF (2005) Epiphyseal transplant: harvesting technique of the proximal fibula based on the anterior tibial artery. Microsurgery 25:284–292

7.

Innocenti M, Delcroix L, Manfrini M et al (2005) Vascularized proximal fibular epiphyseal transfer for distal radial reconstruction. J Bone Joint Surg Am 87(suppl 1):237–246

8.

Taylor GI, Wilson K R, Rees MD et al (1988) The anterior tibial vessels and their role in epiphyseal and diaphyseal transfer of the fibula: experimental study and clinical applications. Br J Plast Surg 41:451–469

9.

Restrepo J, Katz D, Gilbert A (1980) Arterial vascularization of the proximal epiphysis and the diaphysis of the fibula. Int J Microsurg 2:48–51

10.

Bonnel F, Lesire M, Gomis R, Allieu Y, Rabischong P (1981) Arterial vascularization of the fibula microsurgical transplant techniques. Anat Clin 3:13–23

11.

Pho RW, Patterson MH, Kour AK et al (1988) Free vascularised epiphyseal transplantation in upper extremity reconstruction. J Hand Surg Am 13:440–447

12.

Innocenti M, Ceruso M, Manfrini M, Angeloni R, Lauri G, Capanna R, Bufalini C (1998) Free vascularised growth plate transfer after bone tumor resection in children. J Reconstr Microsurg 14:137–143

13.

Innocenti M, Delcroix L, Romano GF, Capanna R (2007) Vascularized epiphyseal transplant. Orthop Clin North Am 38:95–101

14.

Bianchi G, Donari D, Staals EL et al (2005) Osteo articular allograft reconstruction of distal radius after bone tumor resection. J Hand Surg Br 30:369–373

15.

Cheng C, Shih HN, Hsu KY et al (2001) Treatment of giant cell tumor of the distal radius. Clin Orthop Relat Res 383:221–228

16.

Malck F, Kruger P, Hatmi ZN et al (2006) Local control of long bone giant cell tumor using curettage, burring, and bone grafting without adjuvant therapy. Int Orthop 30:495–498

17.

Kawamura K, Yajima H, Kobata Y, Murata K, Shigematsu K, Maegawa N, Takakura Y (2009) Wrist arthrodesis with vascularized fibular grafting. J Reconstr Microsurg 25(8):501–505

18.

Minami A, Kato H, Iwasaki N (2002) Vascularized fibular graft after excision of giant cell tumor of the distal radius: wrist arthroplasty versus partial wrist arthrodesis. Plast Reconstr Surg 110:112–117

19.

Szabo RM, Anderson KA, Chen JL (2006) Functional outcome of en bloc excision and osteoarticular allograft replacement with the Sauve-Kapandji procedure for Campanacci grade III giant cell tumor of the distal radius. J Hand Surg Am 31:1340–1348

20.

Natarajan MV, Chandra Bose J, Vishwanath J et al (2009) Custom prosthetic replacement for distal radial tumors. Int Orthop 33(4):1081–1084
Acknowledgements
The authors thank Prof. Sudha Seshayyan, MS (Anatomy), director of Institute of Anatomy Madras Medical College, for her support and guidance in the anatomical study.
Ethics declarations
Conflict of interest
Balakrishnan Thalaivirithan Margabandu, J. C. Charan and J. Jaganmohan  declare that they have no conflicts of interest.
Informed consent
The authors certify that they have obtained all appropriate patient consent forms. In the form, the patient(s) has/have given his/her/their consent for his/her/their images and other clinical information to be reported in the journal.
The patients understand that their names and initials will not be published, and due efforts will be made to conceal their identity.
Ethical approval
Institutional ethical committee has approved the study.
Additional information
Publisher's note
Springer Nature remains neutral with regard to jurisdictional claims in published maps and institutional affiliations.
Electronic supplementary material
About this article
Cite this article
Thalaivirithan Margabandu, B., Charan, J.C. & Jaganmohan, J. An anatomical study of vascular communications between anterior tibial and peroneal osseosomes and its clinical application in proximal hemiarthroplasty of radiocarpal joint following tumor excision. Eur J Plast Surg 42, 273–281 (2019). https://doi.org/10.1007/s00238-018-1482-4
Received:

Accepted:

Published:

Issue Date:
Keywords
Microvascular proximal fibula hemiarthroplasty of radiocarpal joint

Anterior tibial fibular osseosomes

Peroneal fibular osseosomes

Anastomotic musculoperiosteal vessel

Distal end radius GCT