Abstract
Background
Hyperhidrosis is a disorder of the autonomic nervous system that creates severe social and work problems through the production of excess uncontrolled perspiration. This disease affects about 1 to 3% of the world's population. Essential or primary hyperhidrosis being most frequently seen. Treatment with a variety of surgical and non-surgical systems has been reported. Recently, intradermal microneedle radiofrequency has attracted favorable attention.
Methods
Seventy-four armpits in 37 patients (9 males, 28 females, average age 28 years [range 15–68 years]) diagnosed as having axillary hyperhidrosis who were performed intradermal microneedling fractional radiofrequency (MRF) in three deeps 2 mm, 3 mm, and 3.5 mm. The study was performed from July 2014 until July 2016. All patients completed control and follow-up sessions for 6 months.
Results
A permanent decrease in sweating of over 50% was achieved in 30 patients (80%); intermediate results in 2 (7%) and little or no results in 5 patients (13% of patients).
Conclusions
results suggest that MFR is a novel, safe, effective, permanent, and minimally invasive method to treat AHH with tolerable side effects.
Level of Evidence: Level IV, therapeutic study.
This is a preview of subscription content, log in to check access.
Access options
Buy single article
Instant access to the full article PDF.
US$ 39.95
Price includes VAT for USA
Subscribe to journal
Immediate online access to all issues from 2019. Subscription will auto renew annually.
US$ 99
This is the net price. Taxes to be calculated in checkout.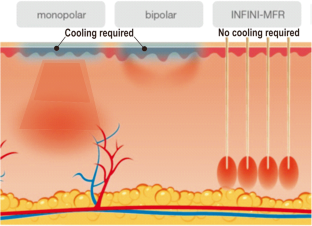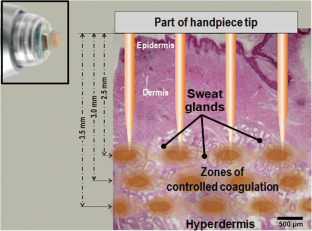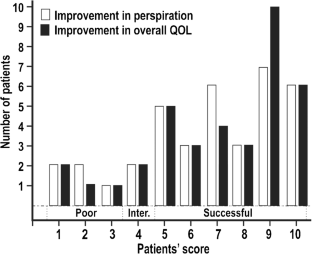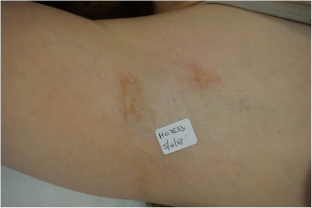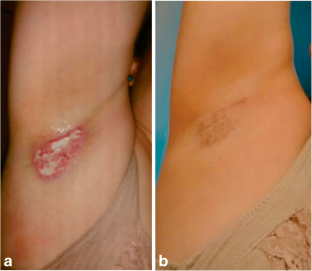 References
1.

Smith L, Thier S Fisiopatología. Chapter 16. Physiopathology of the skin. Author Fitzpatrick T, Soter N. Ed. Panamericana 2nd. edition: 1178–13207

2.

Kim M et al. (2013) Efficacy of fractional microneedle radiofrequency device in the treatment of primary axillary hyperhidrosis: a pilot study. Dermatology. 2013;227(3):243–249

3.

Atkins JL, Butler PE (2002) Hyperhidrosis: a review of current management. Plast Reconstr Surg 110:222–228

4.

Fan LK, Coleman WP, Glaser DA, Kaminer MS, Kilmer SL, Nossa R, Smith SR (2012) A novel, non-invasive microwave-based device for the treatment of axillary hyperhidrosis. Plast Reconstr Surg 130(5S–1):30

5.

Gotlib N, Pérez Damonte SH, Muhafra D Dermatoestética. Chapter 1. La piel normal y lesiones elementales. Ricardo Achembach. Ed. El Fenix. 1st edition: 11–22

6.

Woscoff A, Kaminsky A Orientación dermatológica en medicina interna. Chapter 1. Structure and functions of the skin. Alejandro Cordero. Ed. La catedra del libro. 2nd edition:1–10

7.

Stolman LP (1987) Treatment of excess sweating of the palms by iontophoresis. Arch Dermatol 123:893–896

8.

Hoorens I, Onganae K (2012) Primary focal hyperhidrosis: current treatment options and a step-by-step approach. J Eur Acad Dermatol 26:1–8

9.

Kux M (1978) Thoracic endoscopy sympathectomy in palmar and axilar hiperhidrosis. Arch Surg 113:2264–2266

10.

Bechara FG, Altmeyer P, Sand M, Hoffmann K (2007) Surgical treatment of axillary hyperhidrosis. Br J Dermatol 156:398–399

11.

Bechara FG, Sand M, Tomi NS, Altmeyer P, Hoffmann K (2007) Repeat liposuction-curettage treatment of axillary hyperhidrosis is safe and effective. Br J Dermatol 157:739–743

12.

Hong J et al (2004) Ultrasound-assisted lipoplasty treatment for axillary bromidrosis: clinical experience of 375 cases. Plast Reconstr Surg 113(4):1264–1269

13.

Coiffman F Cirugía Plástica, Reconstructiva y Estética. Chapter 337. Axillary Hyperhidrosis. Author Gaston Rojas Gorigoytia. Ed. Masson-Salvat. 2nd. edition. IV:2736–2738

14.

Shiffman M, Di Giuseppe A. Liposuction principles and practice. Chapter 77. Laser-assisted suction of axillary sweat glands and axillary epilation. Authors Klopper M, Fischer G, Blugerman G. Ed. Springer. 1st edition: 505–515

15.

Doft MA, Hardy KL, Ascherman JA (2012) Treatment of hyperhidrosis with botulinum toxin. Aesthet Surg J 32:238–244

16.

Saadia D, Voustianiouk A, Wang AK, Kaufmann H (2001) Botulinum toxin type a in primary hiperhidrosis. Neurology 57:2095–2099

17.

Bahareh A et al (2016) Treatment of primary axillary hyperhidrosis b fractional microneedle radiofrequency: is still effective after long term follow up? Indian J Dermatol 61:234–238

18.

Lee J et al (2013) The efficacy of fractional microneedle radiofrequency device in the treatment of primary hyperhidrosis: a pilot study. Dermatology 227:243–249

19.

Benaim F (1971) Personal opinion on a uniform classification of the depth of burns. Transaction of the Third International Congress on Research into Burns. ern, Hans Huber Publishers: p 715

20.

Lawrence CM, Lonsdale Eccles AA (2006) Selective sweat gland removal with minimal skin excision in the treatment of axillary hyperhidrosis: a retrospective clinical and histological review of 15 patients. Br J Dermatol 155:115–118

21.

Ong W et al (2003) Suction-curettage: treatment for axillary hyperhidrosis and hidradenitis. Plast Reconstr Surg 111(2):958–959

22.

Hederman WP (1993) Endoscopic sympathectomy. Br J Surg 80:687–688

23.

Raposio E, Filippi F, Nordström REA, Santi PL (1998) Endoscopic transthoracic dorsal sympathectomy for the treatment of upper extremity hyperhidrosis: a new minimally invasive approach. Plast Reconstr Surg 102(5):1629–1632

24.

Chilukuri S, Robb CW, Weiner SF, Grossman J (2018) Primary axillary hyperhidrosis treatment using high intensity focused fractional radiofrequency microneedling. J Drugs Dermatol 17(7):745–748

25.

Goldman A, Wollina U (2008) Subdermal Nd-YAG laser for axillary hyperhidrosis. Dermatol Surg 34:756–762
Ethics declarations
Conflict of interest
Fabian Perez Rivera declares that he has no conflict of interest.
Ethical approval
For this retrospective study formal consent from a local ethics committee  is not required.
Informed consent
All patients sign two different consents in which they accept to share their photos and information of the treatment for scientific purposes.
Additional information
Publisher's Note
Springer Nature remains neutral with regard to jurisdictional claims in published maps and institutional affiliations.
About this article
Cite this article
Perez Rivera, F. Pilot study for permanent resolution of axillary hyperhidrosis: elimination of sweat glands with intradermal microneedle radiofrequency. Eur J Plast Surg 42, 161–168 (2019). https://doi.org/10.1007/s00238-018-1470-8
Received:

Accepted:

Published:

Issue Date:
Keywords
Microneedle fractional radiofrequency

Thermoregulation

Primary hyperhidrosis

Joule heating