Abstract
Iterative reconstruction has been proven to be an effective tool for low-dose computed tomography imaging. However, this technology is currently not available in commercial diagnostic maxillofacial cone beam CT. For this technical note, an iterative reconstruction technique was applied to cone beam CT raw data of two maxillofacial clinical cases to explore its potential for dose reduction and metal artifact reduction. Low-dose imaging was emulated by using only fractions of the clinical projection dataset. The reconstruction algorithms tested were filtered backprojection (FBP) as a reference method, and a total variation minimization (TV) regularized ordered subsets convex (OSC-TV) method as the iterative technique. Upon qualitative examination, the OSC-TV technique was found to conserve most diagnostic information using half the projections. Test images have also shown that at 1/4 of the projections, OSC-TV was more robust than FBP with respect to streaking and metal artifacts.
This is a preview of subscription content, log in to check access.
Access options
Buy single article
Instant access to the full article PDF.
US$ 39.95
Price includes VAT for USA
Subscribe to journal
Immediate online access to all issues from 2019. Subscription will auto renew annually.
US$ 199
This is the net price. Taxes to be calculated in checkout.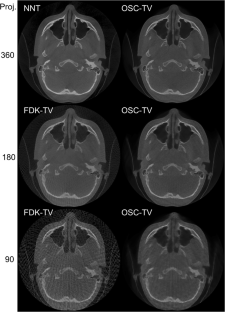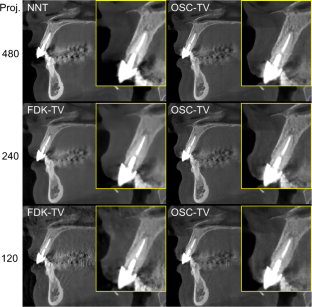 Acknowledgments
The authors would like to thank Useful Progress Services Inc. (Montreal, QC) and its founder Francis Siguenza for financially supporting the Mitacs Program.
Funding
This work was partly financially supported by Mitacs through the Mitacs Accelerate program (grant number IT10589) and by Canada Research Chairs.
Ethics declarations
Conflicts of interest
Dmitri Matenine is a part-time employee of Useful Progress Services Inc. (Montreal, QC).
Ethical approval
All procedures performed in studies involving human participants were in accordance with the ethical standards of the institutional and/or national research committee and with the 1964 Helsinki declaration and its later amendments or comparable ethical standards. For this type of study, formal consent is not required.
Informed consent
Informed consent was obtained from all individual participants included in the study.
Additional information
Publisher's note
Springer Nature remains neutral with regard to jurisdictional claims in published maps and institutional affiliations.
Electronic supplementary material
About this article
Cite this article
Matenine, D., Kachelriess, M., Després, P. et al. Potential of iterative reconstruction for maxillofacial cone beam CT imaging: technical note. Neuroradiology (2020). https://doi.org/10.1007/s00234-020-02467-z
Received:

Accepted:

Published:
Keywords
Maxillofacial cone beam CT

Iterative reconstruction

Dose reduction

Metal artifacts