Abstract
Purpose
The aim of this study was to investigate the impact of acid suppressive therapy on clinical efficacy and safety of pazopanib in patients with metastatic renal cell carcinoma (mRCC).
Methods
A single-center retrospective study was carried out. Charts of mRCC patients who received pazopanib as first-line treatment were reviewed and concomitant use of proton pump inhibitors (PPI) and histamine 2 receptor antagonists (H2RA) was studied. Two groups of patients were identified, namely patients receiving PPI/H2RA and patients without acid suppressive therapy. Both groups were compared with regard to progression free survival (PFS), overall survival (OS), tumor response, and time to dose reduction of pazopanib.
Results
Ninety-one patients were included. Median PFS was 8 months in the PPI/H2RA group vs. 7 months in the no PPI/H2RA group (hazard ratio (HR) 0.76 (95% confidence interval (CI) 0.42–1.35)), p = 0.35. Median OS was 27 months in the PPI/H2RA group vs. 23 months in the no PPI/H2RA group (HR 0.87 (95% CI 0.46–1.66)), p = 0.68. Mean tumor response was 17% (95% CI 8–25%) in the PPI/H2RA group vs. 11% (95% CI 0–21%) in the no PPI/H2RA group, p = 0.52. Median time to first dose reduction was 9 months in both subgroups (HR 1.25 (95% CI 0.65–2.39)), p = 0.51. Median time to second dose (< 600 mg) reduction was 17 months in the PPI/H2RA group vs. 7 months in the no PPI/H2RA group (HR 0.26 (95% CI 0.07–0.89)), p = 0.03.
Conclusion
In this limited patient series, no evidence of a negative impact of PPI/H2RA on clinical outcome and time to first dose reduction was observed. These results suggest that PPI/H2RA might be considered, when there is a clinical need, in patients treated with pazopanib for mRCC. However, a prospective study is warranted to confirm these results.
This is a preview of subscription content, log in to check access.
Access options
Buy single article
Instant access to the full article PDF.
US$ 39.95
Price includes VAT for USA
Subscribe to journal
Immediate online access to all issues from 2019. Subscription will auto renew annually.
US$ 199
This is the net price. Taxes to be calculated in checkout.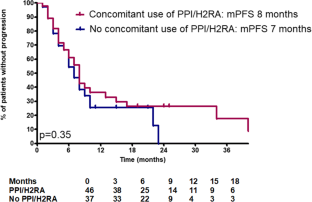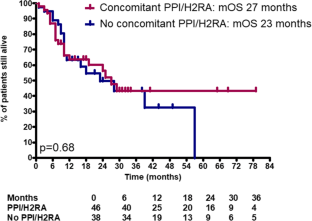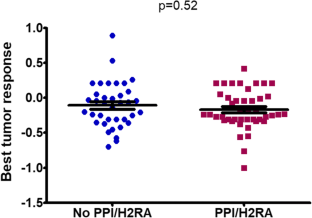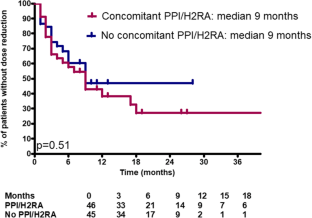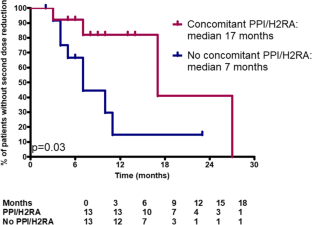 Ethics declarations
Conflict of interest
Beuselinck Benoit received an unrestricted research grant from Bristol-Myers-Squibb for other research projects and honorarium from Merck, Pfizer, Bristol-Myers-Squibb, Ipsen, and Astra Zeneca. Tack Jan has given scientific advice to Sofar, Takeda, and Truvion, has received research support from Sofar, and has served on the Speaker bureau for Takeda and Truvion. The other authors report no conflict of interest.
Ethics approval
The hospital ethics committee approved this retrospective study.
Consent
Not applicable
Additional information
Publisher's note
Springer Nature remains neutral with regard to jurisdictional claims in published maps and institutional affiliations.
Electronic supplementary material
About this article
Cite this article
Van De Sijpe, G., Beuselinck, B., Van Nieuwenhuyse, T. et al. Impact of concomitant acid suppressive therapy on pazopanib efficacy and dose reductions in patients with metastatic renal cell carcinoma. Eur J Clin Pharmacol (2020). https://doi.org/10.1007/s00228-020-02902-3
Received:

Accepted:

Published:
Keywords
Pazopanib

Proton pump inhibitors

PPI

Histamine 2 receptor antagonists

Renal cell carcinoma

mRCC

Drug-drug interaction