Abstract
Purpose
A medication error (ME) is an error that causes damage or poses a threat of harm to a patient. Several studies have shown that only a minority of MEs actually causes harm, and this might explain why medication reviews at hospital admission reduce the number of MEs without showing an effect on length of hospital stay, readmissions, or death. The purpose of this study was to define drugs that actually cause serious MEs. We conducted a literature search of medication reviews and other preventive efforts.
Methods
A systematic search in PubMed, Embase, Cochrane Reviews, Psycinfo, and SweMed+ was performed. Danish databases containing published patient complaints, patient compensation, and reported medication errors were also searched. Articles and case reports were included if they contained information of an ME causing a serious adverse reaction (AR) in a patient. Information concerning AR seriousness, causality, and preventability was required for inclusion.
Results
This systematic literature review revealed that 47 % of all serious MEs were caused by seven drugs or drug classes: methotrexate, warfarin, nonsteroidal anti-inflammatory drugs (NSAIDS), digoxin, opioids, acetylic salicylic acid, and beta-blockers; 30 drugs or drug classes caused 82 % of all serious MEs. The top ten drugs involved in fatal events accounted for 73 % of all drugs identified.
Conclusion
Increasing focus on seven drugs/drug classes can potentially reduce hospitalizations, extended hospitalizations, disability, life-threatening conditions, and death by almost 50 %.
Access options
Buy single article
Instant access to the full article PDF.
US$ 39.95
Tax calculation will be finalised during checkout.
Subscribe to journal
Immediate online access to all issues from 2019. Subscription will auto renew annually.
US$ 119
Tax calculation will be finalised during checkout.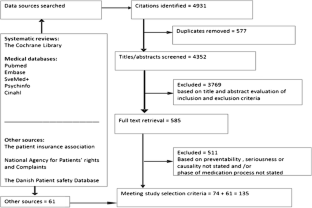 References
1.

Guideline on good pharmacovigilance practices - Module VI. Management and reporting of adverse reactions to medicinal products.(2012). In: http://www.ema.europa.eu/ema/index.jsp?curl=pages/special_topics/general/general_content_000570.jsp. Accessed 12/18 2013

2.

Clinical safety data management: Definitions and standards for expedited reporting E2A. In: www.ich.org. Accessed July/04 2013

3.

Lisby M, Nielsen LP, Brock B, Mainz J (2012) How should medication errors be defined? Development and test of a definition. Scand J Public Health 40:203–210

4.

Krahenbuhl-Melcher A, Schlienger R, Lampert M, Haschke M, Drewe J, Krahenbuhl S (2007) Drug-related problems in hospitals: a review of the recent literature. Drug Saf 30:379–407

5.

Lewis PJ, Dornan T, Taylor D, Tully MP, Wass V, Ashcroft DM (2009) Prevalence, incidence and nature of prescribing errors in hospital inpatients: a systematic review. Drug Saf 32:379–389

6.

Rehan HS, Chopra D, Kakkar AK (2009) Physician's guide to pharmacovigilance: terminology and causality assessment. Eur J Int Med 20:3–8

7.

Christensen M, Lundh A (2013) Medication review in hospitalised patients to reduce morbidity and mortality. Cochrane Database Syst Rev 2:CD008986

8.

O'Connor MN, Gallagher P, O'Mahony D (2012) Inappropriate prescribing: criteria, detection and prevention. Drugs Aging 29:437–452

9.

Beers MH, Ouslander JG, Rollingher I, Reuben DB, Brooks J, Beck JC (1991) Explicit criteria for determining inappropriate medication use in nursing home residents. UCLA Division of Geriatric Medicine. Arch Intern Med 151:1825–1832

10.

Naugler CT, Brymer C, Stolee P, Arcese ZA (2000) Development and validation of an improving prescribing in the elderly tool. Can J Clin Pharmacol 7:103–107

11.

Hanlon JT, Schmader KE, Samsa GP, Weinberger M, Uttech KM, Lewis IK, Cohen HJ, Feussner JR (1992) A method for assessing drug therapy appropriateness. J Clin Epidemiol 45:1045–1051

12.

Samsa GP, Hanlon JT, Schmader KE, Weinberger M, Clipp EC, Uttech KM, Lewis IK, Landsman PB, Cohen HJ (1994) A summated score for the medication appropriateness index: development and assessment of clinimetric properties including content validity. J Clin Epidemiol 47:891–896

13.

Gallagher P, Ryan C, Byrne S, Kennedy J, O'Mahony D (2008) STOPP (Screening Tool of Older Person's Prescriptions) and START (Screening Tool to Alert doctors to Right Treatment). Consensus validation. Int J Clin Pharmacol Ther 46:72–83

14.

Barry PJ, Gallagher P, Ryan C, O'mahony D (2007) START (screening tool to alert doctors to the right treatment)–an evidence-based screening tool to detect prescribing omissions in elderly patients. Age Ageing 36:632–638

15.

Marriott J, Stehlik P (2012) A critical analysis of the methods used to develop explicit clinical criteria for use in older people. Age Ageing 41:441–450

16.

Hill-Taylor B, Sketris I, Hayden J, Byrne S, O'Sullivan D, Christie R (2013) Application of the STOPP/START criteria: a systematic review of the prevalence of potentially inappropriate prescribing in older adults, and evidence of clinical, humanistic and economic impact. J Clin Pharm Ther

17.

Gallagher PF, O'Connor MN, O'Mahony D (2011) Prevention of potentially inappropriate prescribing for elderly patients: a randomized controlled trial using STOPP/START criteria. Clin Pharmacol Ther 89:845–854

18.

Agency for Patients' Rights and Complaints. In: www.patientombuddet.dk 2011

19.

The Patient Insurance Association. In: www.patientforsikringen.dk 2011

20.

The Danish Patient Safety Database. In: www.dpsd.dk 2011

21.

Naranjo CA, Busto U, Sellers EM, Sandor P, Ruiz I, Roberts EA, Janecek E, Domecq C, Greenblatt DJ (1981) A method for estimating the probability of adverse drug reactions. Clin Pharmacol Ther 30:239–245

22.

Wulff HR (1981) Mortality in small hospitals. Ugeskr Laeger 143:130–131

23.

WHO Collaborating Centre for Drug Statistics Methodology. In: http://www.whocc.no/ 2013

24.

Moore TJ, Walsh CS, Cohen MR (2004) Reported medication errors associated with methotrexate. Am J Health Syst Pharm 61:1380–1384

25.

Avery JK (2006) Be careful about what you sign. J Ark Med Soc 102:290

26.

Sinicina I, Mayr B, Mall G, Keil W (2005) Deaths following methotrexate overdoses by medical staff. J Rheumatol 32:2009–2011

27.

Saravana S, Lalukotta K (2003) Myelotoxicity due to methotrexate - an iatrogenic cause. Eur J Haematol 71:315–316

28.

Vesseur J, Feenstra J (1996) Methotrexate; fatal dosage errors due to inattention]. Ned Tijdschr Geneeskd 140:1533–1535

29.

Ferner RE, Whittington RM (1994) Coroner's cases of death due to errors in prescribing or giving medicines or to adverse drug reactions: Birmingham 1986–1991. J R Soc Med 87:145–148

30.

Jonsson AK, Hakkarainen KM, Spigset O, Druid H, Hiselius A, Hagg S (2010) Preventable drug related mortality in a Swedish population. Pharmacoepidemiol Drug Saf 19:211–215

31.

Cobaugh DJ, Krenzelok EP (2006) Adverse drug reactions and therapeutic errors in older adults: a hazard factor analysis of poison center data. Am J Health Syst Pharm 63:2228–2234

32.

Reardon M, Burns B, Brewer B, O'Sullivan JP (1995) Deaths associated with warfarin in elderly patients. Br J Clin Pract 49:322–323

33.

Bird S (2003) Medication errors–warfarin. Aust Fam Physician 32:1003–1004

34.

Buajordet I, Ebbesen J, Erikssen J, Brors O, Hilberg T (2001) Fatal adverse drug events: the paradox of drug treatment. J Intern Med 250:327–341

35.

Fentanyl patches: Preventable overdose (2010) Prescr Int 19:22–25

36.

Hicks RW, Sikirica V, Nelson W, Schein JR, Cousins DD (2008) Medication errors involving patient-controlled analgesia. Am J Health Syst Pharm 65:429–440

37.

Ferner RE (2000) Medication errors that have led to manslaughter charges. BMJ 321:1212–1216

38.

Raschetti R, Morgutti M, Menniti-Ippolito F, Belisari A, Rossignoli A, Longhini P, La Guidara C (1999) Suspected adverse drug events requiring emergency department visits or hospital admissions. Eur J Clin Pharmacol 54:959–963

39.

Zoppi M, Braunschweig S, Kuenzi UP, Maibach R, Hoigne R (2000) Incidence of lethal adverse drug reactions in the comprehensive hospital drug monitoring, a 20-year survey, 1974–1993, based on the data of Berne/St. Gallen. Eur J Clin Pharmacol 56:427–430

40.

Green CF, Mottram DR, Rowe PH, Pirmohamed M (2000) Adverse drug reactions as a cause of admission to an acute medical assessment unit: a pilot study. J Clin Pharm Ther 25:355–361

41.

Hopf Y, Watson M, Williams D (2008) Adverse-drug-reaction related admissions to a hospital in Scotland. Pharm World Sci 30:854–862

42.

Gurwitz JH, Field TS, Judge J, Rochon P, Harrold LR, Cadoret C, Lee M, White K, LaPrino J, Erramuspe-Mainard J, DeFlorio M, Gavendo L, Auger J, Bates DW (2005) The incidence of adverse drug events in two large academic long-term care facilities. Am J Med 118:251–258

43.

Kuehm SL, Doyle MJ (1990) Medication errors: 1977 to,1988. Experience in medical malpractice claims. N J Med 87:27–34

44.

Schiff GD, Hegde HK, LaCloche L, Hryhorczuk DO (1991) Inpatient theophylline toxicity: preventable factors. Ann Intern Med 114:748–753

45.

Deters M, Prasa D, Hentschel H, Schaper A (2009) Iatrogenic intravenous medication errors reported to the GIZ-Nord Poisons Center Gottingen. Eur J Int Med 20:728–731

46.

van Doormaal JE, van den Bemt PM, Mol PG, Zaal RJ, Egberts AC, Haaijer-Ruskamp FM, Kosterink JG (2009) Medication errors: the impact of prescribing and transcribing errors on preventable harm in hospitalised patients. Qual Saf Health Care 18:22–27

47.

Erlbeck A (2003) Error in drug prescription. Prescription for NSAR until the patient bleeds to death]. MMW Fortschr Med 145:15

48.

Ridley-Smith RM (2007) A fatal error. N Z Med J 120:U2570

49.

Sessler CN (1990) Theophylline toxicity: clinical features of 116 consecutive cases. Am J Med 88:567–576

50.

Hallas J, Harvald B, Gram LF, Grodum E, Brosen K, Haghfelt T, Damsbo N (1990) Drug related hospital admissions: the role of definitions and intensity of data collection, and the possibility of prevention. J Intern Med 228:83–90

51.

Howard RL, Avery AJ, Howard PD, Partridge M (2003) Investigation into the reasons for preventable drug related admissions to a medical admissions unit: observational study. Qual Saf Health Care 12:280–285

52.

Cooke DI, van der Merwe W, Pudifin DJ (1985) Hospital admissions for adverse reactions to drugs and deliberate self-poisoning. S Afr Med J 67:770–772

53.

Lammle B (2003) Clinical problems with oral anticoagulation – 3 case reports. Ther Umsch 60:63–66

54.

Whipple JK, Ausman RK, Quebbeman EJ (1992) Narcotic use in the hospital: reasonably safe? Ann Pharmacother 26:897–901

55.

Kaboli PJ, Glasgow JM, Jaipaul CK, Barry WA, Strayer JR, Mutnick B, Rosenthal GE (2010) Identifying medication misadventures: poor agreement among medical record, physician, nurse, and patient reports. Pharmacotherapy 30:529–538

56.

Elsayem A, Bruera E (2005) Methadone-induced respiratory depression in a patient with a history of alcoholism. J Palliat Med 8:1062–1066

57.

Pharmaceutical drug overdose case reports: from the world literature (2004) Toxicol Rev 23:59–63

58.

Holt DW, Kundu BC, Forecast DJ (1978) Hospital admissions due to therapeutic overdosage with digoxin. Practitioner 221:627–630

59.

Odar-Cederlof I, Oskarsson P, Ohlen G, Tesfa Y, Bergendal A, Hellden A, Bergman U (2008) Adverse drug effect as cause of hospital admission. Common drugs are the major part according to the cross-sectional study. Lakartidningen 105:890–893

60.

McDonnell PJ, Jacobs MR (2002) Hospital admissions resulting from preventable adverse drug reactions. Ann Pharmacother 36:1331–1336

61.

Frankl SE, Breeling JL, Goldman L (1991) Preventability of emergent hospital readmission. Am J Med 90:667–674

62.

Hallas J, Haghfelt T, Gram LF, Grodum E, Damsbo N (1990) Drug related admissions to a cardiology department; frequency and avoidability. J Intern Med 228:379–384

63.

Bedell SE, Deitz DC, Leeman D, Delbanco TL (1991) Incidence and characteristics of preventable iatrogenic cardiac arrests. JAMA 265:2815–2820

64.

Hardmeier B, Braunschweig S, Cavallaro M, Roos M, Pauli-Magnus C, Giger M, Meier PJ, Fattinger K (2004) Adverse drug events caused by medication errors in medical inpatients. Swiss Med Wkly 134:664–670

65.

van der Linden CM, Jansen PA, van Marum RJ, Grouls RJ, Korsten EH, Egberts AC (2010) Recurrence of adverse drug reactions following inappropriate re-prescription: better documentation, availability of information and monitoring are needed. Drug Saf 33:535–538

66.

Rogers S, Wilson D, Wan S, Griffin M, Rai G, Farrell J (2009) Medication-related admissions in older people: a cross-sectional, observational study. Drugs Aging 26:951–961

67.

Leclercq V, Lacaille S, Delpierre S, Karoubi E, Legrain S (2005) Avoidable adverse event: carbamazepine encephalopathy when introducing clarithromycine. Rev Med Interne 26:835–836

68.

Miller A, Price G (2009) Gabapentin toxicity in renal failure: The importance of dose adjustment. Pain Med (USA) 10:190–192

69.

Jonville-Bera AP, Saissi H, Bensouda-Grimaldi L, Beau-Salinas F, Cissoko H, Giraudeau B, Autret-Leca E (2009) Avoidability of adverse drug reactions spontaneously reported to a French regional drug monitoring centre. Drug Saf 32:429–440

70.

Frankfort SV, Tulner LR, Knol W, van Campen JP, Schellens JH, Beijnen JH (2004) Prescription error resulting in valproic acid intoxication. J Am Geriatr Soc 52:2142–2143

71.

Ajdukovic M, Crook M, Angley C, Stupans I, Soulsby N, Doecke C, Anderson B, Angley M (2007) Pharmacist elicited medication histories in the Emergency Department: Identifying patient groups at risk of medication misadventure. Pharm Pract 5:162–168

72.

Nuckols TK, Bower AG, Paddock SM, Hilborne LH, Wallace P, Rothschild JM, Griffin A, Fairbanks RJ, Carlson B, Panzer RJ, Brook RH (2008) Programmable infusion pumps in ICUs: an analysis of corresponding adverse drug events. J Gen Intern Med 23(Suppl 1):41–45

73.

Makeham MA, Saltman DC, Kidd MR (2008) Lessons from the TAPS study. Warfarin: a major cause of threats to patient safety. Aust Fam Physician 37:817–818

74.

Wilson JS Jr (2008) Coumadin therapy: loaded for bear without strong guidelines in place. J Med Assoc Georgia 97:34–36

75.

Paul E, End-Rodrigues T, Thylen P, Bergman U (2008) Adverse drug reactions a common cause of hospitalization of the elderly. A clinical retrospective study]. Lakartidningen 105:2338–2342

76.

Lopez-Sanchez M, Gonzalez-Fernandez C, Valero-Diaz de Lamadrid C, Dominguez-Artiga MJ, Hernandez-Hernandez MA (2005) Enoxaparin, retroperitoneal haematoma in the elderly and impaired renal function. Anaesth Intensive Care 33:689–690

77.

Benkirane RR, Abouqal R, Haimeur CC, El Kettani SECSS, Azzouzi AA, M'daghri Alaoui AA, Thimou AA, Nejmi MM, Maazouzi WW, Madani NN, R-Edwards I, Soulaymani RR (2009) Incidence of adverse drug events and medication errors in intensive care units: a prospective multicenter study. J Patient Saf 5:16–22

78.

Cullen DJ, Sweitzer BJ, Bates DW, Burdick E, Edmondson A, Leape LL (1997) Preventable adverse drug events in hospitalized patients: a comparative study of intensive care and general care units. Crit Care Med 25:1289–1297

79.

Rothschild JM, Mann K, Keohane CA, Williams DH, Foskett C, Rosen SL, Flaherty L, Chu JA, Bates DW (2007) Medication safety in a psychiatric hospital. Gen Hosp Psychiatry 29:156–162

80.

Devine EB, Wilson-Norton JL, Lawless NM, Hansen RN, Hazlet TK, Kelly K, Hollingworth W, Blough DK, Sullivan SD (2007) Characterization of prescribing errors in an internal medicine clinic. Am J Health Syst Pharm 64:1062–1070

81.

SSI Medicine Product Statistics in Denmark 2007–2011. In: www.medstat.dk. Accessed February/13 2014

82.

Winterstein AG, Hatton RC, Gonzalez-Rothi R, Johns TE, Segal R (2002) Identifying clinically significant preventable adverse drug events through a hospital's database of adverse drug reaction reports. Am J Health Syst Pharm 59:1742–1749

83.

Global strategy for diagnosis, management and prevention of COPD(2013). In: http://www.goldcopd.org/Guidelines/guidelines-resources.html 2013

84.

Pocket Guide for Asthma Management and Prevention(2012). In: http://www.ginasthma.org/documents/1/Pocket-Guide-for-Asthma-Management-and-Prevention 2013

85.

Graabaek T, Kjeldsen LJ (2013) Medication reviews by clinical pharmacists at hospitals lead to improved patient outcomes: a systematic review. Basic Clin Pharmacol Toxicol 112:359–373

86.

Steinman MA, Handler SM, Gurwitz JH, Schiff GD, Covinsky KE (2011) Beyond the prescription: medication monitoring and adverse drug events in older adults. J Am Geriatr Soc 59:1513–1520

87.

Salvi F, Marchetti A, D'Angelo F, Boemi M, Lattanzio F, Cherubini A (2012) Adverse drug events as a cause of hospitalization in older adults. Drug Saf 35(Suppl 1):29–45
Conflict of interest and funding
None.
About this article
Cite this article
Saedder, E.A., Brock, B., Nielsen, L.P. et al. Identifying high-risk medication: a systematic literature review. Eur J Clin Pharmacol 70, 637–645 (2014). https://doi.org/10.1007/s00228-014-1668-z
Received:

Accepted:

Published:

Issue Date:
Keywords
Adverse reactions

Medication errors

Medication review

High-risk drugs