Abstract
Evaluating the species-specific effects of multiple predators on shared prey helps to identify the mechanisms regulating predator impacts. Here, we investigate the trophic impact of two predators of the Chilean rocky subtidal, the fish Graus nigra [F] and the octopus Robsonella fontaniana [O] on their shared prey, the porcelain crab, Petrolisthes violaceus. Manipulative laboratory experiments were performed to evaluate mortality and behavior of porcelain crab in different treatments, including prey alone; prey with single predator ([O] or [F]); and prey with combined predators ([F + F], [O + O], and [O + F]). Different prey densities (N = 3, 9, and 12 individuals) were used to explore density-dependent predation mortality for single and combined predators using an orthogonal (crossed) design that allows to tease apart the effects of predator taxonomic identity from prey density. Behavioral responses of interacting species were registered every 4 h for 2 consecutive days, and were used to identify predator foraging strategies and prey refuge use. Mortality values (proportional prey mortality and predator per capita consumption) were compared among treatments. Results indicated differences in mortality among treatments. The cause of increase of prey proportional mortality was due to an increase in prey availability outside the refuge in fish treatments at high initial prey densities, while it was density independent in octopus' treatments. Changes in predator per capita consumption were registered depending on the predator combination and the initial prey density. These patterns may reflect contrasting predator foraging strategies and changes in refuge use by porcelain crabs, suggesting effects on prey mortality and predator impacts.
Access options
Buy single article
Instant access to the full article PDF.
US$ 39.95
Tax calculation will be finalised during checkout.
Subscribe to journal
Immediate online access to all issues from 2019. Subscription will auto renew annually.
US$ 119
Tax calculation will be finalised during checkout.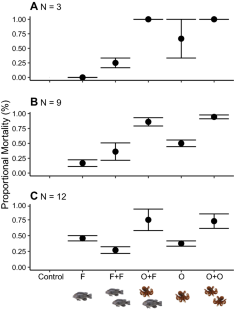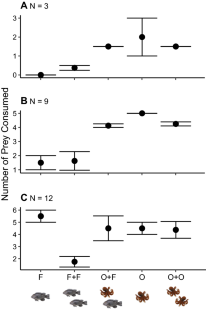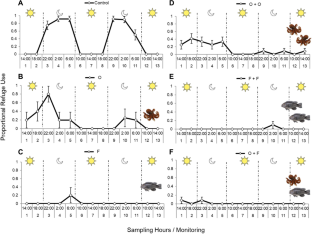 Data/code availability
The data and r-code that support the findings of this study are available from the corresponding author [APM], upon reasonable request.
References
Abrams PA, Ginzburg LR (2000) The nature of predation: prey dependent, ratio dependent or neither? Trends Ecol Evol 15(8):337–341

Ahrens RN, Walters CJ, Christensen V (2012) Foraging arena theory. Fish Fish 13(1):41–59

Angel A, Ojeda FP (2001) Structure and trophic organization of subtidal fish assemblages on the northern Chilean coast: the effect of habitat complexity. Mar Ecol Prog Ser 217:81–91

Berrios VC, Vargas MF (2004) Estructura trófica de la asociación de peces intermareales de la costa rocosa del norte de Chile. Rev Biol Trop 52(1):201–212

Berrios PA, Farias AA, Ojeda FP (2011) Spatio-temporal variability in ontogenetic guild structure of an intertidal fish assemblage in central Chile. Rev Chil Hist Nat 84(4):553–570

Boyle P, Rodhouse P (2005) Cephalopods: ecology and fisheries. Blackwell Publishing, Oxford, pp 222–233

Castilla JC, Paine RT (1987) Predation and community organization on eastern Pacific, temperate zone, rocky intertidal shores. Rev Chil Hist Nat 60:131–151

Casula P, Wilby A, Thomas MB (2006) Understanding biodiversity effects on prey in multi-enemy systems. Ecol Lett 9(9):995–1004

Clarke T (1970) Territorial behavior and population dynamics of a pomacentrid fish, the garibaldi, Hypsypopsrubicunda. Ecol Monogr 40(2):189–212

Connell SD (2000) Is there safety-in-numbers for prey. Oikos 88(3):527–532

Crawley MJ (2007) The R Book. John Wiley & Sons, Chichester

Dunn RP (2016) Tool use by a temperate wrasse, California sheephead Semicossyphus pulcher. J Fish Biol 88(2):805–810

Emparanza EJ (2007) Patterns of distribution of dominant porcelain crabs (Decapoda: Porcellanidae) under boulders in the intertidal of northern Chile. J Mar Biol Assoc UK 87(2):523–531

Evans EW (1991) Intra versus interspecific interactions of ladybeetles (Coleoptera: Coccinellidae) attacking aphids. Oecologia 87(3):401–408

Fuentes HR (1982) Feeding habits of Graus nigra (Labridae) in coastal waters of Iquique in northern Chile. Jpn J Ichthyol 29(1):95–98

Gerking SD (1994) Mouth and sense organs. In: Gerking SD (ed) Feeding ecology of fish. Academic Press, New York, pp 15–40

Hassell MP (1978) The dynamics of arthropod predator–prey systems. Princeton University Press, Princeton

Haggerty MB, Anderson TW, Long JD (2018) Fish predators reduce kelp frond loss via a trait-mediated trophic cascade. Ecology 99(7):1574–1583

Hastie T, Pregibon D (1991) Generalized linear models. In: Chambers JM, Hastie T (eds) Statistical models editors. Wadsworth and Brooks, Cole

Holbrook SJ, Schmitt RJ (2002) Competition for shelter space causes density-dependent predation mortality in damselfishes. Ecology 83(10):2855–2868

Holling CS (1965) The functional response of predators to prey density and its role in mimicry and population regulation. Mem Entomol Soc Can 97(S45):5–60

Ibáñez CM, Sepúlveda RD, Guerrero J, Chong J (2008) Redescription of Robsonella fontaniana (Cephalopoda: Octopodidae). J Mar Biol Association United Kingdom 88(3):617–624

Ibañez CM, Sepúlveda RD, Sanhueza E, Ruiz J, Chong J (2009) Estrategias de forrajeo de Robsonella fontaniana (d'Orbigny, 1834) (Cephalopoda: Octopodidae). Rev Biol Mar Oceanogr 44(2):277–283

Kéfi S, Berlow EL, Wieters EA, Joppa LN, Wood SA, Brose U, Navarrete SA (2015) Network structure beyond food webs: mapping non-trophic and trophic interactions on Chilean rocky shores. Ecology 96(1):291–303

Lima SL (1998) Nonlethal effects in the ecology of predator-prey interactions. Bioscience 48(1):25–34

McCoy MW, Stier AC, Osenberg CW (2012) Emergent effects of multiple predators on prey survival: the importance of depletion and the functional response. Ecol Lett 15(12):1449–1456

Muñoz AA, Ojeda FP (1998) Guild structure of carnivorous intertidal fishes of the Chilean coast: implications of ontogenetic dietary shifts. Oecologia 114(4):563–573

Musrri CA, Poore AG, Hinojosa IA et al (2019) Variation in consumer pressure along 2500 km in a major upwelling system: crab predators are more important at higher latitudes. Mar Biol 166(11):142

Navarrete SA, Castilla JC (2003) Experimental determination of predation intensity in an intertidal predator guild: dominant versus subordinate prey. Oikos 100(2):251–262

Navarrete SA, Manzur T (2008) Individual-and population-level responses of a keystone predator to geographic variation in prey. Ecology 89(7):2005–2018

Nilsson PA, Brönmark C (2000) Prey vulnerability to a gape-size limited predator: behavioural and morphological impacts on northern pike piscivory. Oikos 88(3):539–546

Ory NC, Dudgeon D, Dumont CP, Miranda L, Thiel M (2012) Effects of predation and habitat structure on the abundance and population structure of the rock shrimp Rhynchocinetes typus (Caridea) on temperate rocky reefs. Mar Biol 159(9):2075–2089

Paine RT (1966) Food web complexity and species diversity. Am Nat 100(910):65–75

Pérez-Matus A, Shima JS (2010) Disentangling the effects of macroalgae on the abundance of temperate reef fishes. J Exp Mar Biol Ecol 388(1–2):1–10

Pérez-Matus A, Pledger S, Díaz F, Ferry-Graham LA, Vásquez JA (2012) Plasticity in feeding selectivity and trophic structure of kelp forest associated fishes from northern Chile. Rev Chil Hist Nat 85:29–48

Pérez-Matus A, Ospina-Alvarez A, Camus PA, Carrasco SA et al (2017) Temperate rocky subtidal reef community reveals human impacts across the entire food web. Mar Ecol Prog Ser 567(1):16

Preisser EL, Orrock JL, Schmitz OJ (2007) Predator hunting mode and habitat domain alter nonconsumptive effects in predator–prey interactions. Ecology 88(11):2744–2751

Riquelme-Pérez N, Musrri CA, Stotz WB, Cerda O, Pino-Olivares O, Thiel M (2019) Coastal fish assemblages and predation pressure in northern-central Chilean Lessonia trabeculata kelp forests and barren grounds. PeerJ 7:e6964

Ritz DA (1994) Social aggregation in pelagic invertebrates. In: Blaxter JHS, Southward AJ (eds) Advances in marine biology. Academic Press, London, pp 155–211

Rivadeneira MM, Hernáez P, Antonio Baeza J, Boltana S et al (2010) Testing the abundant-centre hypothesis using intertidal porcelain crabs along the Chilean coast: linking abundance and life-history variation. J Biogeogr 37(3):486–498

Schmitz OJ, Suttle KB (2001) Effects of top predator species on direct and indirect interactions in a food web. Ecology 82(7):2072–2081

Sih A, Englund G, Wooster D (1998) Emergent impacts of multiple predators on prey. Trends Ecol Evol 13(9):350–355

Sokol-Hessner L, Schmitz OJ (2002) Aggregate effects of multiple predator species on a shared prey. Ecology 83(9):2367–2372

Solomon ME (1949) The natural control of animal populations. J Anim Ecol 18(1):1–35

Soluk DA (1993) Multiple predator effects: predicting combined functional response of stream fish and invertebrate predators. Ecology 74(1):219–225

Soluk DA, Collins NC (1988) Synergistic interactios between fish and invertebrate predators: facilitation and interference among stream predators. Oikos 52(94):100

Thompson PL, Guzman LM, De Meester L, Horváth Z, Ptacnik R, Vanschoenwinkel B et al (2020) A process-based metacommunity framework linking local and regional scale community ecology. Ecol Lett 23:1314–1329

Van Son TC, Thiel M (2006) Multiple predator effects in an intertidal food web. J Anim Ecol 75(1):25–32

Varas E, Ojeda FP (1990) Intertidal fish assemblages of the central Chilean coast: diversity, abundance and trophic patterns. Rev Biol Mar 25(2):59–70

Viviani CA (1969) Los Porcellanidae (Crustacea Anomura) chilenos: Distribución geográfica, y algunas observaciones biocenóticas sobre los porcelánidos en la bahía de Mehuín. Stud Neotrop Fauna Environ 6(1):40–56
Acknowledgements
Authors would like to thank V. Garmendia, C. Ruz (SUBELAB), and N. Osiadacz for their assistance in the field and laboratory, and V. Cifuentes (PUC) for providing octopus drawings. We would also like to thank Dr. Robert Lamb and three anonymous reviewers who provided comments that significantly improved our manuscript.
Funding
This research was funded by CONICYT-FONDECYT through the regular Grant #1151094 to APM and the post-doctoral Grant #3140416 and Initiation Grant #11170617 to SC.
Ethics declarations
Conflict of interest
The authors declare that there is no conflict of interest.
Ethic approval
All procedures involving animals were in compliance with ethics committee of Faculty of Biological Sciences, Pontificia Universidad Catolica de Chile under CBB-192/2014 for reef fishes and crustaceans and CBB-14/2013 for cephalopods.
Additional information
Publisher's Note
Springer Nature remains neutral with regard to jurisdictional claims in published maps and institutional affiliations.
Responsible Editor: S. Connell.
Supplementary Information
Below is the link to the electronic supplementary material.
About this article
Cite this article
Muñoz-Cordovez, R.H., Carrasco, S.A., Ojeda, F.P. et al. Predator tactics and prey densities modulate the strength of trophic interactions in a temperate rocky reef. Mar Biol 168, 38 (2021). https://doi.org/10.1007/s00227-021-03842-x
Received:

Accepted:

Published: