Abstract
Aegagropiles are round-shaped conglomerations of Posidonia oceanica debris commonly found along the coasts of the Mediterranean Sea. This study presents a detailed description of the composition of aegagropiles in terms of their internal organisation in different layers (and the orientation of the fibres in these layers), the proportion of constituent elements (fibres and minerals) and the histological (by way of microscopic observations) nature of all of these aegagropiles elements. The aim of this work is to take a detailed interest in the structure of the aegagropiles of Posidonia oceanica and to determine the process that forms them. Aegagropiles are an assemblage of two types of debris from the P. oceanica meadow: (1) plant-based: fibres more or less degraded from P. oceanica shoots (leaves and rhizomes) and (2) mineral particles such as silicates and biotic Ca-carbonate debris. On the basis of structural and compositional observations, we proposed an elucidation of the cycle in several phases: initiation of a "roll" by aggregation of litter fibres and sand in the ripple marks, growth, breakdown of the roll into small balls (microbial and mechanical degradation) and export of aegagropiles down (into the abyss) or on to the beaches. Calculations estimate that considering its density of 0.2 g/cm3, an aegagropile represents the accumulation of fibres from approximately 25 shoots of P. oceanica.
Access options
Buy single article
Instant access to the full article PDF.
US$ 39.95
Tax calculation will be finalised during checkout.
Subscribe to journal
Immediate online access to all issues from 2019. Subscription will auto renew annually.
US$ 119
Tax calculation will be finalised during checkout.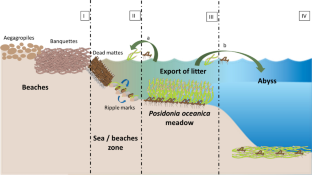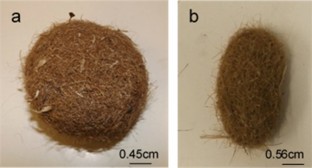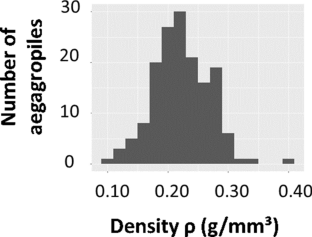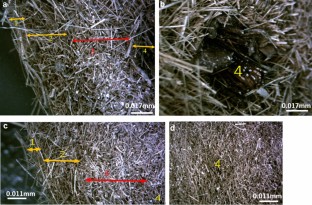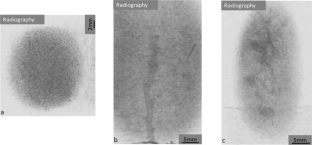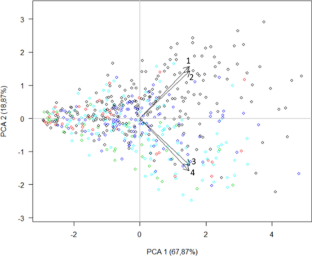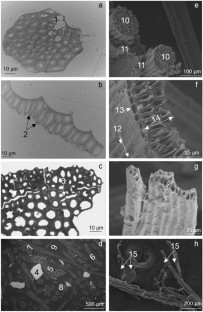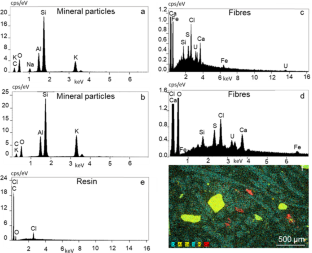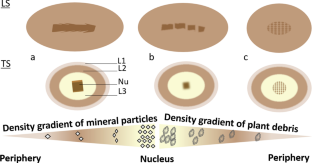 References
Abadie A, Lejeune P, Pergent G, Gobert S (2016) From mechanical to chemical impact of anchoring in seagrasses: the premises of anthropogenic patch generation in Posidonia oceanica meadows. Mar Pollut Bull 109(1):61–71

Acton E (1916) On the structure and origin of "Cladophora Balls". N Phytol 15:1–5

Austin AP (1960) Observations on Furcellaria fastigiata (L.) Lam. forma aegagropila Reinke in Danish waters together with a note on other unattached algal forms. HydrobiolInt J AquatSci 14:255–277

Ballantine DL, Aponte NE, Holmquist JG (1994) Multi-species algal balls and potentially imprisoned fauna: an unusual benthic assemblage. Aquat Bot 48:167–174

Beck E, Mägdefrau E, Senser M (1986) Globular mosses. Flora 178:73–83

Boudouresque CF, Meinesz A (1982) Découverte de l'herbier de Posidonies. Cahiers du Parc National de Port Croseds 4:1–79

Boudouresque CF, Bernard G, Bonhomme P, Charbonnel E, Diviacco G, Meinesz A, Pergent G, Pergent-Martini C, Ruitton S, Tunesi L (2006) Préservation et conservation des herbiers à Posidonia oceanica. Ramoge. ed

Cannon JFM (1979) An experimental investigation of Posidonia balls. Aquat Bot 6:407–410

Coletti A, Valerio A, Vismara E (2013) Posidonia oceanica as a renewable lignocellulosic biomass for the synthesis of cellulose acetate and glycidyl methacrylate grafted cellulose. Materials 6(5):2043–2058

Crouzet A (1981) Mise en évidence de variations cycliques dans les écailles des rhizomes de Posidonia oceanica (Potamogetonaceae). Trav. Sci. Parc Nation, Port-Cros

De los Santos CB, Vicencio-Rammsy B, Lepoint G, Remy F, Bouma TJ, Gobert S (2016) Ontogenic variation and effect of collection procedure on leaf biomechanical properties of Mediterranean seagrass Posidonia oceanica (L.) Delile. Mar Ecol 37(4):750–759

Duarte CM, Cebrián J (1996) The fate of marine autotrophic production. Limnol Oceanogr 41

Duarte CM, Chiscano CL (1999) Seagrass biomass and production: a reassessment. Aquat Bot 65:159–174

Duarte CM, Middelburg J, Caraco N (2005) Major role of marine vegetation on the oceanic carbon cycle. Biogeosciences 1:659–679

Ganong WF (1905) On balls of vegetable matter from Sandy Shores. Rhodora 7:41–47

Giraud G (1977) Recensement des floraisons de Posidonia oceanica (Linné) Delile en Méditerranée. Marseille cedex 2

Gobert S, Kyramarios M, Lepoint G, Pergent-Martini C, Bouquegneau J (2002) Variations à différentes échelles spatiales de l'herbier à Posidonia oceanica (L.) Delile ; effets sur les paramètres physico-chimiques du sédiment. Oceanol Acta 26:199–207

Gobert S, Cambridge ML, Velimirov B, Pergent G, Lepoint G, Bouquegneau J-M, Dauby P, Pergent-Martini C, Walker DI (2006) Biology of Posidonia. In: Larkum AWD, Orth RJ, Duarte CM (éds) Seagrasses: biology, ecology and conservation. Springer, pp 387–408

Gunning BES (1977) Transfer cells and their roles in transport of solutes in plants. SciProg 64:539–568

Gunning BES, Pate JS (1969) "Transfer cells" plant cells with wall ingrowths, specialized in relation to short distance transport of solutes—their occurrence, structure, and development. Protoplasma 68:107–133

Hayat M (1993) Stains and cytochemical methods, plenum pre. Plenum Publishing Corporation, New York and London

Hemminga MA, Duarte CM (2000) Seagrass ecology. The Press syndicate of the university of Cambridge, Cambridge Kingdom

Holdsworth DW, Thornton MM (2002) Micro-CT in small animal and specimen imaging. Trends Biotechnol 20:34–39

Hosogi N, Nishioka H, Nakakoshi M (2015) Evaluation of lanthanide salts as alternative stains to uranyl acetate. Microscopy 64:429–435

Kindle EM (1934) Lake balls, "Cladophora balls" and coal balls. Am Midl Nat 15:752–760

Kuo J, den Hartog C (2007) Seagrass morphology, anatomy, and ultrastructure. In: Larkum AWD, Orth RJ, Duarte CM (éd) Seagrasses: biology, ecology and conservation. Springer, pp 51–87

Kuo J, Stewart JG (1995) Leaf anatomy and ultrastructure of the North American marine angiosperm Phyllospadix (Zosteraceae). Can J Bot 73:827–842

Laffoley D, Grimsditch G (2009) The management of natural coastal carbon sinks. IUCN, Gland

Larkum AW (1989) Biology of seagrasse: a treatise on the biology of seagrasses with special reference to the Australian region. Elsevier Science Limited, Californie

Larkum AWD, Orth RJ, Duarte CM (2007) Seagrasses: biology, ecology and conservation. Springer, Dordrecht

Lemke AM, Lemke MJ, Benke AC (2007) Importance of detrital algae, bacteria, and organic matter to littoral microcrustacean growth and reproduction. LimnolOceanogr 52:2164–2176

Lepot K, Compère P, Gérard E, Namsaraev Z, Verleyen E, Tavernier I, Hodgson DA, Vyverman W, Gilbert B, Wilmotte A, Javaux EJ (2014) Organic and mineral imprints in fossil photosynthetic mats of an East Antarctic lake. Geobiology 12:424–450

Mackay AH (1906) Water-rolled Weed-balls. Proc Nov ScotianInstSci 11:1902–1906

Mathieson AC, Dawes CJ (2002) Chaetomorpha balls foul New Hampshire, USA Beaches. Algae 17:283–292

Mathieson AC, Dawes CJ, Lull WW (2015) Mystery beach balls foul long island, NY, beaches. Rhodora 117:92–97

Mathieson AC, Hehre EJ, Dawes CJ (2016) Aegagropilous Desmarestia aculeata from New Hampshire. Rhodora 102:202–207

McAtee WL (1925) Notes on drift, vegetable balls, and aquatic insects as a food product of inland waters. Ecology 6:288–302

Nilsson T, Singh AP (2014) Tunnelling bacteria and tunnelling of wood cell walls, vol 1. McGraw-Hill, New York, pp 395–399

Olesen B, Enriquez S, Duarte CM, Sand-Jensen K (2002) Depth-acclimation of photosynthesis, morphology and demography of Posidonia oceanica and Cymodocea nodosa in the Spanish Mediterranean Sea. Mar EcolProgSer 236:89–97

Olson RW, Schmutz JK, Hammer UT (2005) Occurrence, Composition and Formation of Ruppia, Widgeon grass, balls in Saskatchewan Lakes. Can Fied Nat 119:115–119

Oltmanns F (1906) Morphologie und Biologie der Algen

Pergent G (1990) Lepidochronological analysis of the seagrass Posidonia oceanica (L.) Delile: a standardized approach. Aquat Bot 37:39–54

Pergent G, Romero J, Pergent-Martini C, Mateo MA, Boudouresque CF (1994) Primary production, stocks and fluxes in the Mediterranean segrass Posidonia oceanica. Mar EcolProgSer 106:139–146

Remy F, Mascart T, De troch M, Michel LN, Lepoint G (2018) Seagrass organic matter transfer in Posidonia oceanica macrophyto-detritus accumulations. Estuar Coast Shelf Sci 212:73–79

Romero J, Pergent G, Pergent-Martini C, Mateo M-A, Regnier C (1992) The Detritic compartment in a Posidonia oceanica meadow: litter features, decomposition rates, and mineral stocks. Mar Ecol 13:69–83

Schwarze FWMR (2007) Wood decay under the microscope. Fungal Biol Rev 21:133–170

Simeone S, De Falco G (2012) Morphology and composition of beach-cast Posidonia oceanica litter on beaches with different exposures. Geomorphology 151:224–233

Smith NM, Walker DI (2002) Canopy structure and pollination biology of the seagrasses Posidonia australis and P. sinuosa (Posidoneaceae). Aquat Bot 74:57–70

Trevisan M (2018) Recherche et caractérisation de symbioses microbiennes chimiosynthétiques ou digestives chez des crustacés amphipodes associés à des accumulations végétales en milieux marins côtier et profonds. Université de Liège, Thesis, p 307

Vacchi M, Montefalcone M, Bianchi CN, Morri C, Ferrari M (2012) Hydrodynamic constraints to the seaward development of Posidonia oceanica meadows. Estuar Coast Shelf Sci 97:58–65

Vadas RL, Beal B (1987) Green algal ropes: a novel estuarine phenomenon in the Gulf of Maine. Estuaries 10:171–176

Verhille G, Le Gal P (2012) Formation des aegagropiles: compaction d' une pelote de poils par un écoulement. In: 15e Rencontre du Non-Linéaire Paris 2012, vol 12, p 1

Verhille G, Le Gal P (2013) Sur la compaction de fibres et la formation des aegagropiles. In: 21e Congrès Français de Mécanique, Bordeaux, pp 1–6

Vizzini S, Sarà G, Mateob MA, Mazzola A (2003) δ13C and δ15N variability in Posidonia oceanica associated with seasonality and plant fraction. Aquat Bot 76:195–202

Vohnik M, Borovec O, Zupan I, Vondrasek D, Petrtl M, Sudova R (2015) Anatomically and morphologically unique dark septateendophytic association in the roots of the Mediterranean endemic seagrass Posidonia oceanica. Mycorrhiza 25:663–672

Vohník M, Borovec O, Kolařík M (2016) Communities of cultivable root mycobionts of the seagrass Posidonia oceanica in the Northwest Mediterranean Sea are dominated by a hitherto undescribed pleosporalean dark septateendophyte. Microb Ecol 71:442–451

Vohník M, Borovec O, Kolaříková Z, Sudová R, Réblová M (2019) Extensive sampling and highthroughput sequencing reveal Posidoniomyces atricolor gen. et sp. nov. (Aigialaceae, Pleosporales) as the dominant root mycobiont of the dominant Mediterranean seagrass Posidonia oceanica. MycoKeys 55:59–86

Wilce RT, Schneider CW, Quinlan AV, Bosch KV (1982) The life history and morphology of free-living Pilayella littoralis (L.) Kjellm. (Ectocarpaceae, Ectocarpales) in Nahant Bay, Massachusetts. Phycologia 21:36–354
Acknowledgements
This work is part of the STARE-CAPMED project funded by the STARESO Institute, the Territorial Collective of Corsica (CTC) and the Rhône Mediterranean Corsica Water Agency. The authors also thank Mrs Sarah Smeets for her excellent technical assistance. The authors thank the Center for Applied Research and Education in Microscopy (CAREM-Uliege) for providing access to electron microscopy equipment. This work was also supported by the Fonds National de la Recherche Scientifique (FNRS, Belgium). E.P. (post-doctoral researcher) has a mandate supported by the FNRS. The MARE publication number for this document is MARE401.
Funding
This work is part of the STARE-CAPMED project funded by the STARESO Institute, the Territorial Collective of Corsica (CTC) and the Rhône Mediterranean Corsica Water Agency and also supported by the Fonds National de la Recherche Scientifique (FNRS, Belgium). E.P. (post-doctoral researcher) has a mandate supported by the FNRS.
Ethics declarations
Conflict of interest
The authors do not have any conflict of interest.
Consent for publication
Yes, all of the authors consent for the publication.
Data availability statement
The datasets generated during and/or analysed during the current study are available from the corresponding author on reasonable request.
Additional information
Publisher's Note
Springer Nature remains neutral with regard to jurisdictional claims in published maps and institutional affiliations.
Reviewers: Undisclosed experts.
Responsible Editor: C. Wild.
Supplementary Information
Below is the link to the electronic supplementary material.
About this article
Cite this article
Lefebvre, L., Compère, P., Léonard, A. et al. Mediterranean aegagropiles from Posidonia oceanica (L.) Delile (1813): a first complete description from macroscopic to microscopic structure. Mar Biol 168, 37 (2021). https://doi.org/10.1007/s00227-021-03833-y
Received:

Accepted:

Published: