Abstract
Coastal storm risks have been increasing over the last couple of decades, affecting both marine infrastructure and human security. Nevertheless, the ecological impact on intertidal marine fishes has not been addressed yet. We carried out a field experiment during austral summer 2018, using statistical wave parameters, characterizing coastal storms as a factor, and the gut content of two sympatric intertidal triplefins, Helcogrammoides chilensis and Helcogrammoides cunninghami, as a proxy for trophic interactions. Three locations were sampled before and after the arrival of three consecutive summer coastal storm events. From all gut contents, a total of 16,597 prey items were found. Both species are micro-carnivorous, predating mostly on harpacticoid copepods, amphipods and chironomid larvae, without significant differences in prey composition with the passing of the summer coastal storms. However, after coastal storms, heavier-at-length fish (0.05–0.5 g weight gain) were found in the intertidal. Indeed, after the impact of the coastal storms, H. chilensis increased their ingestion of larger prey (amphipods, chironomid larvae), while H. cunninghami decreased the number of prey ingested. When compared between species, the feeding success after the passing of coastal storms was greater for H. chilensis than H. cunninghami. Finally, trophic overlap between species was high, but after the coastal storms passed, it decreased noticeably due to small changes in proportion of large chironomid and gammarid amphipods in the diet. Therefore, summer coastal storms affected the foraging behavior, increasing the weight of two recurrent cryptobenthic rocky reef fish from central Chile. In a broader ecological context, the shift from pelagic (i.e., copepods) to benthic prey (i.e., amphipods, polychaetes) may change the relative contribution and the subsidy production in nearshore habitats via pelagic-benthic coupling.
Access options
Buy single article
Instant access to the full article PDF.
US$ 39.95
Tax calculation will be finalised during checkout.
Subscribe to journal
Immediate online access to all issues from 2019. Subscription will auto renew annually.
US$ 119
Tax calculation will be finalised during checkout.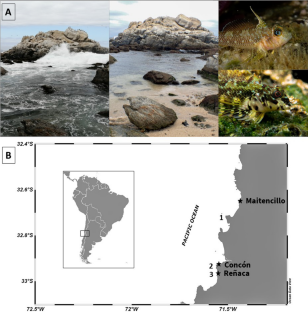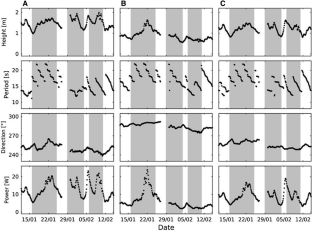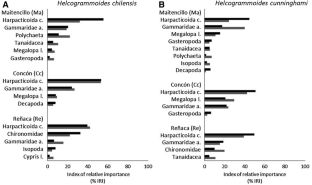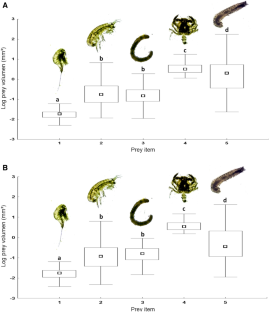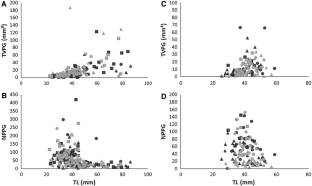 Data availability
Data will be available upon reasonable request.
References
Allgeier JE, Cline TJ (2019) Comment on "Demographic dynamics of the smallest marine vertebrate fuel coral reef ecosystem functioning." Science 366:eaay9321. https://doi.org/10.1126/science.aay9321

Barnes LM, Leclerc M, Gray CA, Williamson J (2011) Dietary niche differentiation of five sympatric species of Platycephalidae. Environ Biol Fish 90:429–441. https://doi.org/10.1007/s10641-010-9752-4

Becerra D (2017) Characterization of the summer coastal storms 2015–16 and its relationship with the "El Niño" phenomenon. Memory, Engineering Faculty, Universidad de Valparaíso, 117 p. (in Spanish)

Berríos V, Vargas M (2004) Estructura trófica de la asociación de peces intermareales de la costa rocosa del norte de Chile. Rev Biol Trop 52:201–212

Beya J, Álvarez M, Gallardo A, Hidalgo H, Winckler P (2017) Generation and validation of the Chilean Wave Atlas database. Ocean Model 116 (2017):16–32. https://doi.org/10.1016/j.ocemod.2017.06.004

Brandl SJ, Tornabene L, Goatley CHL, Casey JM, Morais RA, Côte IM, Baldwin CC, Parravicini V, Schiettekatte NMD, Bellwood DR (2019) Demographic dynamics of the smallest marine vertebrates fuel coral-reef ecosystem functioning. Science 364:1189–1192. https://doi.org/10.1126/science.aav3384

Carvajal M, Contreras-López M, Winckler P, Sepúlveda I (2017) Meteotsunamis occurring along the southwest coast of south America during an intense storm. Pure Appl Geophys 174(8):3313–3323

Cass-Calay SL (2003) The feeding ecology of larval Pacific hake (Merluccius productus) in the California Current region: an updated approach using a combined OPC/MOCNESS to estimate prey biovolume. Fish Oceanogr 12:34–48

Clarke RD, Buskey EJ, Marsden KC (2005) Effects of water motion and prey behavior on zooplankton capture by two coral reef fishes. Mar Biol 146:1145–1155. https://doi.org/10.1007/s00227-004-1528-y

Cortes E (1997) A critical review of methods of studying fish feeding based on analysis of stomach contents: application to elasmobranch fishes. Can J Fish Aquat Sci 54:726–738

Docmac F, Araya M, Hinojosa IA, Dorador C, Harrod C (2017) Habitat coupling writ large: pelagic-derived materials fuel benthivorous macroalgal reef fishes in an upwelling zone. Ecology 98:2267–2272. https://doi.org/10.1002/ecy.1936

Eckman JE, Duggins DO (1991) Life and death beneath macrophytic canopies: effects of understory growth rates and survival of marine benthic suspension feeders. Oecologia 87:473–487. https://doi.org/10.1007/BF00320409

Enders EC, Bosclair D, Roy AG (2003) The effect of turbulence on the cost of swimming for juvenile Atlantic salmon (Salmo salar). Can J Fish Aquat Sci 60:1149–1160

Gabel F, Stoll S, Martin FP, Pusch M, Garcia XF (2011) Waves affect predator–prey interactions between fish and benthic invertebrates. Oecologia 165:101–109. https://doi.org/10.1007/s00442-010-1841-8

Goatley CHR, Brandl SJ (2017) Cryptobenthic reef fishes. Curr Biol 27:453–455. https://doi.org/10.1016/j.cub.2017.03.051

Harley M (2017) Coastal storm definition. In: Ciavola P, Coco G (eds) Coastal storms: processes and impacts. Wiley, Hoboken

Higham T, Stewart W, Wainwright P (2015) Turbulence, temperature, and turbidity: the ecomechanics of predator–prey interactions in fishes. Integr Comp Biol 55:6–20. https://doi.org/10.1093/icb/icv052

Hilton Z, M Wellenreuther, Clements KD (2008) Physiology underprints habitat partitioning in a sympatric sister-species pair of intertidal fishes. Funct Ecol 22(6):1108–1117

Hyslop E (1980) Stomach contents analysis—a review of methods and their application. J Fish Biol 17:411–429

Jaranovic B, Trindade J, Ribeiro J, Silva A (2017) Using coastal storm hazard index to assess storm impacts in Lisbon. Int J Saf Secur Eng 7:221–233. https://doi.org/10.2495/SAFE-V7-N2-221-233

Kotrschal K, Thomson DA (1986) Feeding patterns in eastern tropical Pacific blennioid fishes (Teleostei: Tripterygiidae, Labrisomidae, Chaenopsidae, Blenniidae). Oecologia 70:367–378. https://doi.org/10.1007/BF00379499

Landaeta MF, Zavala-Muñoz F, Palacios-Fuentes P, Bustos CA, Alvarado-Niño M, Letelier J, Cáceres MA, Muñoz G (2015) Spatial and temporal variations of coastal fish larvae, ectoparasites and oceanographic conditions off central Chile. Rev Biol Mar Oceanogr 50:563–574. https://doi.org/10.4067/S0718-19572015000400013

Macpherson E (1994) Substrate utilisation in a Mediterranean littoral fish community. Mar Ecol Prog Ser 114:211–218. https://doi.org/10.3354/meps114211

Mann K, Lazier J (2006) Dynamics of marine ecosystems: biological–physical interactions in the oceans. Part A, Processes on a scale of less than 1 kilometer: biology and boundary layers 2. Replika Press, Haryana, pp 9–67

Mansur L, Plaza G, Landaeta MF, Ojeda FP (2014) Planktonic duration in fourteen species of intertidal rocky fishes from the south-eastern Pacific Ocean. Mar Freshw Res 65:901–909. https://doi.org/10.1071/MF13064

Martínez C, Contreras-López M, Winckler P, Hidalgo H, Godoy E, Agredano R (2018) Coastal erosion in central Chile: A new hazard? Ocean Coast Man 156:141–155. https://doi.org/10.1016/j.ocecoaman.2017.07.011

Muñoz AA, Ojeda FP (1997) Feeding guild structure of a rocky intertidal fish assemblage in central Chile. Environ Biol Fish 49:471–479. https://doi.org/10.1023/A:1007305426073

O'Shea OR, Thums M, Van Keulen M, Kempster RM, Meekan MG (2013) Dietary partitioning by five sympatric species of stingray (Dasyatidae) on coral reefs. J Fish Biol 82(6):1805–1820. https://doi.org/10.1111/jfb.12104

Palacios-Fuentes P, Landaeta MF, Jahnsen-Guzmán N, Plaza G, Ojeda FP (2014) Hatching patterns and larval growth of a triplefin from central Chile inferred by otolith microstructure analysis. Aquat Res 48:259–266. https://doi.org/10.1007/s10452-014-9481-4

Palacios-Fuentes P, Díaz-Astudillo M, Reculé MA, Ojeda FP, Landaeta MF (2020) Presettlement schooling behaviour of a rocky fish in a shallow area. Is it related to local environmental conditions? Sci Mar 84:1–10. https://doi.org/10.3989/scimar.05043.19A

Pérez-Matus A, Pledger S, Díaz F, Ferry L, Vásquez J (2012) Plasticity in feeding selectivity and trophic structure of kelp forest associated fishes from northern Chile. Rev Chil Hist Nat 85:29–48

Pérez-Matus A, Sánchez F, González-But JC, Lamb RW (2016) Understory algae associations and predation risk influence broad-scale kelp habitat use in a temperate reef fish. Mar Ecol Prog Ser 559:147–158. https://doi.org/10.3354/meps11892

Pires T, Gibran F (2011) Intertidal life: field observations on the clingfish Gobiesox barbatulus in southeastern Brazil. Neotropical Ichthyol 9(1):233–240

Robinson HE, Finelli CM, Buskey EJ (2007) The turbulent life of copepods: effects of water flow over a coral reef on their ability to detect and evade predators. Mar Ecol Prog Ser 349:171–181. https://doi.org/10.3354/meps07123

Robinson HE, Finelli CM, Koehl MAR (2013) Interactions between benthic predators and zooplanktonic prey are affected by turbulent waves. Integr Comp Biol 53(5):810–820. https://doi.org/10.1093/icb/ict092

Sepúlveda M, Quiñones RA, Esparza C, Carrasco P, Winckler P (2020) Vulnerability of a top marine predator to coastal storms: a relationship between hydrodynamic drivers and stranding rates of newborn pinnipeds. Sci Rep 10:12807. https://doi.org/10.1038/s41598-020-69124-6

SHOA (2017) Servicio Hidrográfico y Oceanográfico de la Armada de Chile. Anuario Hidrográfico y Oceanográfico de la Armada de Chile. http://www.shoa.cl/s3/shoa-cl/descargas/anuario/anuario_web.pdf

Silva AT, Katopodis C, Santos JM, Ferreira MT, Pinheiro AN (2012) Cyprinid swimming behaviour in response to turbulent flow. Ecol Eng 44:314–328. https://doi.org/10.1016/j.ecoleng.2012.04.015

Smith W, Sandwell D (1997) Global seafloor topography from satellite altimetry and ship depth soundings. Science 277:1957–1962. https://doi.org/10.1126/science.277.5334.1956

Stepien CA (1990) Population structure, diets and biogeographic relationships of a rocky intertidal fish assemblage in central Chile: high levels of herbivory in a temperate system. Bull Mar Sci 47:598–612

The SWAN team (2020) User Manual SWAN Cycle III version 41.31A. http://swanmodel.sourceforge.net/online_doc/swanuse/swanuse.html

Tolman H (2014) User manual and system documentation of WAVEWATCH III version 4.18. Environmental Modeling Center Marine Modeling and Analysis Branch

Winckler P, Contreras-López M, Campos-Caba R, Beyá JF, Molina M (2017) El temporal del 8 de agosto de 2015 en las regiones de Valparaíso y Coquimbo, Chile Central. Lat Am J Aquat Res 45(4):622–648

Winkler NS, Paz-Goicoechea M, Lamb RW, Pérez-Matus A (2017) Diet reveals links between morphology and foraging in a cryptic temperate reef fish. Ecol Evol 7:11124–11134. https://doi.org/10.1002/ece3.3604

Wolda H (1981) Similarity indices, sample size and diversity. Oecologia 50:296–302. https://doi.org/10.1007/BF00344966
Acknowledgements
We appreciate the field work done by Daniela Plaza, Christina DÃaz and Yanara Figueroa, who helped in the collection of triplefin. We deeply thank Mauricio Molina and Sebastian Correa for their aid in generating the wave data from the database Sistemas de Alerta de Marejadas (https://marejadas.uv.cl) and to ANID's Grant ID20I10404 "Desarrollo de una escala de impacto de marejadas para la comunicación efectiva y disminución del riesgo de desastre".
Funding
This research was partially funded by Comisión Nacional de Investigación Científica y Tecnológica (CONICYT Chile, now Agencia Nacional de Investigación y Desarrollo, ANID) grant FONDECYT 1150296 to MFL, grant FONDAP 15110017 to PWG, and funded by Universidad de Valparaiso's project CIDI 12, Centro de Observación Marino para Estudios de Riesgos del Ambiente Costero (COSTA-R).
Ethics declarations
Conflict of interest
No conflict of interest is declared by the authors.
Additional information
Publisher's Note
Springer Nature remains neutral with regard to jurisdictional claims in published maps and institutional affiliations.
Responsible Editor: K.D. Clements.
Supplementary Information
Below is the link to the electronic supplementary material.
About this article
Cite this article
Polanco-Pérez, J., Search, F.V., Winckler, P. et al. Unexpected effects of coastal storms on trophic ecology of two rocky reef fish species. Mar Biol 168, 20 (2021). https://doi.org/10.1007/s00227-021-03827-w
Received:

Accepted:

Published: