Abstract
Introduction
Despite advanced diagnostic and therapeutic techniques, many brain tumors are still diagnosed at high grades and, therefore finding novel molecular markers may assist in early detection and reducing brain tumors-related mortality rate. Owing to the previous reports on the importance of MCPH1 gene in tumorigenesis, the present study was aimed to study the promoter methylation of MCPH1 gene in paired circulating cell-free DNA (cfDNA) and tumor tissues of brain tumor patients.
Materials and methods
Fourteen fresh paired serum and tumor tissue samples in addition to 18 isolated serum samples were collected from patients affected by different grades of brain tumor. Genomic DNA and cfDNA was isolated from tissue and serum samples using QIAamp DNA Mini Kit Norgen Bioteck Kit, respectively. Methylation DNA immunoprecipitation Real-time polymerization chain reaction (MeDIP-Real-time PCR) was performed on isolated DNA samples using EpiQuik MeDIP Ultra Kit and specific primer pairs. cfDNA quantity was determined through Real-time PCR analysis using specific primer pairs designed for GAPDH gene.
Results
MCPH1 was methylated in 54% of cfDNA samples which was significantly associated with tumor grade, as well (P-value = 0.02). The methylation rate of MCPH1 was found as 78% in the tissue samples which was meaningfully associated with tumor grade (P-value = 0.03). Moreover, methylation of the MCPH1 gene was consistent in 57% of the same cfDNA and tissue samples. Methylation of MCPH1 gene in neither tumor tissues nor cfDNA was not correlated with age and sex of the patients.
Discussion and conclusion
Due to the conformity of methylation of MCPH1 gene in cfDNA and tissue samples in more than half of the enrolled patients, especially in higher grades of tumors, it seems that MCPH1 promoter methylation could be a potential epimarker in not only detection of brain tumors but also in response to chemo- and radiotherapy which warranted further assessment.
This is a preview of subscription content, log in to check access.
Access options
Buy single article
Instant access to the full article PDF.
US$ 39.95
Price includes VAT for USA
Subscribe to journal
Immediate online access to all issues from 2019. Subscription will auto renew annually.
US$ 199
This is the net price. Taxes to be calculated in checkout.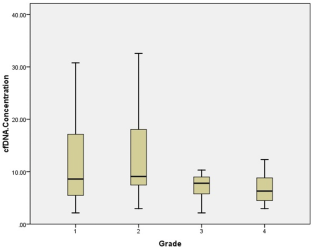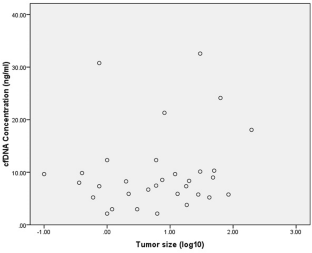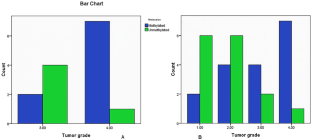 References
Ahmed KI et al (2019) Cell-free circulating tumor DNA in patients with high-grade glioma as diagnostic biomarker—a guide to future directive. Indian J Cancer 56:65–69. https://doi.org/10.4103/ijc.IJC_551_17

Barault L et al (2015) Digital PCR quantification of MGMT methylation refines prediction of clinical benefit from alkylating agents in glioblastoma and metastatic colorectal cancer Annals of oncology : official journal of the European Society for. Med Oncol 26:1994–1999. https://doi.org/10.1093/annonc/mdv272

Bell CG et al (2019) DNA methylation aging clocks: challenges and recommendations. Genome Biol 20:249

Bhattacharya N et al (2013) Frequent alterations of MCPH1 and ATM are associated with primary breast carcinoma: clinical and prognostic implications. Ann Surg Oncol 20(Suppl 3):S424–432. https://doi.org/10.1245/s10434-012-2715-6

Brandes AA et al (2017) Role of MGMT methylation status at time of diagnosis and recurrence for patients with Glioblastoma: clinical implications. Oncologist 22:432–437. https://doi.org/10.1634/theoncologist.2016-0254

Chen J et al (2016) Alu methylation serves as a biomarker for non-invasive diagnosis of glioma. Oncotarget 7:26099–26106. https://doi.org/10.18632/oncotarget.8318

De Mattos-Arruda L et al (2015) Cerebrospinal fluid-derived circulating tumour DNA better represents the genomic alterations of brain tumours than plasma. Nat Commun 6:8839. https://doi.org/10.1038/ncomms9839

Dore M, Lefebvre L, Delpon G, Thillays F (2015) Brain radiation necrosis after stereotactic radiotherapy of the resection cavity for intracranial metastases: analysis of the literature from four cases. Cancer Radiotherapie : journal de la Societe francaise de radiotherapie oncologique 19:111–119. https://doi.org/10.1016/j.canrad.2014.10.008

Genereux DP, Johnson WC, Burden AF, Stoger R, Laird CD (2008) Errors in the bisulfite conversion of DNA: modulating inappropriate- and failed-conversion frequencies. Nucleic Acids Res 36:e150. https://doi.org/10.1093/nar/gkn691

Giannopoulou L, Chebouti I, Pavlakis K, Kasimir-Bauer S, Lianidou ES (2017) RASSF1A promoter methyation in high grade serous ovarian cancer: A direct comparision study in primary tumors, adjacent morphologically tumor cell free tissues and paired circulating tumor DNA. Oncotarget 8:21429–21443

Gong M et al (2017) Alu hypomethylation and MGMT hypermethylation in serum as biomarkers of glioma. Oncotarget 8:76797–76806. https://doi.org/10.18632/oncotarget.20012

Karami F, Javan F, Mehrazin M, Mehdipour P (2014) Key role of promoter methylation and inactivation of MCPH1 gene in brain tumors. J Neurol Res 4:132–137

Karami F et al (2018) Modified methylated DNA immunoprecipitation protocol for noninvasive prenatal diagnosis of Down syndrome. J Obstet Gynaecol Res 44:608–613. https://doi.org/10.1111/jog.13577

Khakpour G et al (2017) Methylomics of breast cancer: seeking epimarkers in peripheral blood of young subjects. Tumor Biol 39:1010428317695040. https://doi.org/10.1177/1010428317695040

Lavon I, Refael M, Zelikovitch B, Shalom E, Siegal T (2010) Serum DNA can define tumor-specific genetic and epigenetic markers in gliomas of various grades. Neuro Oncol 12:173–180. https://doi.org/10.1093/neuonc/nop041

Lisanti S, von Zglinicki T, Mathers JC (2012) Standardization and quality controls for the methylated DNA immunoprecipitation technique. Epigenetics 7:615–625. https://doi.org/10.4161/epi.20028

Liu X, Zhou ZW, Wang ZQ (2016) The DNA damage response molecule MCPH1 in brain development and beyond. Acta Biochim Biophys Sin 48:678–685. https://doi.org/10.1093/abbs/gmw048

Liu X et al (2019) Comprehensive DNA methylation analysis of tissue of origin of plasma cell-free DNA by methylated CpG tandem amplification and sequencing (MCTA-Seq). Clin Epigenetics 11:93

Mastoraki S et al (2018) ESR1 methylation: a liquid biopsy-based epigenetics assay for the follow up of patients with metastatic breast cancer receiving endocrine treatment. Clin Cancer Res 24:1500–1510

Meddeb R et al (2019) Quantifying circulating cell-free DNA in humans. Sci Rep 9:5220. https://doi.org/10.1038/s41598-019-41593-4

Mehdipour P, Karami F, Javan F, Mehrazin M (2015) Linking ATM promoter methylation to cell cycle protein expression in brain tumor patients: cellular molecular triangle correlation in ATM territory. Mol Neurobiol 52:293–302. https://doi.org/10.1007/s12035-014-8864-9

Mouliere F et al (2018) Detection of cell-free DNA fragmentation and copy number alterations in cerebrospinal fluid from glioma patients. EMBO Mol Med. https://doi.org/10.15252/emmm.201809323

Muller Bark J, Kulasinghe A, Chua B, Day BW, Punyadeera C (2020) Circulating biomarkers in patients with glioblastoma. Br J Cancer 122:295–305. https://doi.org/10.1038/s41416-019-0603-6

Noroxe DS et al (2019) Cell-free DNA in newly diagnosed patients with glioblastoma—a clinical prospective feasibility study. Oncotarget 10:4397–4406. https://doi.org/10.18632/oncotarget.27030

Noushmehr H et al (2019) Detection of glioma and prognostic subtypes by non-invasive circulating cell-free DNA methylation markers. bioRxiv. https://doi.org/10.1101/601245

Pentsova EI et al (2016) Evaluating cancer of the central nervous system through next-generation sequencing of cerebrospinal fluid journal of clinical oncology : official journal of the American Society of. Clin Oncol 34:2404–2415. https://doi.org/10.1200/jco.2016.66.6487

Piccioni DE et al (2019) Analysis of cellfree circulating tumor DNA in 419 patients with glioblastoma and other primary brain tumors. CNS Oncol 8:CN34. https://doi.org/10.2217/cns-2018-0015

Pisanic et al (2015) DREAMing: a sample and ultrasensitive method for assessing intratumor epigenetic heterogenity directly from liquid biopsies. Nucleic Acid Res 43:e154

Pope WB, Brandal G (2018) Conventional and advanced magnetic resonance imaging in patients with high-grade glioma. The quarterly journal of nuclear medicine and molecular imaging : official publication of the Italian Association of Nuclear Medicine (AIMN) [and] the International Association of Radiopharmacology (IAR), [and] Section of the So 62:239–253. https://doi.org/10.23736/s1824-4785.18.03086-8

Stelcer E, Konkol M, Gleboka A, Suchorska WM (2019) Liquid biopsy in oligometastatic prostate cancer-a biologist's point of view. Front Oncol 9:775. https://doi.org/10.3389/fonc.2019.00775

Underhill HR et al (2016) Fragment length of circulating tumor DNA. PLoS Genet 12:e1006162. https://doi.org/10.1371/journal.pgen.1006162

Velazquez Vega JE, Brat DJ (2018) Incorporating advances in molecular pathology into brain tumor diagnostics. Adv Anat Pathol 25:143–171. https://doi.org/10.1097/pap.0000000000000186

Venkatesh T, Nagashri MN, Swamy SS, Mohiyuddin SM, Gopinath KS, Kumar A (2013) Primary microcephaly gene MCPH1 shows signatures of tumor suppressors and is regulated by miR-27a in oral squamous cell carcinoma. PLoS ONE 8:e54643. https://doi.org/10.1371/journal.pone.0054643

Wang Y et al (2015) Detection of tumor-derived DNA in cerebrospinal fluid of patients with primary tumors of the brain and spinal cord. Proc Natl Acad Sci USA 112:9704–9709. https://doi.org/10.1073/pnas.1511694112

Worm Orntoft MB, Jensen SO, Hansen TB, Bramsen JB, Andersen CL (2017) Comparative analysis of 12 different kits for bisulfite conversion of circulating cell-free DNA. Epigenetics 12:626–636. https://doi.org/10.1080/15592294.2017.1334024
Acknowledgments
Special thanks to the attending neurosurgeons, nurses and medical staffs of Shohada Tajrish Hospital for providing patients' samples and information.
Funding
This study was funded by personal fund.
Ethics declarations
Conflict of interest
The authors declare that they have no conflict of interest.
Additional information
Publisher's Note
Springer Nature remains neutral with regard to jurisdictional claims in published maps and institutional affiliations.
Communicated by Sreedharan Sajikumar.
About this article
Cite this article
Ghodsi, M., Shahmohammadi, M., Modarressi, M.H. et al. Investigation of promoter methylation of MCPH1 gene in circulating cell-free DNA of brain tumor patients. Exp Brain Res (2020). https://doi.org/10.1007/s00221-020-05848-1
Received:

Accepted:

Published:
Keywords
Brain tumor

Cell-free DNA

MeDIP-real-time PCR

MCPH1

Promoter methylation