Abstract
A sufficient level of alerting, bottom-up stimulus strength, and attention have been proposed as important pre-requisites for conscious perception (Dehaene et al. in Trends Cogn Sci 10:204–211, 2006). The combination of different levels of each of these processes might differentially bias the access to consciousness, so that the impact of a specific factor on conscious access would depend on the levels of the other factors. To explore this possibility, we measured how the interaction between different levels of (phasic and tonic) alerting, stimulus bottom-up activation, and endogenous spatial attention, influences conscious perception. We observed that endogenous spatial attention affected conscious perception mainly when target bottom-up strength was low, by improving perceptual sensitivity and making the response criterion stricter. Attention-driven increases of perceptual sensitivity (without variations in response criterion) were also observed for higher levels of bottom-up strength, but only when tonic alerting decreased. Phasic alerting boosted perceptual sensitivity independently of target bottom-up strength, even though it differently affected response bias, yielding a more liberal response criterion when target bottom-up strength increases. These results suggest that a more exhaustive approach to the study of conscious perception should consider the interaction of the multiple factors that are susceptible to modulate perceptual consciousness, rather than studying their effects in isolation.
Access options
Buy single article
Instant access to the full article PDF.
US$ 39.95
Tax calculation will be finalised during checkout.
Subscribe to journal
Immediate online access to all issues from 2019. Subscription will auto renew annually.
US$ 119
Tax calculation will be finalised during checkout.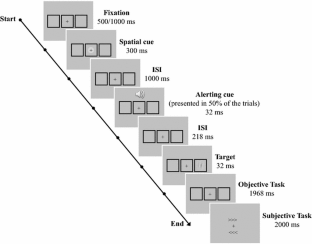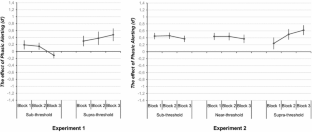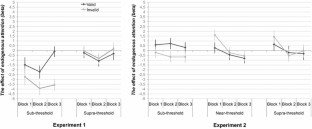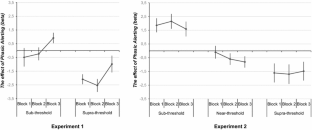 Notes
1.

The four-way interaction model has been not considered for the analysis, as there were no hypotheses concerning it.
References
Aru J, Bachmann T, Singer W, Melloni L (2012) Distilling the neural correlates of consciousness. Neurosci Biobehav Rev 36:737–746. doi:10.1016/j.neubiorev.2011.12.003

Bachmann T (1984) The process of perceptual retouch: nonspecific afferent activation dynamics in explaining visual masking. Percept Psychophys 35:69–84

Bachmann T (1997) Visibility of brief images: the dual-process approach. Conscious Cogn 6:491–518. doi:10.1006/ccog.1997.0320

Bachmann T (2009) Finding ERP-signatures of target awareness: puzzle persists because of experimental co-variation of the objective and subjective variables. Conscious Cogn 18:804–808. doi:10.1016/j.concog.2009.02.011

Bachmann T (2011) Attention as a process of selection, perception as a process of representation, and phenomenal experience as the resulting process of perception being modulated by a dedicated consciousness mechanism. Front Psychol. doi:10.3389/fpsyg.2011.00387

Botta F, Lupiáñez J, Chica AB (2014) When endogenous spatial attention improves conscious perception: effects of alerting and bottom-up activation. Conscious Cogn 23:63–73. doi:10.1016/j.concog.2013.12.003

Chica AB, Lasaponara S, Chanes L et al (2011) Spatial attention and conscious perception: the role of endogenous and exogenous orienting. Atten Percept Psychophys 73:1065–1081. doi:10.3758/s13414-010-0082-6

Chica AB, Botta F, Lupiáñez J, Bartolomeo P (2012) Spatial attention and conscious perception: interactions and dissociations between and within endogenous and exogenous processes. Neuropsychologia 50:621–629. doi:10.1016/j.neuropsychologia.2011.12.020

Chica AB, Martín-Arévalo E, Botta F, Lupiáñez J (2014) The spatial orienting paradigm: how to design and interpret spatial attention experiments. Neurosci Biobehav Rev 40:35–51. doi:10.1016/j.neubiorev.2014.01.002

Chica AB, Bayle DJ, Botta F et al (2016) Interactions between phasic alerting and consciousness in the fronto-striatal network. Sci Rep. doi:10.1038/srep31868

Chun MM, Marois R (2002) The dark side of visual attention. Curr Opin Neurobiol 12:184–189

Corbetta M, Shulman GL (2002) Control of goal-directed and stimulus-driven attention in the brain. Nat Rev Neurosci 3:201–215. doi:10.1038/nrn755

Corbetta M, Patel G, Shulman GL (2008) The reorienting system of the human brain: from environment to theory of mind. Neuron 58:306–324. doi:10.1016/j.neuron.2008.04.017

Coull JT, Nobre AC, Frith CD (2001) The noradrenergic α2 agonist clonidine modulates behavioural and neuroanatomical correlates of human attentional orienting and alerting. Cereb Cortex 11:73–84. doi:10.1093/cercor/11.1.73

Crick F, Koch C (1990) Towards a neurobiological theory of consciousness. Semin Neurosci 2:263–275

de Graaf TA, Hsieh P-J, Sack AT (2012) The "correlates" in neural correlates of consciousness. Neurosci Biobehav Rev 36:191–197. doi:10.1016/j.neubiorev.2011.05.012

Dehaene S, Changeux J-P (2005) Ongoing spontaneous activity controls access to consciousness: a neuronal model for inattentional blindness. PLoS Biol 3:e141

Dehaene S, Changeux J-P (2011) Experimental and theoretical approaches to conscious processing. Neuron 70:200–227. doi:10.1016/j.neuron.2011.03.018

Dehaene S, Changeux J-P, Naccache L et al (2006) Conscious, preconscious, and subliminal processing: a testable taxonomy. Trends Cogn Sci 10:204–211. doi:10.1016/j.tics.2006.03.007

Edeline J-M (2012) Beyond traditional approaches to understanding the functional role of neuromodulators in sensory cortices. Front Behav Neurosci. doi:10.3389/fnbeh.2012.00045

Engbert R, Kliegl R (2003) Microsaccades uncover the orientation of covert attention. Vis Res 43:1035–1045

Fischer T, Langner R, Birbaumer N, Brocke B (2008) Arousal and attention: self-chosen stimulation optimizes cortical excitability and minimizes compensatory effort. J Cogn Neurosci 20:1443–1453. doi:10.1162/jocn.2008.20101

Herrmann K, Montaser-Kouhsari L, Carrasco M, Heeger DJ (2010) When size matters: attention affects performance by contrast or response gain. Nat Neurosci 13:1554–1559

Ivry RB, Robertson LC (1998) Cognitive neuroscience. The two sides of perception. The MIT Press, Cambridge

James W (1890) The principles of psychology. H. Holt, New York

Kentridge RW, Nijboer TCW, Heywood CA (2008) Attended but unseen: visual attention is not sufficient for visual awareness. Neuropsychologia 46:864–869. doi:10.1016/j.neuropsychologia.2007.11.036

Kliegl R, Wei P, Dambacher M et al (2011) Experimental effects and individual differences in linear mixed models: estimating the relationship between spatial, object, and attraction effects in visual attention. Front Psychol 1:238

Kusnir F, Chica AB, Mitsumasu MA, Bartolomeo P (2011) Phasic auditory alerting improves visual conscious perception. Conscious Cogn 20:1201–1210. doi:10.1016/j.concog.2011.01.012

Lamme VAF, Roelfsema PR (2000) The distinct modes of vision offered by feedforward and recurrent processing. Trends Neurosci 23:571–579. doi:10.1016/S0166-2236(00)01657-X

Lara T, Madrid JA, Correa Á (2014) The vigilance decrement in executive function is attenuated when individual chronotypes perform at their optimal time of day. PLoS ONE 9:e88820. doi:10.1371/journal.pone.0088820

Lee TS, Yang CF, Romero RD, Mumford D (2002) Neural activity in early visual cortex reflects behavioral experience and higher-order perceptual saliency. Nat Neurosci 5:589–597. doi:10.1038/nn0602-860

Ling S, Carrasco M (2006) Sustained and transient covert attention enhance the signal via different contrast response functions. Vis Res 46:1210–1220. doi:10.1016/j.visres.2005.05.008

Liu T, Abrams J, Carrasco M (2009) Voluntary attention enhances contrast appearance. Psychol Sci 20:354–362. doi:10.1111/j.1467-9280.2009.02300.x

Mackworth JF (1964) Performance decrement in vigilance, threshold, and high-speed perceptual motor tasks. Can J Psychol Can Psychol 18:209

Melloni L, Singer W (2010) Distinct characteristics of conscious experience are met by large scale neuronal synchronization. In: Perry E, Collerton D, LeBeau F, Haston H (eds) New horizon in the neuroscience of consciousness, Amsterdam, Philadelphia, pp 17–28

O'connor C, Manly T, Robertson IH et al (2004) 1. An fmri study of sustained attention with endogenous and exogenous engagement. Brain Cogn 54:113–135

Portas CM, Rees G, Howseman AM et al (1998) A specific role for the thalamus in mediating the interaction of attention and arousal in humans. J Neurosci 18:8979–8989

Posner MI (1978) Chronometric explorations of mind. Lawrence Erlbaum, Hillsdale, New Jersey

Posner MI (1994) Attention: the mechanisms of consciousness. Proc Natl Acad Sci 91:7398–7403

Posner MI (2008) Measuring alertness. Ann N Y Acad Sci 1129:193–199

Rahnev D, Maniscalco B, Graves T et al (2011) Attention induces conservative subjective biases in visual perception. Nat Neurosci 14:1513–1515

Rees G, Kreiman G, Koch C (2002) Neural correlates of consciousness in humans. Nat Rev Neurosci 3:261–270. doi:10.1038/nrn783

Ress D, Heeger DJ (2003) Neuronal correlates of perception in early visual cortex. Nat Neurosci 6:414–420. doi:10.1038/nn1024

Reynolds JH, Chelazzi L (2004) Attentional modulation of visual processing. Annu Rev Neurosci 27:611–647

Reynolds JH, Pasternak T, Desimone R (2000) Attention increases sensitivity of V4 neurons. Neuron 26:703–714. doi:10.1016/S0896-6273(00)81206-4

Sandberg K, Timmermans B, Overgaard M, Cleeremans A (2010) Measuring consciousness: is one measure better than the other? Conscious Cogn 19:1069–1078. doi:10.1016/j.concog.2009.12.013

Sarter M, Givens B, Bruno JP (2001) The cognitive neuroscience of sustained attention: where top-down meets bottom-up. Brain Res Rev 35:146–160. doi:10.1016/S0165-0173(01)00044-3

Schneider W, Eschman A, Zuccolotto A (2002) E-prime: user's guide. Psychology Software Tools Inc., Pittsburgh

Sturm W, Willmes K (2001) On the functional neuroanatomy of intrinsic and phasic alertness. NeuroImage 14:S76–S84. doi:10.1006/nimg.2001.0839

Sturm W, De Simone A, Krause BJ et al (1999) Functional anatomy of intrinsic alertness: evidence for a fronto-parietal-thalamic-brainstem network in the right hemisphere. Neuropsychologia 37:797–805

Tse PU, Martinez-Conde S, Schlegel AA, Macknik SL (2005) Visibility, visual awareness, and visual masking of simple unattended targets are confined to areas in the occipital cortex beyond human V1/V2. Proc Natl Acad Sci USA 102:17178–17183. doi:10.1073/pnas.0508010102

van Boxtel JJA, Tsuchiya N, Koch C (2010) Opposing effects of attention and consciousness on afterimages. Proc Natl Acad Sci 107:8883–8888. doi:10.1073/pnas.0913292107

Verbeke G, Molenberghs G (2009) Linear mixed models for longitudinal data. Springer-Verlag, New York

Weinbach N, Henik A (2012) The relationship between alertness and executive control. J Exp Psychol Hum Percept Perform 38:1530

West BT, Galecki AT, Welch KB (2014) Linear mixed models. CRC Press, Boca Raton
Acknowledgements
FB was supported with a postdoctoral Grant from the eraNET- NEURON BEYONDVIS project. ABC was supported with a Ramón y Cajal fellowship from the Spanish Ministry of Education and Science (RYC-2011-09320). Research was funded by research project PSI2014-58681-P, to ABC. The authors would like to thank María Cobos for her help in data collection.
About this article
Cite this article
Botta, F., Ródenas, E. & Chica, A.B. Target bottom-up strength determines the extent of attentional modulations on conscious perception. Exp Brain Res 235, 2109–2124 (2017). https://doi.org/10.1007/s00221-017-4954-z
Received:

Accepted:

Published:

Issue Date:
Keywords
Endogenous attention

Spatial attention

Conscious perception

Alerting

Bottom-up strength