Abstract
The non-Saccharomyces yeasts represent a great richness for the production of new and different types of beers. In this study, the role of eight yeast strains (Saccharomycodes ludwigii, Metchnikowia pulcherrima, Hanseniaspora uvarum, Hanseniaspora osmophila and Brettanomyces bruxellensis) isolated from Asturian cider and belonging to five unconventional species was evaluated. None of the strains could ferment the main wort sugars (maltose and maltotriose). Beers produced by S. ludwigii strains showed the highest ethanol content (21.6 g/L) and interestingly high levels of fusel alcohols, fatty esters and isoamyl acetate. Strains of B. bruxellensis were the only ones that produced ethyl phenols and they also generated the highest concentration of fatty acids and their ethyl esters. Sucrose was not utilised by Metschnikowia and Hanseniaspora strains, resulting in low ethanol formation (4.7 g/L), although these yeasts differed in terms of their synthesis of volatile compounds. Larger amounts of fatty acid esters were detected in beers fermented by H. osmophyla 10, while H. uvarum 62 produced more 2-phenylethyl acetate and ethyl acetate. M. pulcherrima 301 stands out for its low fermentative capacity and production of volatile compounds. These results show the interest of non-Saccharomyces strains in the production of beers with low alcohol content and their potential use in developing new beer styles in sequential or mixed inoculations with S. cerevisiae strains.
Access options
Buy single article
Instant access to the full article PDF.
US$ 39.95
Tax calculation will be finalised during checkout.
Subscribe to journal
Immediate online access to all issues from 2019. Subscription will auto renew annually.
US$ 119
Tax calculation will be finalised during checkout.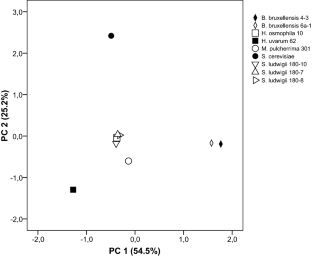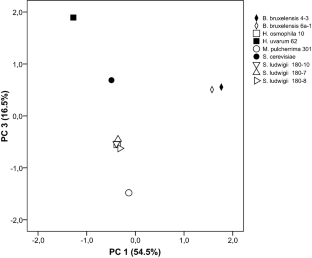 References
1.

Bokulich NA, Bamforth CW (2013) The microbiology of malting and brewing. Microbiol Mol Biol Rev 77:157–172

2.

Stewart GG (2017) The production of secondary metabolites with flavour potential during brewing and distilling wort fermentations. Fermentation 3:1–27

3.

Basso RF, Alcarde AR, Portugal CB (2016) Could non-Saccharomyces yeasts contribute on innovative brewing fermentations? Food Res Int 86:112–120

4.

Michel M, Kopecká J, Meier-Dörnberg T, Zarnkow M, Jacob F, Hutzler M (2016) Screening for new brewing yeasts in the non-Saccharomyces sector with Torulaspora delbrueckii as model. Yeast 33:129–133

5.

Holt S, Mukherjee V, Lievens B, Verstrepen KJ, Thevelein JM (2018) Bioflavoring by non-conventional yeasts in sequential beer fermentations. Food Microbiol 72:55–66

6.

Canonico L, Galli E, Ciani E, Comitini F, Ciani M (2019) Exploitation of three non-conventional yeast in the brewing process. Microorganisms. https://doi.org/10.3390/microorganisms7010011

7.

Domizio P, House JF, Joseph CML, Bisson LF, Bamforth CW (2016) Lachancea thermotolerans as an alternative yeast for the production of beer. J Inst Brew 122:599–604

8.

Osburn K, Amaral J, Metcalf SR, Nickens DM, Rogers CM, Sausen C, Caputo R, Miller J, Li H, Tennessen JM, Bochman ML (2018) Primary souring: a novel bacteria-free method for sour beer production. Food Microbiol 70:76–84

9.

Capece A, Romaniello R, Siesto G, Romano P (2018) Conventional and non-conventional yeasts in beer production. Fermentation. https://doi.org/10.3390/fermentation4020038

10.

Bellut K, Arendt EK (2019) Chance and challenge: Non-Saccharomyces yeasts in nonalcoholic and low alcohol beer brewing. A review. J Am Soc Brew Chem 77:77–91

11.

Sohrabvandi S, Razavi SH, Mousavi SM, Mortazavian AM (2010) Characteristics of different brewer's yeast strains used for non-alcoholic beverage fermentation in media containing different fermentable sugars. Iran J Biotechnol 8:178–185

12.

De Francesco G, Turchetti B, Sileoni V, Marconi O, Perretti G (2014) Screening of new strains of Saccharomycodes ludwigii and Zygosaccharomyces rouxii to produce low-alcohol beer. J Inst Brew 121:113–121

13.

Estela-Escalante WD, Rosales-Mendoza S, Moscosa-Santillán M, González-Ramírez JE (2016) Evaluation of the fermentative potential of Candida zemplinina yeasts for craft beer fermentation. J Inst Brew 122:530–535

14.

Bellut K, Michel M, Zarnkow M, Hutzler M, Jacob F, De Schutter DP, Daenen L, Lynch KM, Zannini E, Arendt EK (2018) Application of non-Saccharomyces yeasts isolated from kombucha in the production of alcohol-free beer. Fermentation. https://doi.org/10.3390/fermentation4030066

15.

Jolly NO, Varela C, Pretorius IS (2014) Not your ordinary yeast: non-Saccharomyces yeasts in wine production uncovered. FEMS Yeast Res 14:215–237

16.

Pando Bedriñana R, Querol Simón A, Suárez Valles B (2010) Genetic and phenotypic diversity of autochthonous cider yeasts in a cellar from Asturias. Food Microbiol 27:503–508

17.

Rodríguez Madrera R, Pando Bedriñana R, Suárez Valles B (2015) Production and characterization of aroma compounds from apple pomace by solid-state fermentation with selected yeasts. LWT 64:1342–1353

18.

Rodríguez Madrera R, Pando Bedriñana R, García Hevia A, Bueno Arce M, Suárez Valles B (2013) Production of spirits from dry apple pomace and selected yeasts. Food Bioprod Process 91:623–631

19.

Rodríguez Madrera R, Pando Bedriñana R, Suárez Valles B (2017) Enhancement of the nutritional properties of apple pomace by fermentation with autochthonous yeasts. LWT 79:27–33

20.

European Brewery Convention (2010) Analytica-EBC. Verlag Hans Carl, Nürnberg

21.

Blanco D, Gutiérrez MD, Mangas JJ, Noval A (1988) Determination of sugars and alcohols in apple juice and cider by HPLC. Chromatographia 25:701–706

22.

BOE (2016) Real Decreto 678/2016, de 16 de diciembre, por el que se aprueba la norma de calidad de la cerveza y de las bebidas de malta. https://www.boe.es/boe/dias/2016/12/17/pdfs/BOE-A-2016-11952.pdf. Accesed 25 Nov 2020

23.

Steensels J, Daenen L, Malcorps P, Derdelinckx G, Verachtert H, Verstrepen K (2015) Brettanomyces yeasts: from spoilage organisms to valuable contributors to industrial fermentations. Int J Food Microbiol 206:24–38

24.

Popescu V, Soceanu A, Dobrinas S, Stanciu G (2019) A study of beer bitterness loss during the various stages of the Romanian beer production process. J Inst Brew 119:111–115

25.

Laws DRJ, MacGuinness JD, Rennie H (1972) The losses of bitter substances during fermentation. J Inst Brew 78:314–321

26.

Domizio P, Romani C, Lencioni L, Comitini F, Gobbi M, Mannazzu I, Ciani M (2011) Outlining a future for non-Saccharomyces yeasts: selection of putative spoilage wine strains to be used in association with Saccharomyces cerevisiae for grape juice fermentation. Int J Food Microbiol 147:170–180

27.

Leite FC, Basso TO, de Pita WB, Gombert AK, Simões DA, de Morais MA, Jr, (2013) Quantitative aerobic physiology of the yeast Dekkera bruxellensis, a major contaminant in bioethanol production plants. FEMS Yeast Res 13:34–43

28.

Galafassi S, Merico A, Pizza F, Hellborg L, Molinari F, Piškur J, Compagno C (2011) Dekkera/Brettanomyces yeasts for ethanol production from renewable sources under oxygen-limited and low-pH conditions. J Ind Microbiol Biotechnol 38:1079–1088

29.

Smith MT (1998). In: Kurtzman CP, Fell JW (eds) The yeasts. A Taxonomic study. Elsevier BV, Amsterdam

30.

Miller MW, Phaff HJ (1998). In: Kurtzman CP, Fell JW (eds) The yeasts. A Taxonomic study. Elsevier BV, Amsterdam

31.

Callejo MJ, García Navas JJ, Alba R, Escott C, Loira I, González MC, Morata A (2019) Wort fermentation and beer conditioning with selected non-Saccharomyces yeasts in craft beers. Eur Food Res Technol 245:1229–1238

32.

Canonico L, Agarbati A, Comitini F, Ciani M (2016) Torulaspora delbrueckii in the brewing process: a new approach to enhance bioflavour and to reduce ethanol content. Food Microbiol 56:45–51

33.

van Rijswijck IMH, Wolkers-Rooijackers JCM, Abee T, Smid EJ (2017) Performance of non-conventional yeasts in co-culture with brewers' yeast for steering ethanol and aroma production. Microb Biotechnol 10:1591–1602

34.

Vanbeneden N, Gils F, Delvaux F, Delvaux FR (2008) Formation of 4-vinyl and 4-ethyl derivatives from hydroxycinnamic acids: occurrence of volatile phenolic flavour compounds in beer and distribution of Pad1-activity among brewing yeasts. Food Chem 107:221–230

35.

Crauwels S, Van Opstaele F, Jaskula-Goiris B, Steensels J, Verreth C, Bosmans L, Paulussen C, Herrera-Malaver B, de Jonge R, De Clippeleer J, Marchal K, De Samblanx G, Willems KA, Verstrepen KJ, Aerts G, Lievens B (2017) Fermentation assays reveal differences in sugar and (off-) flavor metabolism across different Brettanomyces bruxellensis strains. FEMS Yeast Res 17:1

36.

Toh DWK, Chua JY, Liu SQ (2018) Impact of simultaneous fermentation with Saccharomyces cerevisiae and Torulaspora delbrueckii on volatile and non-volatile constituents in beer. LWT 91:26–33

37.

Crauwels S, Steensels J, Aerts G, Willems K, Verstrepen K, Lievens B (2015) Brettanomyces bruxellensis, essential contributor in spontaneous beer fermentations providing novel opportunities for the brewing industry. Brew Sci 68:110–112
Ethics declarations
Conflict of interest
The authors declare that there are no conflicts of interest.
Compliance with ethics requirements
This article does not contain any studies with human participants or animals performed by any of the authors.
Additional information
Publisher's Note
Springer Nature remains neutral with regard to jurisdictional claims in published maps and institutional affiliations.
About this article
Cite this article
Rodríguez Madrera, R., Pando Bedriñana, R. & Suárez Valles, B. Evaluation of indigenous non-Saccharomyces cider yeasts for use in brewing. Eur Food Res Technol (2021). https://doi.org/10.1007/s00217-020-03665-y
Received:

Revised:

Accepted:

Published:
Keywords
Brewing

Low-alcohol beer

Non-Saccharomyces yeast

Indigenous cider yeast

Volatile compounds