Abstract
This study investigated the combined impact of sauerkraut and Leuconostoc mesenteroides culture on immunomodulatory activity in experimental animal. The in vivo immunomodulatory activity of Escherichia coli-infected Balb-C mice was ascertained in fermented sauerkrauts [test vs. control]. Both sauerkrauts enhanced the adaptive immune response [evidenced by an increase in CD4+ CD8+ IFN-γ, TNFα] and innate immune response [represented by a decrease of CD68-IL-6]. Nevertheless, the in vivo immunomodulatory activity of sauerkraut combined with L. mesenteroides was higher than that shown in sauerkraut control solely.
This is a preview of subscription content, log in to check access.
Access options
Buy single article
Instant access to the full article PDF.
US$ 39.95
Price includes VAT for USA
Subscribe to journal
Immediate online access to all issues from 2019. Subscription will auto renew annually.
US$ 199
This is the net price. Taxes to be calculated in checkout.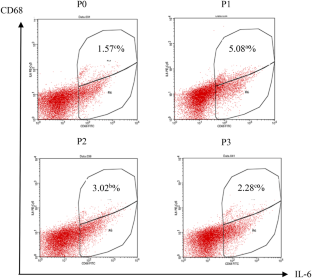 References
1.

Spelman K, Burns J, Nichols D, Winters N, Ottersberg S, Tenborg M (2006) Modulation of cytokine expression by traditional medicines: a review of herbal immunomodulator. Altern Med Rev 11(2):128–150

2.

Abbas AK, Lichtman AH, Pillai S (2007) Cellular and molecular immunology, 6th edn. Elsevier, Philadelphia

3.

Penas E, Martinez-Villaluenga C, Frias J, Sanchez-Martines MJ, Perez-Corona MT, Madrid Y, Camara C, Vidal-Valverde C (2012) Se improves indole glucosinolate hydrolysis product content, Se-methylselenocysteine content, antioxidant capacity and potential anti-inflammatory properties of sauerkraut. Food Chem 132(2):907–914

4.

Vaughn RH (1985) In: Wood BJB (ed) Microbiology of vegetable fermented foods. Elsevier, London

5.

Lu Z, Breidt F, Plengvidhya V, Fleming HP (2003) Bacteriophage ecology in commercial sauerkraut fermentations. Appl Environ Microbiol 69:3192–3202

6.

Plengvidhya V, Breidt F, Lu Z, Fleming HP (2007) DNA fingerprinting of latic acid bacteria in sauerkraut fermentations. Appl Environ Microbiol 73:7697–7702

7.

Wiander B, Ryhänen EL (2005) Laboratory and large-scale fermentation of white cabbage into sauerkraut and sauerkraut juice by using starters in combination with mineral salt with a low NaCl content. Euro Food Res Technol 220:191–195

8.

Yang X, Hu W, Jiang A, Xiu Z, Ji Y, Guan Y, Sarengaowa, Yang X (2019) Effect of salt concentration on quality of Chinese Northeast sauerkraut fermented by Leuconostoc mesenteroides and Lactobacillus plantarum. Food Biosci 30:100421. https://doi.org/10.1016/j.fbio.2019.100421

9.

Penas E, Frias J, Sidro B, Vidal-Valverde C (2010) Chemical evaluation and sensory quality of sauerkraut obtained by natural and induced fermentations at different NaCl levels from Brassica oleracea var. capitata cv. Bronco grown in Eastern Spain. Effect of storage. J Agric Food Chem 58:3549–3557

10.

Shahidi F, Ho CT (2005) In: Shahidi F, Ho CT (eds) Phenolics Compounds in food and natural health products. American Chemical Society, Washington DC

11.

Murray RK, Granner DK, Mayes PA, Rodwell VW (2003) Harper's Illustrated Biochemistry, 26th edn. McGraw-Hill Medical, New York

12.

Romeo L, Iori R, Rollin P, Bramanti P, Mazzon E (2018) Isothiocyanates: an overview of their antimicrobial activity against human infections. Molecules 23(3):624. https://doi.org/10.3390/molecules23030624

13.

Ranggana S (1977) Handbook of analysis and quality control for fruit & vegetable products. McGraw-Hill Publishing Company, New Delhi

14.

Yang J, Paulino R, Janke-Stedronsky S, Abawi F (2007) Free radical scavenging activity and total phenol of noni (Morinda citrifolia L.) juice and powder in processing and storage. Food Chem 102(1):302–308

15.

Kim HJ, Lee MJ, Jeong MH, Kim JE (2017) Identification and quantification of glucosinolates in kimchi by liquid chromatography-electrospray tandem mass spectrometry. Int J Anal Chem 2017:6753481. https://doi.org/10.1155/2017/6753481

16.

Hosseinzadeh H, Bazzaz BSF, Haghi MM (2007) Antibacterial activity of total extracts and essential oil of Nigella sativa L. seeds in mice. Pharmacologyonline 2:429–435

17.

Tolonen M, Rajaniemi S, Pihlava JM, Korhonen H, Ryhanen EL (2004) Formation of nisin, plant derived biomolecules and antimicrobial activity in starter culture fermentations of sauerkraut. Food Microbiol 20:391–395

18.

Essawet NA, Cvetkovic D, Velicanski A, Canadanovic-Brunet J, Vulic J, Maksimovic V, Markov S (2015) Polyphenols and antioxidant activities of Kombucha beverage enriched with coffeeberry extract. Chem Ind Chem Eng Q 21(3):399–409

19.

Lee NK, Jeong JH, Oh J, Kim Y, Ha YS, Jeong Y (2015) Conversion of flavonols, kaempferol and quarcetin in mulberry (Morus alba L.) leaf using plant-fermenting Lactobacillus plantarum. J Food Biochem 39:765–770

20.

Castillo NA, Perdigon G, de Moreno de LeBlanc A (2011) Oral administration of a probiotic Lactobacillus modulates cytokine production and TLR expression improving the immune response against Salmonella enterica serovar typhimurium infection in mice. BMC Microbiol 11:177. https://doi.org/10.1186/1471-2180-11-177

21.

Lestari LA, Soesatyo M, Iravati S, Harmayani E (2012) Enhancement of phagocytic activity and nitric oxide production of peritoneal macrophage of spague Dawley rats fed with Lactobacillus plantarum Mut7 and sweet potato fiber. J Gizi Klinik Indones 9(2):64–72

22.

Martinez-Villaluenga C, Penas E, Sidro B, Ullate M, Frias J, Vidal-Valverde C (2012) White cabbage fermentation improves ascorbigen content, antioxidant and nitric oxide production inhibitory activity in LPS-induced macrophages. LWT Food Sci Technol 46(1):77–83

23.

Hayes J, Kelleher M, Eggleston I (2008) The cancer chemopreventive actions of phytochemicals derived from glucosinolates. Eur J Nutr 47(Suppl. 2):73–88

24.

Aires A, Mota VR, Saavedra MJ, Rosa EA, Bennett RN (2009) The antimicrobial effects of glucosinolates and their respective enzymatic hydrolysis products on bacteria isolated from the human intestinal tract. J Appl Microbiol 106:2086–2095
Acknowledgements
This work was financially supported through Professor Research Grant, Brawijaya University, with contract number of 2571/UN10.F10/PN/2019.
Ethics declarations
Conflict of interest
The authors declare no conflict of interest.
Compliance with ethics requirements
All applicable international, national, and/or institutional guidelines for the care and use of animals were followed.
Additional information
Publisher's Note
Springer Nature remains neutral with regard to jurisdictional claims in published maps and institutional affiliations.
About this article
Cite this article
Zubaidah, E., Susanti, I., Yuwono, S.S. et al. The combined impact of sauerkraut with Leuconostoc mesenteroides to enhance immunomodulatory activity in Escherichia coli-infected mice. Eur Food Res Technol (2020). https://doi.org/10.1007/s00217-020-03540-w
Received:

Revised:

Accepted:

Published:
Keywords
Immunomodulatory activity

Sauerkraut

Leuconostoc mesenteroides

Mice