Abstract
Matrix-assisted laser desorption/ionisation mass spectrometry imaging (MALDI-MSI) is a common molecular imaging modality used to characterise the abundance and spatial distribution of lipids in situ. There are several technical challenges predominantly involving sample pre-treatment and preparation which have complicated the analysis of clinical tissues by MALDI-MSI. Firstly, the common embedding of samples in optimal cutting temperature (O.C.T.), which contains high concentrations of polyethylene glycol (PEG) polymers, causes analyte signal suppression during mass spectrometry (MS) by competing for available ions during ionisation. This suppressive effect has constrained the application of MALDI-MSI for the molecular mapping of clinical tissues. Secondly, the complexity of the mass spectra is obtained by the formation of multiple adduct ions. The process of analyte ion formation during MALDI can generate multiple m/z peaks from a single lipid species due to the presence of alkali salts in tissues, resulting in the suppression of protonated adduct formation and the generation of multiple near isobaric ions which produce overlapping spatial distributions. Presented is a method to simultaneously remove O.C.T. and endogenous salts. This approach was applied to lipid imaging in order to prevent analyte suppression, simplify data interpretation, and improve sensitivity by promoting lipid protonation and reducing the formation of alkali adducts.
Graphical abstract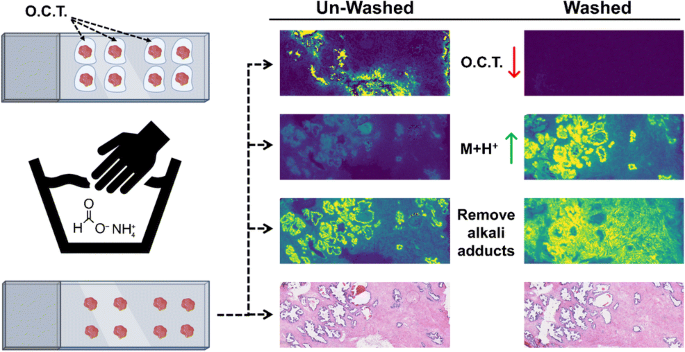 Access options
Buy single article
Instant access to the full article PDF.
US$ 39.95
Tax calculation will be finalised during checkout.
Subscribe to journal
Immediate online access to all issues from 2019. Subscription will auto renew annually.
US$ 119
Tax calculation will be finalised during checkout.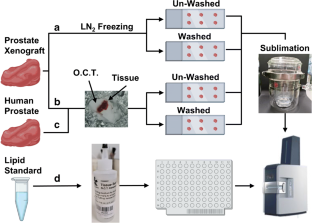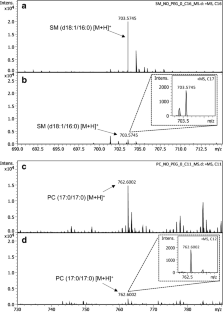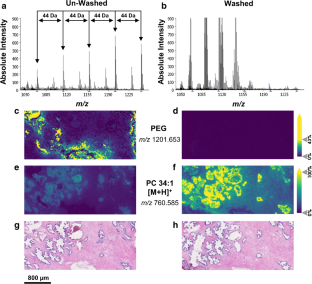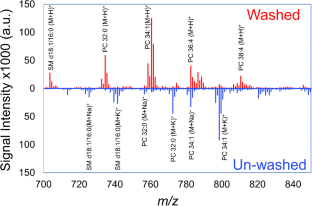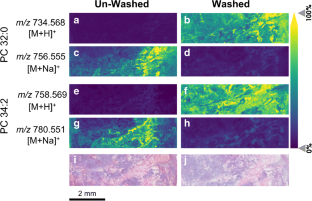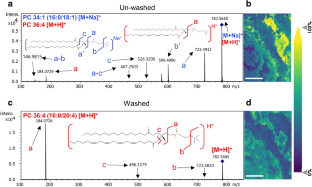 Funding
Funding for this study was provided by the Movember Foundation/Prostate Cancer Foundation of Australia (MRTA3) and the US Department of Defense Congressionally Directed Medical Research Program grant (ID W81XWH1910566). The mass spectrometer used in this research is located in the Australian Cancer Research Foundation (ACRF) Centre for Integrated Cancer Systems Biology at SAHMRI which was funded by the ACRF. J.X.M. Truong and J. White are supported by a Postgraduate Scholarship from the University of Adelaide; L.M. Butler is supported by a Principal Cancer Research Fellowship awarded by Cancer Council's Beat Cancer project on behalf of its donors, the State Government through the Department of Health and the Australian Government through the Medical Research Future Fund.
Ethics declarations
Conflict of interest
The authors declare that they have no conflicts of interest.
Ethics approval
Approval for the use of human prostate cancer tissues was granted by the Ethics Committees of the University of Adelaide (Adelaide, Australia) (approval number H-2018-222) and St Andrew's Hospital (Adelaide Australia). The use of prostate xenograft tissues was approved by the Animal Ethics Committee of the University of Adelaide (Adelaide, Australia) (approval number M-2019-037).
Source of biological material
Human prostate cancer tissues were obtained from patients undergoing radical prostatectomies and were provided by the Australian Prostate Cancer BioResource (Adelaide Australia). Prostate xenograft tissues were obtained from another study conducted by the University of Adelaide [40].
Statement of animal welfare
N/A
Consent to participate
Not applicable.
Consent for publication
Not applicable.
Code availability
Not applicable.
Additional information
Publisher's note
Springer Nature remains neutral with regard to jurisdictional claims in published maps and institutional affiliations.
Published in the topical collection Mass Spectrometry Imaging 2.0 with guest editors Shane R. Ellis and Tiffany Porta Siegel.
Supplementary information
About this article
Cite this article
Truong, J.X.M., Spotbeen, X., White, J. et al. Removal of optimal cutting temperature (O.C.T.) compound from embedded tissue for MALDI imaging of lipids. Anal Bioanal Chem (2021). https://doi.org/10.1007/s00216-020-03128-z
Received:

Revised:

Accepted:

Published:
Keywords
MALDI imaging

O.C.T.

Ammonium formate

Lipids

Washing