High-affinity graphene oxide-encapsulated magnetic Zr-MOF for pretreatment and rapid determination of the photosensitizers hematoporphyrin and hematoporphyrin monomethyl ether in human urine prior to UPLC-HRMS
Abstract
In this paper, a high-affinity graphene oxide-encapsulated magnetic Zr-MOF (GO-Mag@Zr-MOF) was synthesized and characterized by SEM, TEM, and XPS for its morphology, structure, and components. Subsequently, the as-prepared GO-Mag@Zr-MOF was, for the first time, employed as magnetic solid-phase extraction (MSPE) adsorbent for pretreatment and determination of photodynamic therapy (PDT) with the photosensitizers hematoporphyrin (Hp) and hematoporphyrin monomethyl ether (HMME) in human urine samples coupled with ultra-performance liquid chromatography-high resolution mass spectrometry (UPLC-HRMS). The synthesized GO-Mag@Zr-MOF revealed excellent adsorption efficiency for Hp and HMME in urine samples. Under optimal conditions, the spiked recoveries of the developed method were in the range of 89.5–105.6% with RSDs less than 10%. The limits of detection (LODs) were found to be 0.036 and 0.042 μg/L for Hp and HMME, respectively, while limits of quantitation (LOQs) were 0.12 and 0.14 μg/L. The proposed method was found to be rapid, effective, sensitive, and accurate for clinical analysis. Moreover, this paper, for the first time, carefully expounded the mass spectrum cracking mechanisms of Hp and HMME.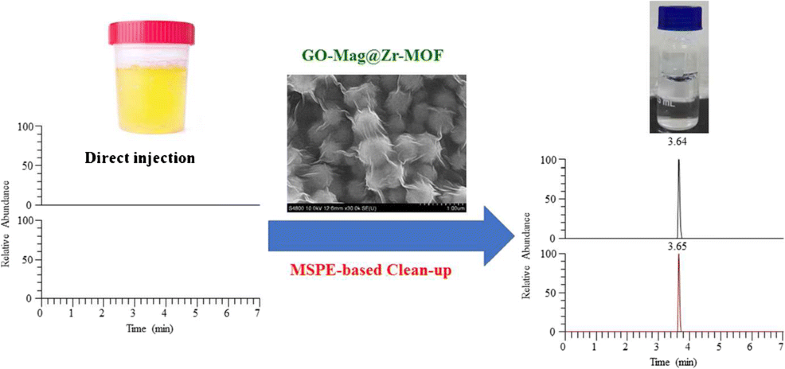 Keywords
Graphene oxide-encapsulated magnetic Zr-MOF (GO-Mag@Zr-MOF) 
UPLC-HRMS 
Hematoporphyrin 
Hematoporphyrin monomethyl ether 
Human urine 
Notes
Acknowledgements
We would like to thank the Zhejiang Provincial Natural Science Foundation (LQ19B050001), Ningbo Municipal Natural Science Foundation (No. 2018A610404, No. 2016A610178), Ningbo Municipal Program for Leading and Top-Notch Talents, Zhejiang Provincial Program for Public Welfare of Technology Application Research Plan (No. 2015C31148), and the Opening Foundation of Key Laboratory of Emergency Detection for Public Health of Zhejiang Province for their financial support of this research.
Compliance with ethical standards
Informed consents were obtained from three volunteers who donated urine samples. This was not a medical study in any form. Urine samples were used to optimize liquid chromatography-mass spectrometry analysis of Hp and HMME.
Conflict of interest
The authors declare that they have no conflict of interest.
Copyright information
© Springer-Verlag GmbH Germany, part of Springer Nature 2018