Versatile nano-platform for tailored immuno-magnetic carriers
Abstract
Custom immuno-magnetic devices are desirable tools for biomedical and biotechnological applications. Herein, surface active maghemite nanoparticles (SAMNs) are proposed as a versatile platform for developing tailored immuno-magnetic nano-carriers by simple wet reactions. Two examples for conjugating native and biotinylated antibodies were presented along with their successful applications in the recognition of specific foodborne pathogens. Nanoparticles were functionalized with rhodamine B isothiocyanate (RITC), leading to a fluorescent nano-conjugate, and used for binding anti-Campylobacter fetus antibodies (SAMN@RITC@Anti-Cf). The microorganism was selectively captured in the presence of two other Campylobacter species (C. jejuni and C. coli), as verified by PCR. Alternatively, SAMNs were modified with avidin, forming a biotin-specific magnetic nano-carrier and used for the immobilization of biotinylated anti-Listeria monocytogenes antibodies (SAMN@avidin@Anti-Lm). This immuno-magnetic carrier was integrated in piezoelectric quartz crystal microbalance (QCM) sensor for the detection of L. monocytogenes in milk, showing a detection limit of 3 bacterial cells. The present work presents a new category of customized immuno-magnetic nano-carriers as a competitive option for suiting specific applications.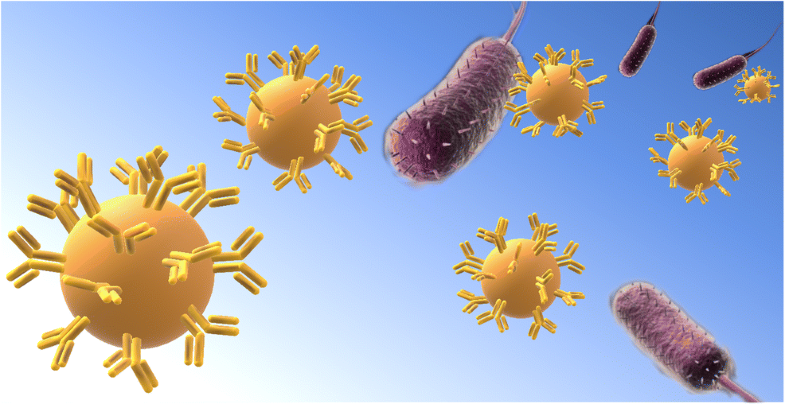 Keywords
Immuno-magnetic separation 
Magnetic nano-carrier 
Antibody conjugation 
Campylobacter fetus
Listeria monocytogenes
Pathogen recognition 
Abbreviations
ALOA

Agar Listeria Ottavani and Agosti medium

aPEMC

Anchored piezoelectric-excited millimeter-sized cantilever

CE

Capture efficiency

Cf

Campylobacter fetus

CFU

Colony-forming units

CMC

N-Cyclohexyl-N′-(2-morpholinoethyl) carbodiimide metho-p-toluenesulfonate

DMF

N,N-Dimethylformamide

ELISA

Enzyme-linked immunosorbent assay

FTIR

Fourier transform infrared spectroscopy

Lm

Listeria monocytogenes

LOD

Limit of detection

NHS

N-Hydroxysuccinimide

OD

Optical density

PBS

Phosphate-buffered saline

PCA

Plate count agar

PCR

Polymerase chain reaction

QCM

Quartz crystal microbalance

RITC

Rhodamine B isothiocyanate

SAMNs

Surface active maghemite nanoparticles

TEM

Transmission electron microscope

TMAOH

Tetramethylammonium perchlorate

TSA

Tryptone soya agar

TSB

Tryptone soya broth

XRPD

X-ray powder diffraction
Notes
Acknowledgements
The authors thank the electron microscopy facility of the Biology Department of Padua University and the CARIPARO Foundation for the support.
Funding information
The present experimental work was partially funded by AIPOL Reg. CE n. 867/08 S.M.I, project "Miglioramento delle condizioni di magazzinaggio e di valorizzazione dei residui della produzione di olio di oliva e delle olive da tavola" approved by the Italian Ministry for Agricolture and Forest Politics and AGEA.
Compliance with ethical standards
Conflict of interest
The authors declare that they have no conflict of interest.
Copyright information
© Springer-Verlag GmbH Germany, part of Springer Nature 2018