A novel electrochemical aptasensor based on gold electrode decorated Ag@Au core-shell nanoparticles for sulfamethazine determination
Abstract
In this paper, an electrochemical aptasensor based on gold electrode (AuE)-modified Ag@Au core-shell nanoparticles was prepared. The surface of AuE was modified with Ag@Au core-shell nanoparticles to elevate APT binding sites and accelerate electron transfer properties between the electrode and ferrocene (Fc). When SM2 existed, the aptamer conformation would change and the response current intensity would increase because the Fc was pulled closer to the electrode surface. Subsequently, through a series of conditional optimization analysis, the optimal values of volume of Ag@Au core-shell, APT concentration, APT incubation time, and SM2 incubation time were 9 μL, 0.2 μmol/L, 75 min, and 40 min, respectively. Under optimum conditions, the results of differential pulse voltammetry experiments showed that the linear relationship was good in the range of 0.1~50 ng/mL, ΔI′ (μA) = 1.145C (ng/mL) + 54.666, R2 = 0.964, with a detection limit of 0.033 ng/mL. The spiked recovery for SM2 in the pork samples was 92.6~101.0% and the relative standard deviation (RSD) was 2.7~4.1%, which indicated that the proposed aptasensor exhibited desirable performance in actual sample analysis.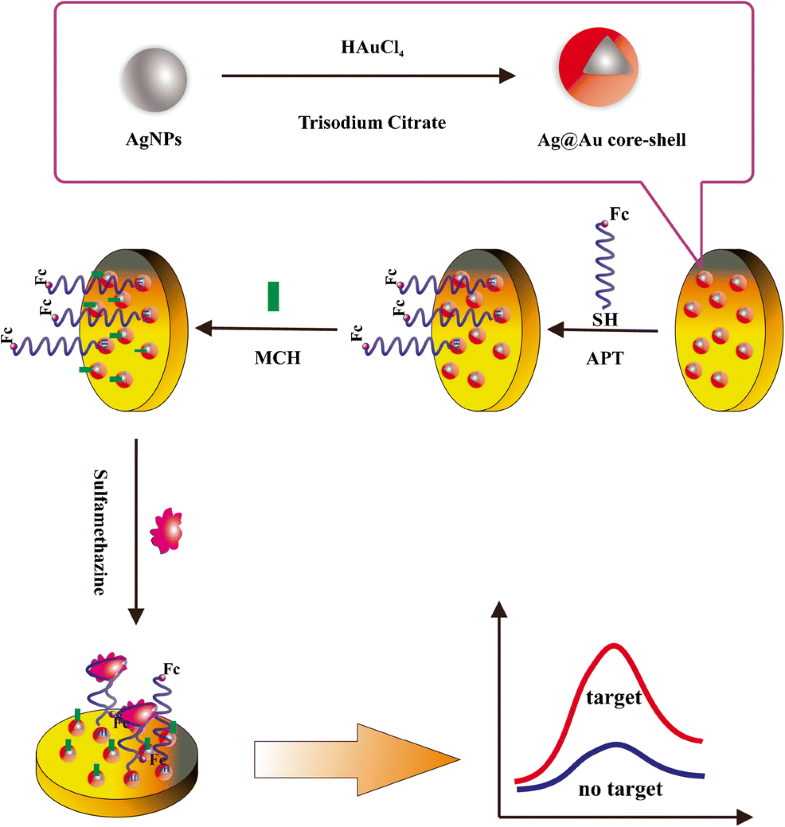 Keywords
Sulfamethazine 
Aptasensor 
Ag@Au core-shell 
Gold electrode 
Ferrocene 
Notes
Acknowledgments
This work was supported by the National Natural Science Foundation of China (Grant No. 61301037), the Cultivation Plan for Young Core Teachers in Universities of Henan Province (No. 2017GGJS072), the Henan Science and Technology Cooperation Project (Grant No. 172106000014), and the Youth Backbone Teacher Training Program of Henan University of Technology (Grant No. 21420004).
Compliance with ethical standards
Conflict of interest
The authors declare that they have no conflict of interest.
Copyright information
© Springer-Verlag GmbH Germany, part of Springer Nature 2018