A versatile quantitative microdroplet elemental imaging method optimised for integration in biochemical workflows for low-volume samples
Part of the following topical collections:
Abstract
Laser ablation-inductively coupled plasma-mass spectrometry (LA-ICP-MS) analysis of μ-droplets is becoming an attractive alternative for detecting and quantifying elements in biological samples. With minimal sample preparation required and detection limits comparable to solution nebulisation ICP-MS, μ-droplets have substantial advantages over traditional elemental detection, particularly for low volumes, such as aliquots taken from samples required for multiple independent biochemical assays, or fluids and tissues where elements of interest exist at native concentrations not suited to the necessary dilution steps required for solution nebulisation ICP-MS. However, the characteristics of μ-droplet residue deposition are heavily dependent on the matrix, and potential effects on signal suppression or enhancement have not been fully characterised. We present a validated and flexible high-throughput method for quantification of elements in μ-droplets using LA-ICP-MS imaging and matrix-matched external calibrants. Imaging the entire μ-droplet area removes analytical uncertainty arising from the often-heterogenous distribution when compared to radial or bisecting line scans that capture only a small portion of the droplet residue. We examined the effects of common matrices found in a standard biochemistry workflow, including native protein and salt contents, as well as reagents used in typical preparation steps for concurrent biochemical assays, such as total protein quantification and enzyme activity assays. We found that matrix composition results in systemic, concentration-dependent signal enhancement and suppression for carbon, whereas high sodium content has a specific space-charge-like suppression effect on high masses. We confirmed the accuracy of our method using both a certified serum standard (Seronorm™ L1) and independent measurements of analysed samples by solution nebulisation ICP-MS, then tested the specificity and reproducibility by examining spinal cord tissue homogenates from SOD1-G93A transgenic mice with a known molecular phenotype of increased copper- and zinc-binding superoxide dismutase-1 expression and altered copper-to-zinc stoichiometry. The method presented is rapid and transferable to multiple other biological matrices and allows high-throughput analysis of low-volume samples with sensitivity comparable to standard solution nebulisation ICP-MS protocols.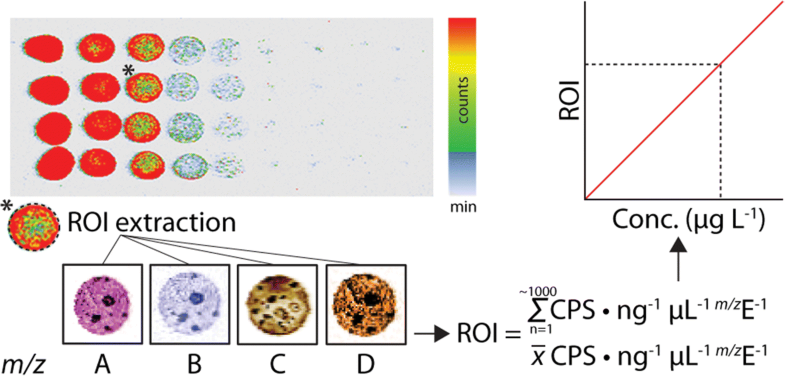 Keywords
Bioanalytical methods 
Biological samples 
Laser ablation 
Mass spectrometry/ICP-MS 
Trace elements 
Metals/heavy metals 
Notes
Acknowledgements
KK was a recipient of the Sigrid Juselius Foundation Postdoctoral Fellowship (Finland). DJH is a NHMRC Career Development Fellow (CDF1) - Industry (1122981) with Agilent Technologies. PJC is an NHMRC Career Development Fellow (CDF2 - 1084927). We wish to the Prize4Life Organization for providing experimental transgenic mice. The Florey Institute of Neuroscience and Mental Health acknowledge the strong support from the Victorian Government and the funding from the Operational Infrastructure Support Grant.
Author contributions
Peter J Crouch and Kai Kysenius designed the project, prepared the samples, and edited the manuscript. Kai Kysenius performed the analyses, prepared the figures, and wrote the manuscript. James B Hilton and Jeffrey R Liddell prepared the samples and edited the manuscript. Dominic J Hare performed the SN-ICP-MS analysis and edited the manuscript. Bence Paul wrote the Iolite analysis code and edited the manuscript.
Funding information
This study received support from the Jenny Barr Smith, Betty Laidlaw, and Jenny Simko Research Grants from the MND Research Institute of Australia.
Compliance with ethical standards
The use of biological material taken from wild-type C57/B6 and transgenic mice was approved by The University of Melbourne Animal Ethics Committee (approval number 1312908). All procedures were conducted in accordance with National Health and Medical Research Council guidelines.
Conflict of interest statements
Bence Paul receives part of his salary from the sales of the Iolite software. Dominic J Hare receives research and material support from Agilent Technologies through the National Health and Medical Research Career Development Fellowship program. Procypra Therapeutics LLC, Collaborative Medicinal Development LLC, and The University of Melbourne are engaged in development of new therapeutics for ALS using the transgenic animal described herein. The other authors declare that they have no conflict of interest.
Copyright information
© Springer-Verlag GmbH Germany, part of Springer Nature 2018