Synthesis and application of ratio fluorescence probe for chloride
Abstract
As chloride ions (Cl−) play a vital role in maintaining normal physiological activity, detection of chloride ions is quite urgent. Hence, we developed chloride fluorescence probes to highly selectively and sensitively monitor chloride ions. The probe M2 with single emission has a high fluorescence quantum yield (Φ = 45%), and it is capable of quantitative detection of Cl− under physiological conditions (pH = 7.4) and pH = 5.0 with a linear range of 0.1–4.0 mM; nevertheless, it is of the switch-off type. We further synthesized a ratiometric fluorescent probe MY with M2 as raw material, which featured excellent selectivity and anti-interference, and large two-photon cross section (555 GM). The probe is conveniently used to detect Cl− in water samples and biological samples including human sweat, serum, and urine samples, indicating it holds great promise for chloride detection and biological application.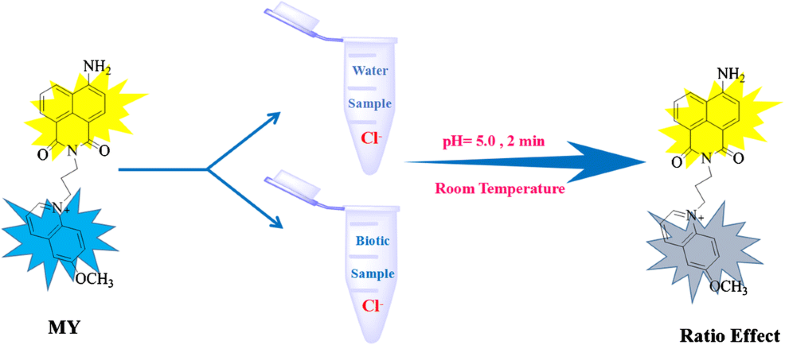 Keywords
Chloride ion 
Ratio fluorescence 
Biological detection 
Notes
Funding
This research was financially supported by the National Natural Science Foundation of China (No. 21575055) and the Research Funds for the Central Universities (lzujbky-2017-k09).
Compliance with ethical standards
The study using biological samples has been approved by the People's hospital of Gansu province Ethics Committee and the Lanzhou University Ethics Committee, and has been performed in accordance with the ethical standards.
Informed consent
Informed consent was obtained from all individual participants included in the study.
Conflict of interest
The authors declare that they have no conflict of interest.
Copyright information
© Springer-Verlag GmbH Germany, part of Springer Nature 2018