Employing proteomics to understand the effects of nutritional intervention in cancer treatment
Abstract
Lifestyle optimizations are implementable changes that can have an impact on health and disease. Nutrition is a lifestyle optimization that has been shown to be of great importance in cancer initiation, progression, and metastasis. Dozens of clinical trials are currently in progress that focus on the nutritional modifications that cancer patients can make prior to and during medical care that increase the efficacy of treatment. In this review, we discuss various nutritional inventions for cancer patients and the analytical approaches to characterize the downstream molecular effects. We first begin by briefly explaining the many different forms of nutritional intervention currently being used in cancer treatment as well as their motivating biology. The forms of nutrient modulation described in this review include calorie restriction, the different practices of fasting, and carbohydrate restriction. The review then shifts to explain how proteomics is used to determine biomarkers of cancer and how it can be utilized in the future to determine the metabolic phenotype of a tumor, and inform physicians if nutritional intervention should be recommended for a cancer patient. Nutrigenomics aims to understand the relationship of nutrients and gene expression and can be used to understand the downstream molecular effects of nutrition restriction, partially through proteomic analysis. Proteomics is just beginning to be used as cancer diagnostic and predictive tools. However, these approaches have not been used to their full potential to understand nutritional intervention in cancer.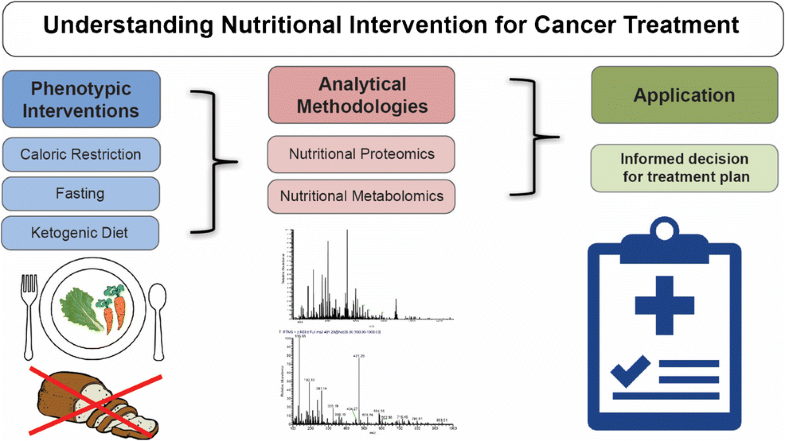 Keywords
Cancer 
Nutrition 
Fasting 
Mass spectrometry 
Nutritional proteomics 
Abbreviations
3D

Three-dimensional

ASAP2

A scalable automated proteomic pipeline

CORE

Cellular consumption and release

CR

Calorie restriction

CRP

c-Reactive protein

CRS

Caloric Restriction Society

DSR

Differential stress resistance

ELISA

Enzyme-linked immunosorbent assays

ESI-MS/MS

Electrospray-ionization tandem mass spectrometry

FT-ICR

Fourier transform-ion cyclotron resonance

GH

Growth hormone

Hba1c

Hemoglobin A1C

IF

Intermittent fasting

IGF-1

Insulin growth factor-1

JAK/STAT

Janus kinase and signal transducer activator of transcription

KD

Ketogenic diet

LC

Liquid chromatography

MRM

Multiple reaction monitoring

MS

Mass spectrometry

NF-κB

Nuclear factor-κB

NIA

National Institute of Aging

PASEF

Parallel accumulation serial fragmentation

SDS

Sodium dodecyl sulfate

S-Traps

Suspension trapping

TOF

Time-of-flight

TRF

Time-restricted feeding

UW

University of Wisconsin, Madison
Notes
Acknowledgments
MMS was supported by the National Institutes of Health Training Grant–Chemistry Biochemistry Biology Interface Program (T32GM075762). ABH was supported by the National Institutes of Health (R01GM110406), and the National Science Foundation (CAREER Award, CHE-1351595). MMS researched available literature and was the major contributing author. All authors read and approved the final manuscript. We gratefully acknowledge the assistance of Dr. Susan Skube, Katelyn Ludwig, and Emily Herring for their edits.
Compliance with ethical standards
Conflict of interest
The authors declare that they have no conflict of interest.
Copyright information
© Springer-Verlag GmbH Germany, part of Springer Nature 2018