Colorimetric determination of glutathione in human serum and cell lines by exploiting the peroxidase-like activity of CuS-polydopamine-Au composite
Abstract
In this study, we developed a simple colorimetric approach to detect glutathione (GSH). The proposed approach is based on the ability of CuS-PDA-Au composite material to catalytically oxidize 3,3′,5,5′-tetramethylbenzidine (TMB) to ox-TMB to induce a blue color with an absorption peak centered at 652 nm. However, the introduction of GSH can result in a decrease in oxidized TMB; similarly, it can combine with Au nanoparticles (Au NPs) on the surface of CuS-PDA-Au composite material. Both approaches can result in a fading blue color and a reduction of the absorbance at 652 nm. Based on this above, we proposed a technique to detect GSH quantitatively and qualitatively through UV-Vis spectroscopy and naked eye, respectively. This approach demonstrates a low detection limit of 0.42 μM with a broad detection range of 5 × 10−7–1 × 10−4 M with the assistance of UV-Vis spectroscopy. More importantly, this approach is convenient and rapid. This method was successfully applied to GSH detection in human serum and cell lines.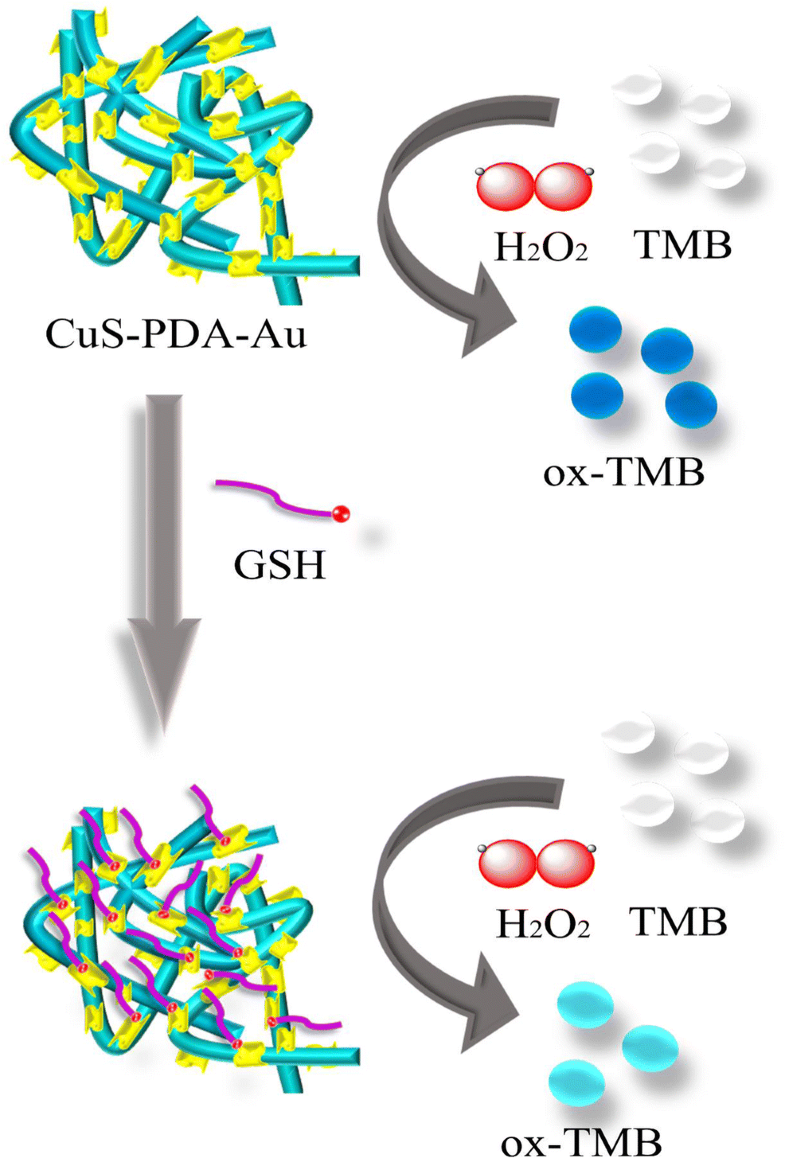 Keywords
Glutathione 
CuS-PDA-Au composite material 
Peroxidase-like activity 
Cancer cells 
Notes
Acknowledgments
We thank the anonymous reviewers for their valuable suggestions.
Funding information
This work was supported by a grant from the National Natural Science Foundation of China (21305097) and Two-way Support Plan Foundation of Sichuan Agricultural University.
Compliance with ethical standards
The project was approved by the Third People's Hospital of Chengdu. All experiments were performed in compliance with the relevant laws and institutional guidelines.
Conflict of interest
The authors declare that they have no conflict of interest.
Copyright information
© Springer-Verlag GmbH Germany, part of Springer Nature 2018