Improved LC-MS/MS method for the quantification of hepcidin-25 in clinical samples
Abstract
Mass spectrometry-based methods play a crucial role in the quantification of the main iron metabolism regulator hepcidin by singling out the bioactive 25-residue peptide from the other naturally occurring N-truncated isoforms (hepcidin-20, -22, -24), which seem to be inactive in iron homeostasis. However, several difficulties arise in the MS analysis of hepcidin due to the "sticky" character of the peptide and the lack of suitable standards. Here, we propose the use of amino- and fluoro-silanized autosampler vials to reduce hepcidin interaction to laboratory glassware surfaces after testing several types of vials for the preparation of stock solutions and serum samples for isotope dilution liquid chromatography-tandem mass spectrometry (ID-LC-MS/MS). Furthermore, we have investigated two sample preparation strategies and two chromatographic separation conditions with the aim of developing a LC-MS/MS method for the sensitive and reliable quantification of hepcidin-25 in serum samples. A chromatographic separation based on usual acidic mobile phases was compared with a novel approach involving the separation of hepcidin-25 with solvents at high pH containing 0.1% of ammonia. Both methods were applied to clinical samples in an intra-laboratory comparison of two LC-MS/MS methods using the same hepcidin-25 calibrators with good correlation of the results. Finally, we recommend a LC-MS/MS-based quantification method with a dynamic range of 0.5–40 μg/L for the assessment of hepcidin-25 in human serum that uses TFA-based mobile phases and silanized glass vials.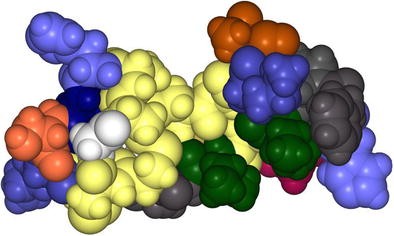 Keywords
Hepcidin-25 
Liquid chromatography 
Tandem mass spectrometry 
ID-LC-MS/MS 
Silanization 
Basic solvent 
Alkaline mobile phase 
Adsorption 
Peptide losses 
Recovery 
Validation 
Notes
Acknowledgments
The authors would like to thank Dr. Andreas Lehmann for instrumentation support in the LC-MS/MS analysis.
Funding information
I.M.A. was supported by the SALSA (School of Analytical Sciences Adlershof) program funded by DFG (German Research Foundation).
Compliance with ethical standards
The experiments with human serum were conducted with commercially available materials purchased from Dunn Labortechnik, Asbach, Germany.
Conflict of interest
The authors declare that they have no conflict of interest.
References
1.

2.

3.

4.

5.

6.

7.

Handley S, Couchman L, Sharp P, Macdougall I, Moniz C. Bioanalysis measurement of hepcidin isoforms in human serum by liquid chromatography with high resolution mass spectrometry. Bioanalysis. 2017;9(6):541–53.

CrossRef

Google Scholar

8.

9.

10.

11.

12.

13.

14.

15.

16.

17.

18.

19.

20.

21.

22.

23.

24.

Bansal SS, Abbate V, Bomford A, Halket JM, Macdougall IC, Thein SL, et al. Quantitation of hepcidin in serum using ultra-high-pressure liquid chromatography and a linear ion trap mass spectrometer. Rapid Commun Mass Spectrom. 2010;24(9):1251–9.

 

https://doi.org/10.1002/rcm.4512

.

CrossRef

Google Scholar

25.

26.

27.

Rochat B, Peduzzi D, McMullen J, Bromirski M, Waldvogel S. Validation of hepcidin quantification in plasma using LCHRMS and discovery of a new hepcidin isoform. Bioanalysis. 2013;5(20):2509–20.

CrossRef

Google Scholar

28.

29.

30.

31.

32.

33.

34.

35.

36.

Zheng J, Mehl J, Zhu Y, Xin B, Olah T. Application and challenges in using LC-MS assays for absolute quantitative analysis of therapeutic proteins in drug discovery. Bioanalysis. 2014;6(6):859–79.

CrossRef

Google Scholar

37.

38.

39.

40.

Clarke W, Molinaro RJ, Bachmann LM, Botelho JC, Cao Z, French SG et al. Liquid chromatography-mass spectrometry methods; approved guideline. C62-A. 2014;34(16).

Google Scholar

41.

42.

43.

44.

45.

Melino S, Garlando L, Patamia M, Paci M, Petruzzelli R. A metal-binding site is present in the structure of hepcidin. J Pept Res. 2005;66(Suppl. 1):65–71.

Google Scholar

46.

47.

Maclean B, Tomazela DM, Abbatiello SE, Zhang S, Whiteaker JR, Paulovich AG, et al. Effect of collision energy optimization on the measurement of peptides by selected reaction monitoring (SRM) mass spectrometry. Anal Chem. 2010;82(24):10116.

 

https://doi.org/10.1021/ac102179j

.

CrossRef

Google Scholar

48.

Lefebvre T, Dessendier N, Houamel D, Ialy-Radio N, Kannengiesser C, Manceau H, et al. LC-MS/MS method for hepcidin-25 measurement in human and mouse serum: clinical and research implications in iron disorders. Clin Chem Lab Med. 2015;53(10):1557–67.

 

https://doi.org/10.1515/cclm-2014-1093.

CrossRef

Google Scholar

49.

Zheng X, Chen X, Jian N, Chen J, Hu P, Jiang J. A rapid and sensitive LC–MS–MS method for determination of hepcidin-25 in human serum, and measurement of its diurnal rhythm for healthy subjects. Chromatographia. 2014;78(1–2):73–80.

 

https://doi.org/10.1007/s10337-014-2808-4

.

Google Scholar

50.

51.

52.
Copyright information
© Springer-Verlag GmbH Germany, part of Springer Nature 2018