Simultaneous determination of sulfur compounds from the sulfur pathway in rat plasma by liquid chromatography tandem mass spectrometry: application to the study of the effect of Shao Fu Zhu Yu decoction
Abstract
A sensitive, accurate, and time-saving approach was developed for the simultaneous quantification of eight sulfur compounds in the sulfur pathway, which could reflect the status of an organism, including oxidative stress, signal transduction, enzyme reaction, and so on. In order to overcome the instability of highly reactive sulfhydryl compounds, N-ethylmaleimide derivatization was adopted to effectively protect sulfhydryl-containing samples. Using isotope-labeled glutathione (GSH-13C2, 15N), the validated method was demonstrated to offer satisfactory linearity, accuracy, and precision. Separation was done by UHPLC, using a BEH amide column. Accordingly, 0.1% formic acid acetonitrile was selected as the precipitant. A tandem mass spectrometer was coupled to the chromatographic system and afforded a detection limit of 0.2 ng/mL. Good linearity was maintained over a wide concentration range (r2 > 0.994), and the accuracy was in the range of 86.6–114% for all the studied compounds. The precision, expressed in RSD%, ranged from 1.1% to 9.4% as intraday variability and less than 13% as interday precision for all of the analytes. The approach was applied to study the potential therapeutic mechanism of a well-known traditional Chinese medicine, Shao Fu Zhu Yu decoction. The results suggested that Shao Fu Zhu Yu decoction might protect against oxidative damage by increasing the concentrations of sulfhydryl compounds.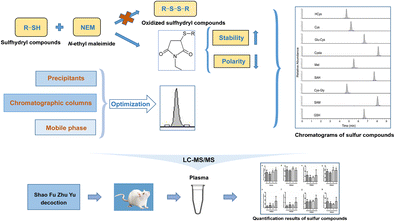 Keywords
Sulfur pathway 
Sulfur compounds 
N-Ethylmaleimide derivatization 
Shao Fu Zhu Yu decoction 
LC–MS/MS 
Notes
Acknowledgements
This work was supported by National Natural Science Foundation of China (Grant No.: 81102898), Natural Science Foundation of Jiangsu Province (Grant No.: BK2010561), Natural Science Foundation of Jiangsu Higher Education Institutions of China (Grant No.: 17KJB360009), Open Project Program of Jiangsu Key Laboratory of Pediatric Respiratory Disease, Nanjing University of Chinese Medicine (Grant No.: JKLPRD201407), Qing Lan Project of Jiangsu Province and Priority Academic Program Development of Jiangsu Higher Education Institutions.
Author's contribution
Yue Zhang and An Kang contributed equally to this work and are co-first authors of this paper.
Compliance with ethical standards
Research involving animals
All of the experimental procedures complied with Guide for the Care and Use of Laboratory Animals and approved by the Animal Ethics Committee of Nanjing University of Chinese Medicine.
Conflict of interest
The authors declare that they have no conflict of interest.
Copyright information
© Springer-Verlag GmbH Germany, part of Springer Nature 2018