The requirements for low-temperature plasma ionization support miniaturization of the ion source
Abstract
Ambient ionization mass spectrometry (AI-MS), the ionization of samples under ambient conditions, enables fast and simple analysis of samples without or with little sample preparation. Due to their simple construction and low resource consumption, plasma-based ionization methods in particular are considered ideal for use in mobile analytical devices. However, systematic investigations that have attempted to identify the optimal configuration of a plasma source to achieve the sensitive detection of target molecules are still rare. We therefore used a low-temperature plasma ionization (LTPI) source based on dielectric barrier discharge with helium employed as the process gas to identify the factors that most strongly influence the signal intensity in the mass spectrometry of species formed by plasma ionization. In this study, we investigated several construction-related parameters of the plasma source and found that a low wall thickness of the dielectric, a small outlet spacing, and a short distance between the plasma source and the MS inlet are needed to achieve optimal signal intensity with a process-gas flow rate of as little as 10 mL/min. In conclusion, this type of ion source is especially well suited for downscaling, which is usually required in mobile devices. Our results provide valuable insights into the LTPI mechanism; they reveal the potential to further improve its implementation and standardization for mobile mass spectrometry as well as our understanding of the requirements and selectivity of this technique.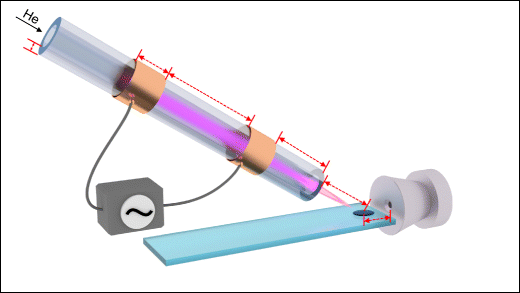 Keywords
Low-temperature plasma ionization 
Ambient mass spectrometry 
Source geometry 
Optimal signal intensity 
Notes
Acknowledgements
The authors thank Dr.-Ing. Susan Billig, Ramona Oehme, Josef J. Heiland (all from the University of Leipzig, Germany), and Aigerim Galyamova (Penn State University, USA) for their technical assistance. We also thank Prof. Frank-Dieter Kopinke (Helmholtz Centre for Environmental Research, Leipzig, Germany) for his valuable critical hints regarding manuscript writing. In addition, we thank Prof. em. Berger (University of Leipzig, Germany) for kind and constant support. This work was financed by the Deutsche Bundesstiftung Umwelt (DBU grant no. 20015/375), the European Regional Development Fund (ERDF, Europäischer Fond für Regionale Entwicklung EFRE, "Europe funds Saxony," grant no. 100195374), the German Academic Exchange Service (DAAD "Rise" program 2016), and the University of Leipzig.
Compliance with ethical standards
Conflict of interest
The authors declare that there is no conflict of interest relating to this work.
Copyright information
© Springer-Verlag GmbH Germany, part of Springer Nature 2018