Critical assessment of digital PCR for the detection and quantification of genetically modified organisms
Abstract
The number of genetically modified organisms (GMOs) on the market is steadily increasing. Because of regulation of cultivation and trade of GMOs in several countries, there is pressure for their accurate detection and quantification. Today, DNA-based approaches are more popular for this purpose than protein-based methods, and real-time quantitative PCR (qPCR) is still the gold standard in GMO analytics. However, digital PCR (dPCR) offers several advantages over qPCR, making this new technique appealing also for GMO analysis. This critical review focuses on the use of dPCR for the purpose of GMO quantification and addresses parameters which are important for achieving accurate and reliable results, such as the quality and purity of DNA and reaction optimization. Three critical factors are explored and discussed in more depth: correct classification of partitions as positive, correctly determined partition volume, and dilution factor. This review could serve as a guide for all laboratories implementing dPCR. Most of the parameters discussed are applicable to fields other than purely GMO testing.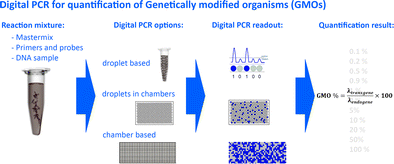 Keywords
Digital PCR 
Droplet digital PCR 
Chip-based digital PCR 
Genetically modified organisms 
Quantification 
Notes
Acknowledgements
We thank Alexandra Bogožalec Košir for critical review of the manuscript and for technical help with droplet digital polymerase chain reaction (ddPCR) and Živa Ramšak for language revision. We also acknowledge the technical work on the ddPCR comparison study contributed by Eurofins GeneScan (Germany) and Shanghai Jiao Tong University (China). Some of the results presented were obtained in research projects that received funding from the European Union under grant agreement number 613908 (Decathlon project) and the Slovenian Research Agency (contract numbers P4-0165 and 1000-15-0105). Michelle Holigroski and Monika Eng are acknowledged for their help in polymerase chain reaction work at the Grain Research Laboratory of the Canadian Grain Commission.
Compliance with ethical standards
This study did not involve research on humans or animals.
Conflict of interest
The authors declare that they have no competing interests.
Copyright information
© The Author(s) 2018
Open Access This article is distributed under the terms of the Creative Commons Attribution 4.0 International License (http://creativecommons.org/licenses/by/4.0/), which permits unrestricted use, distribution, and reproduction in any medium, provided you give appropriate credit to the original author(s) and the source, provide a link to the Creative Commons license, and indicate if changes were made.