Detection of target DNA with a novel Cas9/sgRNAs-associated reverse PCR (CARP) technique
Abstract
This study develops a new method for detecting target DNA based on Cas9 nuclease, which was named as CARP, representing CRISPR- or Cas9/sgRNAs-associated reverse PCR. This technique detects target DNA in three steps: (1) cleaving the detected DNA sample with Cas9 in complex with a pair of sgRNAs specific to target DNA; (2) ligating the cleaved DNA with DNA ligase; (3) amplifying target DNA with PCR. In the ligation step, the Cas9-cut target DNA was ligated into intramolecular circular or intermolecular concatenated linear DNA. In the PCR step, the ligated DNA was amplified with a pair of reverse primers. The technique was verified by detecting HPV16 and HPV18 L1 genes in nine different human papillomavirus (HPV) subtypes. The technique also detected the L1 and E6–E7 genes of two high-risk HPVs, HPV16 and HPV18, in the genomic DNA of two HPV-positive cervical carcinoma cells (HeLa and SiHa), in which no L1 and E6–E7 genes were detected in the HPV-negative cervical carcinoma cell, C-33a. By performing these proof-of-concept experiments, this study provides a new CRISPR-based DNA detection and typing method. Especially, the CARP method developed by this study is ready for the clinical HPV detection, which was supported by the final clinical sample detection.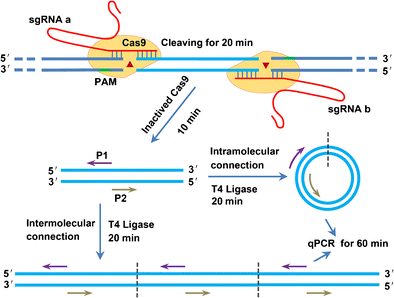 Keywords
Cas9 
Reverse primer 
PCR 
DNA 
Detection 
Notes
Acknowledgments
This work was supported by the grants from the National Natural Science Foundation of China (grant 61571119).
Compliance with ethical standards
Conflict of interest
The authors declare that they have no conflict of interest.
Informed consent
All procedures used in the present study were performed according to the Declaration of Helsinki. The Ethics Committee of Jinling Hospital (Nanjing, China) approved the present study. Written informed consent was obtained from all participants.
Copyright information
© Springer-Verlag GmbH Germany, part of Springer Nature 2018