Detection of 1,3-dihydroxyacetone by tris(2,2′-bipyridine)ruthenium(II) electrochemiluminescence
Abstract
1,3-Dihydroxyacetone, a common cosmetic material and food additive, has been successfully explored as an efficient electrochemiluminescence coreactant of Ru(bpy)32+ for the first time. It is about 25 times more effective than the well-known coreactant sodium oxalate. The high electrochemiluminescence efficiency allows sensitive detection of 1,3-dihydroxyacetone without any derivatization. The electrochemiluminescence method shows two linear electrochemiluminescence responses over the range of 5.0–500 μM and 500 μM–6.0 mM with a detection limit of 1.79 μM. The proposed method is at least two orders of magnitude more sensitive than other reported methods.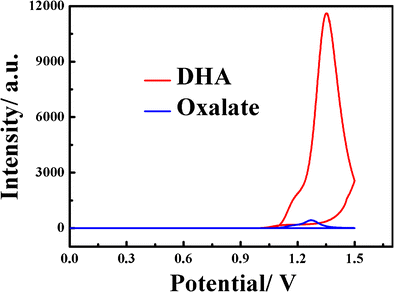 Keywords
Coreactant 
Electrochemiluminescence 
1,3-Dihydroxyacetone 
Tris(2,2′-bipyridine)ruthenium(II) 
Notes
Acknowledgments
This work was kindly supported by the Jilin Provincial Science Research Foundation of China [Grant Number 20170520146JH], the Ministry of Science and technology of the People's Republic of China [Grant Number 2016YFA0201300], the National Natural Science Foundation of China [Grant Numbers 21505128, 21475123], and the Chinese Academy of Sciences (CAS) President's International Fellowship Initiative (PIFI).
Compliance with ethical standards
Conflict of interest
The authors declare that they have no conflict of interest.
Copyright information
© Springer-Verlag GmbH Germany, part of Springer Nature 2018